Modern Craftsman Dining Room
Take a look at how we put fun, modern yet retro, flair with color and pattern into this craftsman bungalow in the heart of Atlanta's Midtown.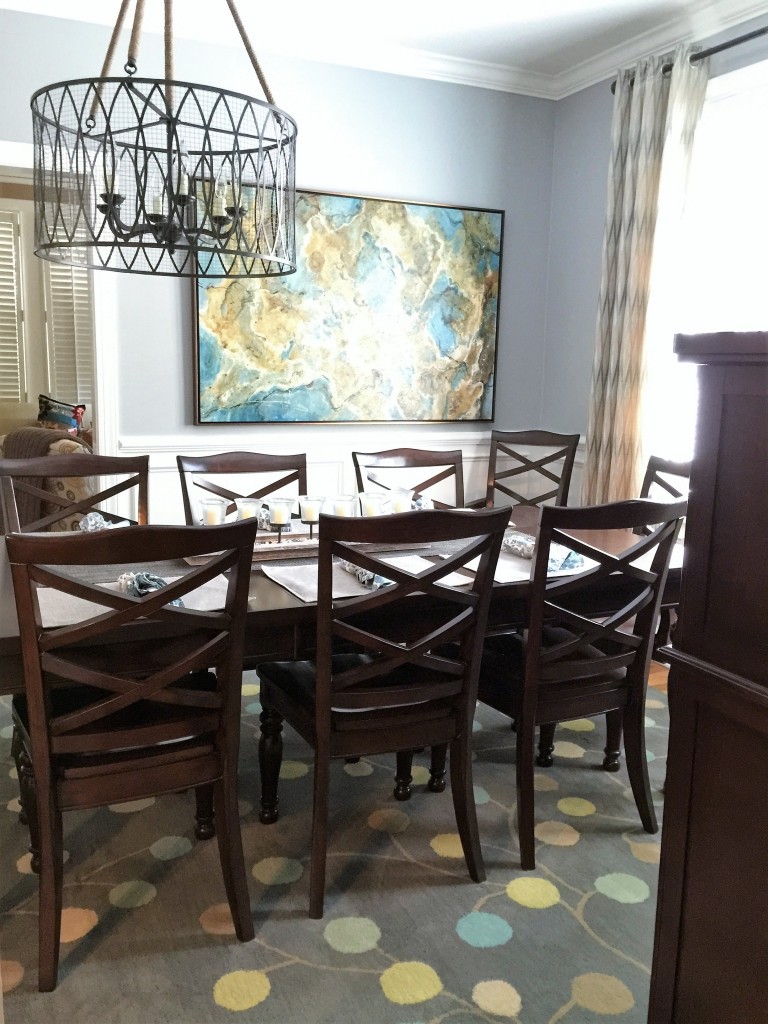 I love houses with history! Built in the 1920's, this small craftsman bungalow in the heart of Atlanta's Midtown has been so much fun to work on. The dining was brown, dark, and small. Thankfully my clients had dining furniture already, so that made this makeover pretty affordable and quick! Let's show you where we started. (Links provided in BLUE)
Before Pics…
Modern Craftsman Dining Room Task List
Paint upper half of walls Argos by Sherwin Williams SW 7065 @125% in Eggshell
Add wainscot molding to lower half of room & paint white to match the semi-gloss trim paint
Replace the chandelier to something less antique and formal
Add a lamp & orchid to the buffet
Accessorize the buffet and hutch
Big artwork on wall to left of window
Curtain panels
Large rug with retro modern pattern and pop of color
1. Paint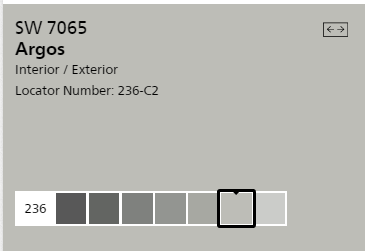 Let's chat about paint. Sometimes you find an amazing color but you just need it to be a touch less colorful or add just a bit more punch to it. One of my favorite tricks if you need to take the saturation of a color down a notch or amp it up a bit is to play with the % that it's mixed. I either have paints mixed at 75%, 100%, or 125% saturation level depending on what the room needs. We chose Argos by Sherwin Williams (SW 7065) but needed to intensify it a level. The next color up on the fandeck would be too much. So we had Argos mixed at 125% at the paint store and it was perfect!
2. Architectural Detail
I hate it when people paint below the chair rail of a room anything but trim white (meaning the same color that matches your trim of your house like crown molding & baseboards). Whether there is wainscot molding or not, the lower half of a wall should be painted white in semi-gloss to act like wainscot. The chairrail is there to divide the room and add architectural detail. Please don't paint it the same color as the top of the wall or even worse a different color.
Raise your hand and take an oath… "I promise to never paint the wall below my chair rail anything but trim white". Thank you, I can sleep tonight!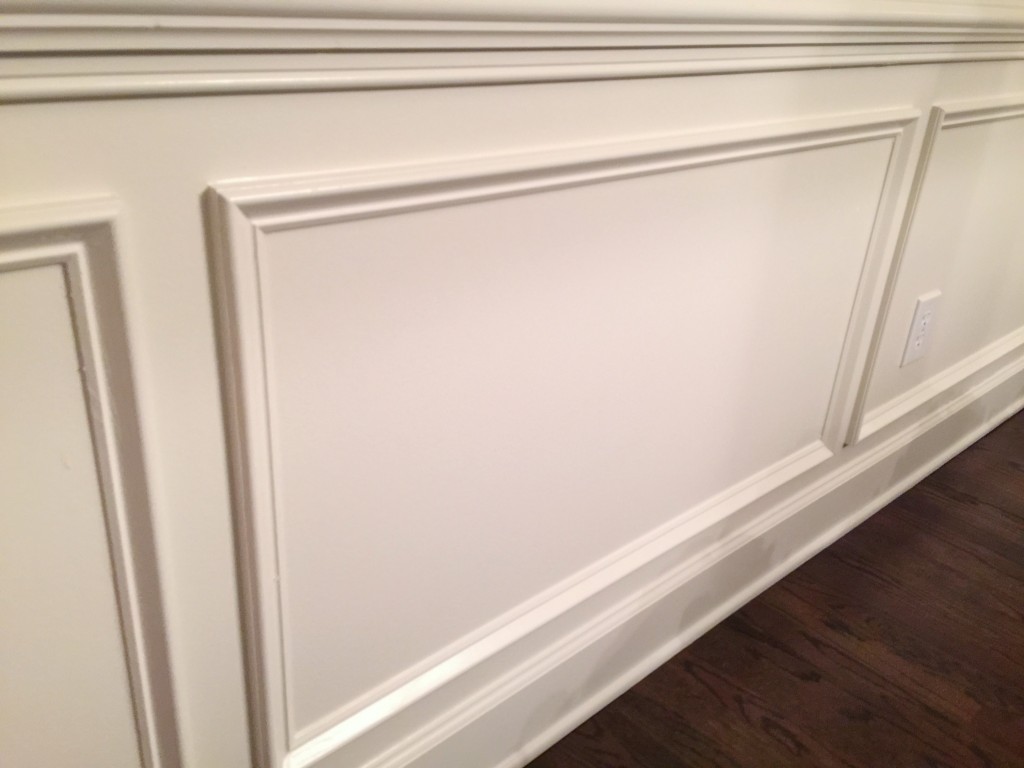 For this room we added molding in boxes to act as wainscot then painted the entire lower half (molding & drywall) semi-gloss white that matches the trim in the rest of the house. It instantly makes the room more sophisticated and interesting.  Huge difference for less than $500 in labor and materials.
3. Lighting
We sold the antique crystal chandelier at a local consignment store.  It was too small for the room and didn't suit the style of the homeowners. A big, round, rustic geometric cage chandelier with jute wrapped cords from Ballard Designs was the perfect replacement.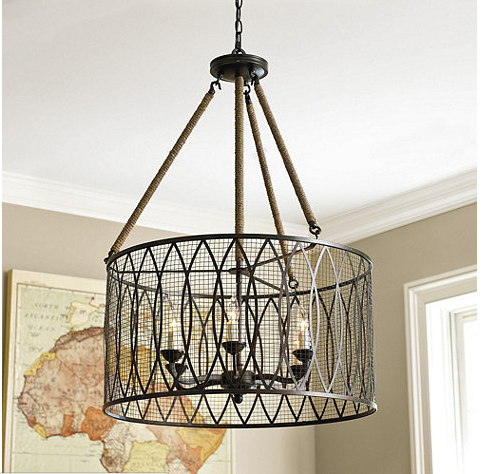 Denley 6 Light Pendant Chandelier by Ballard Designs
4 & 5. Accessorize
A grey ceramic long neck lamp with acrylic base lights up our sideboard. Set with a mirrored bar tray (my absolute favorite accessory- Read more about Bar Trays HERE)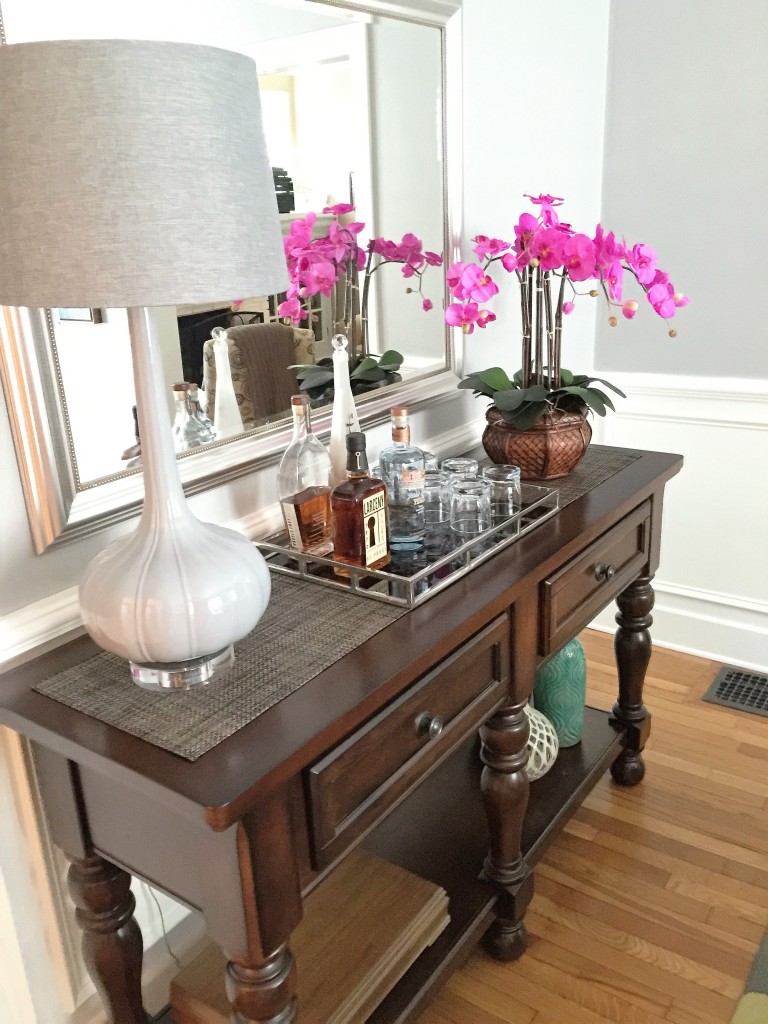 Set with an array of ceramic vases (like these), a silk orchid (we tried fresh but the air vent on the floor kept killing the pretty thing, so silk it is!)  and the couple's box of silver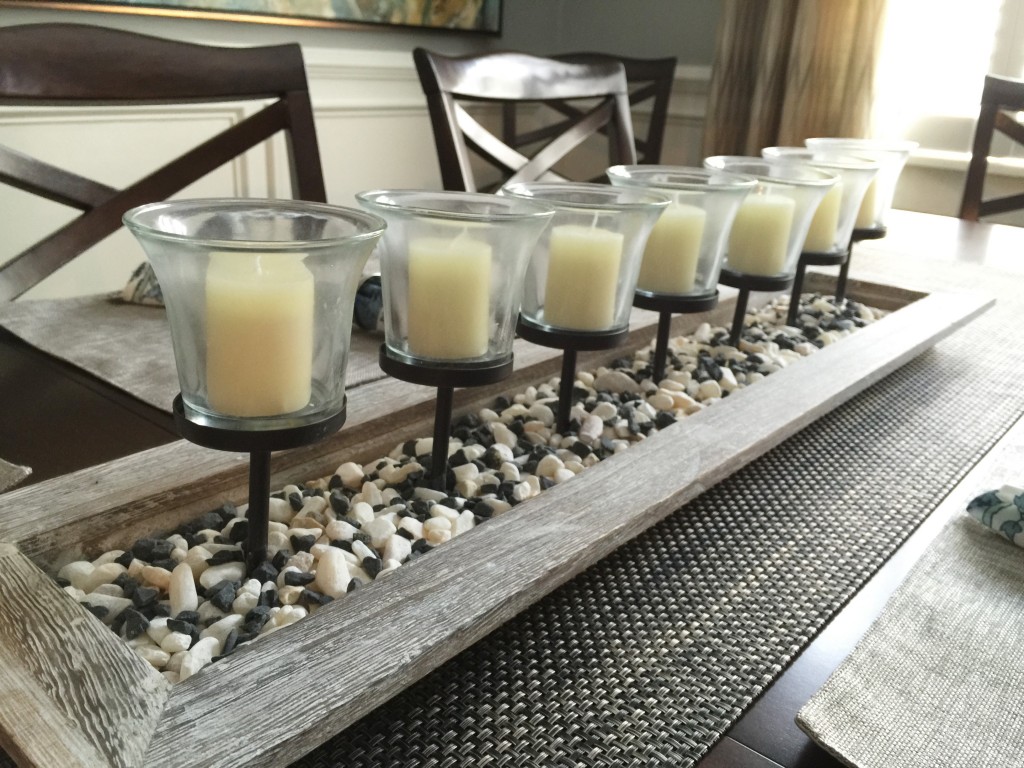 The clients love candlelight when entertaining. This long candle centerpiece adds a natural elements and fills the center of the table nicely.
6. Art (My favorite subject) 
The big wall is an important wall in this room. There's no furniture on there, so whatever we hang here has to be substantial enough to balance the hutch on the opposite side of the room and I need it to carry our color scheme over to that side too. That's why I love this abstract piece. Love, Love, Love!
The hutch needs a smaller piece of art above it. And while we custom ordered the bigger canvas, this piece was found at HomeGoods. (I live in this store, they gave me a cot).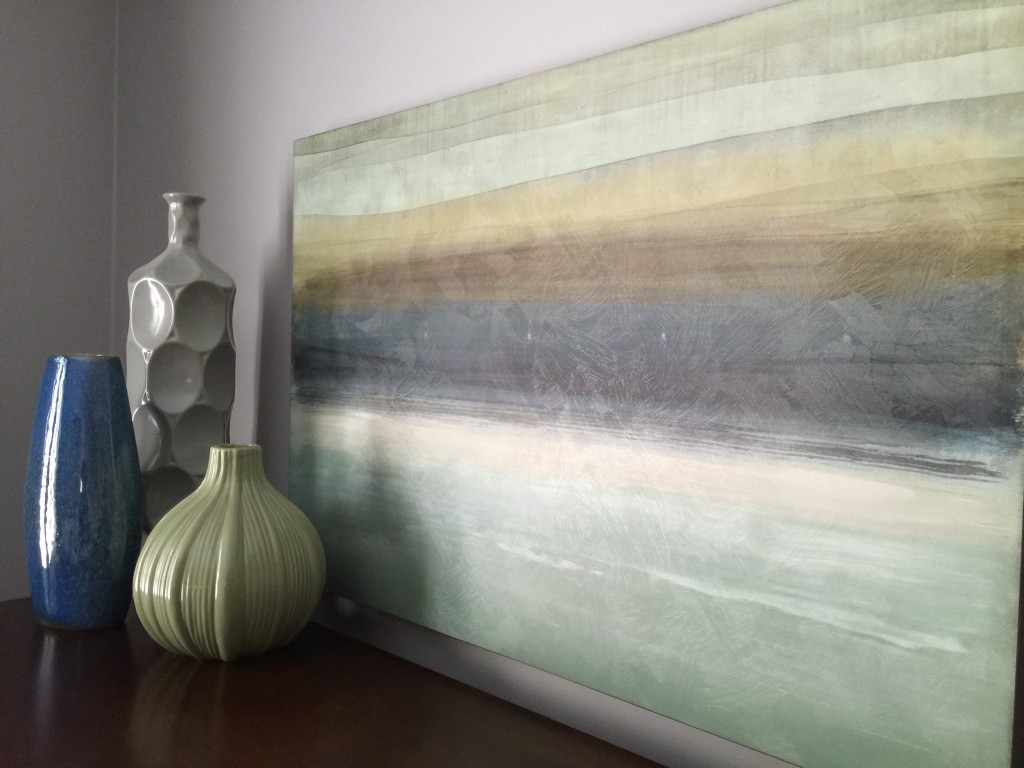 7. Curtains
I have 2 major rules on ready-made curtains: 1. Hang them high (makes the room feel taller) & 2. Never buy rod-pocket panels (they don't stay where you put them). I love these grommet panels with the modern etched embroidery in a zigzag meets diamond pattern. The colors ombre in the embroidery and the panels are lined and weighted. A great deal value at ready made prices. Valeron Grommet Panels from Bed, Bath & Beyond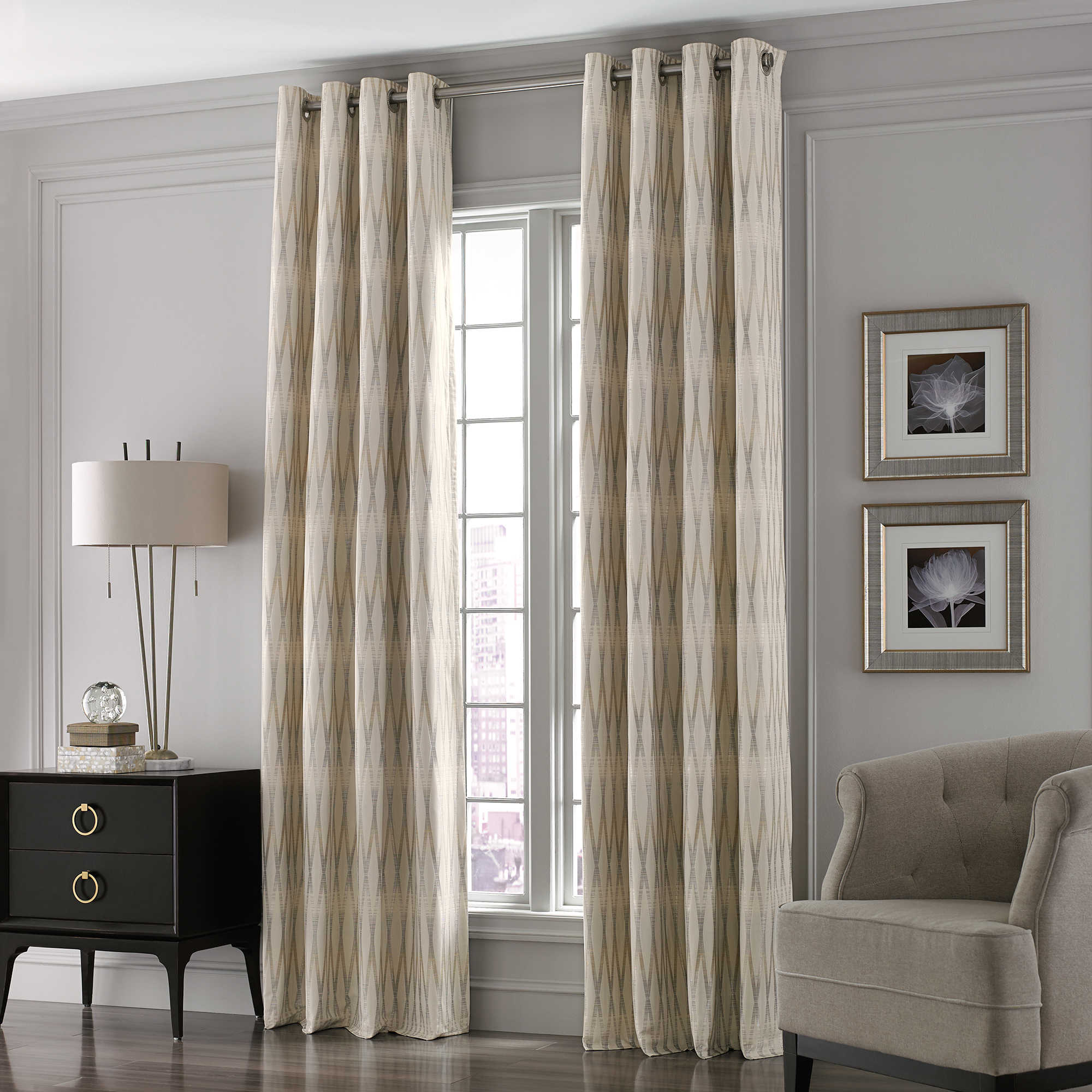 8. Area Rug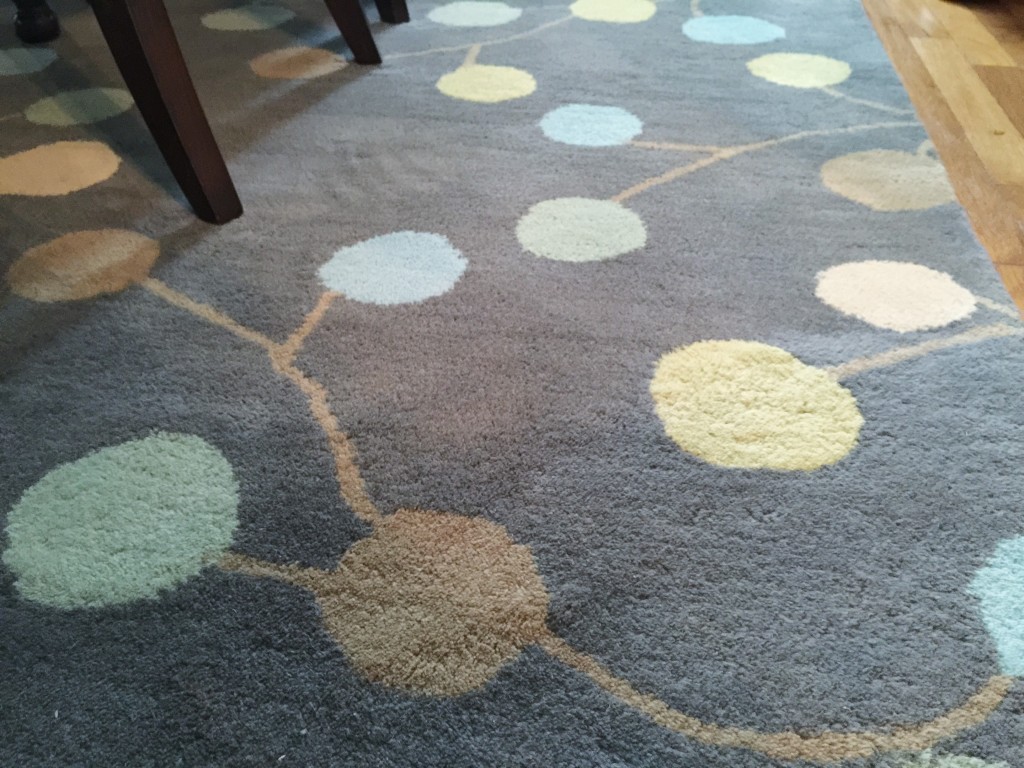 I love the fun energy this rug adds to the room! Stems of Brown, Aqua, Citron, Ivory, & Blue spotted around a deep grey wool rug. A little bit modern and a little bit retro, this rug sets our color palette.  Athena Pewter Area Rug