Quick Chicken Piccata with Spinach Garlic Orzo
Busy Night! I need something fast and using the few ingredients that I have on hand. PRONTO! Quick Chicken Piccata with Spinach Garlic Orzo is the answer!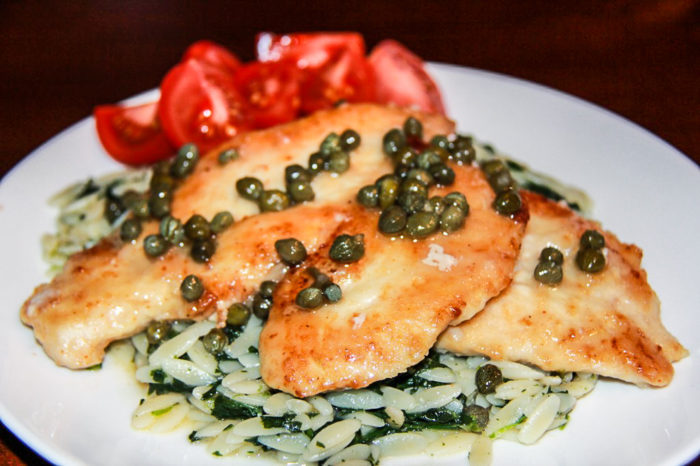 It's Tuesday…Double sports night in our house. The day has gotten away from me because the 4 yr old is nursing a cold and home from preschool and the big kids are strolling in from school with a mass of homework after a long weekend. On top of things, it's one of our crazy "be in 2 places at the same time" nights for sports and we need to eat by 5 to get out the door at 5:45! And, oh by the way, I haven't even thought about dinner and it's 4:20 already!!
I need something fast and using limited ingredients that I already have on hand…PRONTO!! Perfect night for my Quick Chicken Piccata with Spinach Garlic Orzo. I'll serve it with a salad or quick saute of veggies and dinner will be done in 20 minutes! Whew!!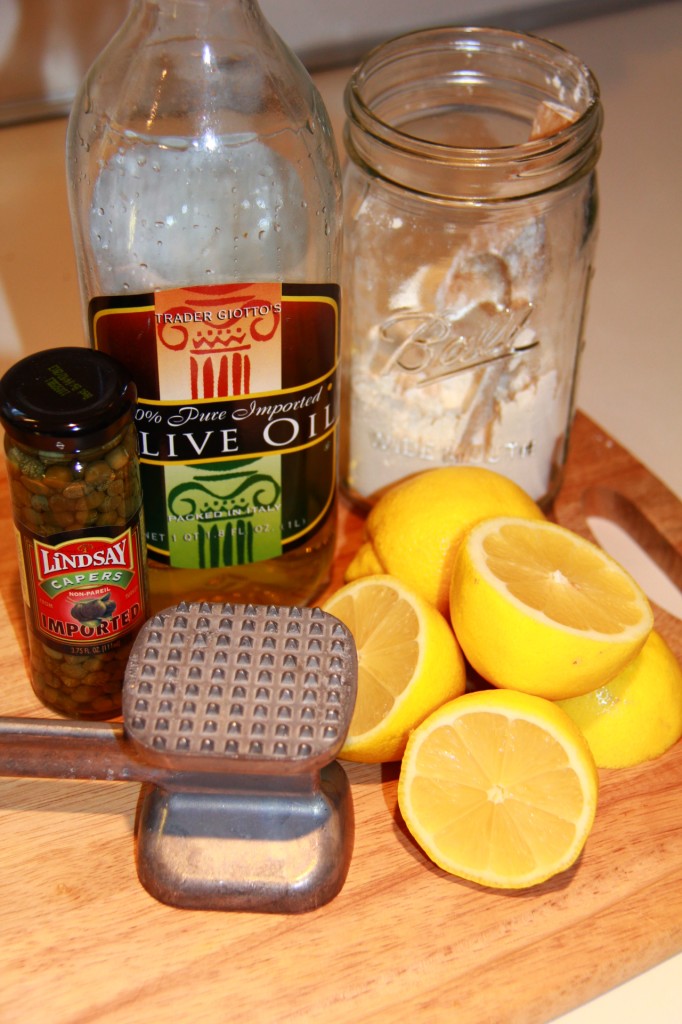 We made it to soccer and swimming in the nick of time and as an added bonus, the kids were so worn out that they were quickly showered and tucked in bed….Leaving my hubby and I to enjoy a favorite dessert of ours!
Black Cherry & Dark Chocolate Chunk Frozen Yogurt topped with Port ….What does tomorrow hold?
Quick Chicken Piccata with Spinach Garlic Orzo is the answer for a busy night dinner.
Ingredients
3 boneless skinless chicken breasts cut in half horizontally
5 tbs. butter, divided
4 tbs. olive oil, divided
1 cup flour
1 tbs. Creole Seasoning
1 cup white wine
1 jar capers, rinsed
Juice of 1 ½ lemons
1 cup orzo
2 tbs. kosher salt
8 oz cut leaf frozen spinach
2 garlic cloves, minced
Instructions
Start your water to boil for the orzo.
Cut the chicken breasts in half horizontally (as if you were butter flying them but cut all the way through).
Place each piece between 2 sheets of wax or deli paper and pound with flat side of a meat mallet until evenly thin.
Heat 3 tbs. butter and 2 tbs. olive oil in a large skillet over med-high heat.
Once water is boiling season with salt and add orzo.
Cook 6 minutes, then add frozen spinach and cook another 2.
Once that's going, gather a small baking dish (8x8 Pyrex works well) and mix together flour and Creole Seasoning.
Dredge each pounded half-breast in flour mixture and place in hot skillet.
Cook for 3 minutes per side or until golden brown.
Remove chicken to a plate and add wine, capers, and lemon juice.
Reduce liquid to half then turn off heat and whisk in last 2 tbs. of butter.
Return chicken to pan.
Drain orzo and spinach in large colander.
Return to the pot with garlic and remaining 2 tbs. olive oil. 
Taste both dishes and adjust for seasoning.
Serve by placing 1 chicken half on bed of orzo and topping with sauce.
https://sumptuousliving.net/quick-chicken-picatta/
Copyright @ Sumptuous Living