Pumpkin Spice Crescent Rolls
Pumpkin Spice Crescent Rolls are a quick and easy fall school snack or brunch item that are little fuss and out of the oven in minutes!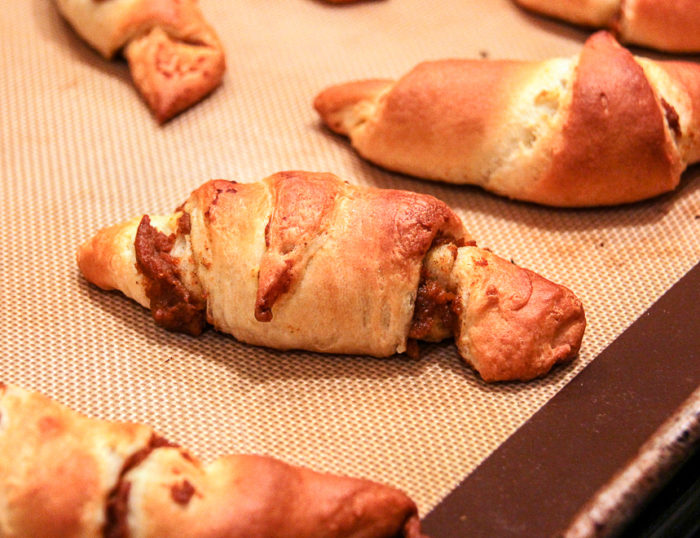 We are the ever anticipated "Preschool Snack Leader" today! This is a very big deal in this house! Yesterday, when I saw my little man carrying the snack bag out to the carpool line, I quietly say to myself… "Oh heck! (might have been a different expletive here…but we'll just pretend I said "heck") Do I even have stuff for snack tomorrow? What on earth am I going to send that he hasn't already had 2 or 3 times already this week?"
Amidst all the muffins, cookies, cupcakes, and other fun, 4 year old friendly fall goodies out there, I still want my little one (and his energetic and animated classmates) to eat festive treats that aren't going to throw them into a sugar high. You're welcome teachers! But I don't have time for a special trip to the store and need to pull something together with what I have. Time to think on the fly….hmm…what to make?
So this morning, in the wee hours between getting the elementary kid on the bus and sending off the middle schooler, I pulled ingredients we all likely have laying around and made Pumpkin Spice Crescent Rolls. Quite simply, it's a sweetened and spiced pumpkin filling smeared on the inside of a refrigerated crescent roll and baked up to flaky golden deliciousness.
Realizing this could be a terrific brunch or breakfast item to entertain with,
I added a glaze option to the recipe but chose to omit it for the preschool class. The kids are sweet enough….and we all sigh "awe!" Filling took all of 30 seconds to mix. Filling and rolling the dough another 3 minutes, tops! Then they were in the oven and golden 10-12 minutes later. Such a breeze! The boys did a taste test in their jammies, begging for more (with my middle schooler longing for the good ol' days of preschool snack).
Pumpkin Spice Crescent Rolls
Ingredients
2 cans crescent rolls (8 ct each)
1 can pumpkin
¾ cup brown sugar
1 tbs. cinnamon
½ tsp. nutmeg
Pinch of kosher salt
Glaze (optional):

2 cups confectioner sugar
1 tbs. pumpkin filling
1 tsp. vanilla
2 tbs. half and half
Instructions
Preheat oven to 375 degrees. In a bowl, mix together pumpkin, sugar and spices. Mix well and set aside. Unroll the rolls from the can onto a silpat or parchment lined baking sheet. Place a small spoonful of the filling on each triangle and spread out with the back of your spoon.
Starting with the wider end, roll the dough towards the smaller and place on the lined baking sheet. Continue with the remaining rolls, reserving 1 tablespoon of filling for the glaze if you are making one.
Bake for the recommended amount of baking time on the can. Any extra filling can be frozen in an airtight container for the next time (saving you a step).
If you are making a glaze, mix the glaze ingredients together in a bowl with a whisk until there are no lumps and the glaze is smooth. Drizzle over rolls. Enjoy!
https://sumptuousliving.net/pumpkin-crescent-rolls/
Copyright @ Sumptuous Living