Cocktail In A Cake! Enjoy A Slice of Mojito Cake
A cocktail in a cake? Doctor up a store bought cake mix with lime, rum and mint to make a Mojito Cake that tastes just like the real thing!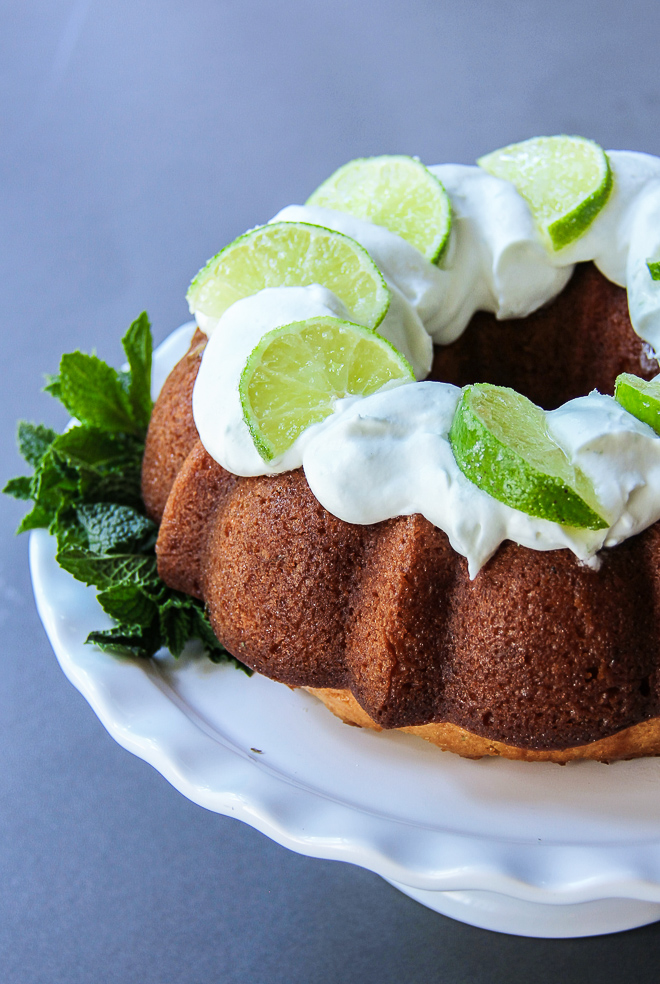 Mojito Cake? YES! Baby, you know I love, LOVE, love a good cocktail! Normally I would much rather drink my desert than eat it. But fun gatherings deserve dessert. And any boozey dessert that disguises itself as a cocktail is pretty much irresistible, right? This Mojito Cake recipe is done very similarly to our famous Mandy's Triple Chocolate Kahlua Cake by doctoring up a store bought cake mix. In fact, it's been pinned over 4K times and is so damn good your eyes will roll!
The beauty of cake mixes is that they are an easy, time saving base that you can make your own. Pina Colada cake? YES. Chocolate Kahlua Cake? YES. Mojito Cake? YES! All you have to do is swap out 1/2 cup of the water required in the instructions for 1/2 cup of booze. Add in a few extra flavors to really give it some jazz and maybe brush on a boozey glaze, and you have a cake that will impress everyone and you barely had to do anything!
To make the mojito cake, we add fresh lime zest, mint, and rum to a box of cake mix using our trusty KitchenAid Stand Mixer and then soak it in a rum syrup after baking. Top the cake with lime & rum infused whipped cream and sugared lime wedges. When you taste a slice, you'll be certain you're drinking a Mojito! Your taste-buds will shout… What?!? Last but not least put your gorgeous creation on a pretty cake stand and you will be ready to party.
Mojito Cake
Turn a boxed cake mix into a cocktail.
Ingredients
Cake

1 box white cake mix
½ cup oil
4 eggs
1 (5.25oz) pkg. vanilla pudding
½ cup rum
½ cup water
1 tbs. fresh lime zest
Glaze

½ stick of butter
¼ cup water
¼ cup rum
½ cup sugar
Juice of 1 lime
½ tsp lime zest
½ cup chopped fresh mint
Whipped cream

1 cup heavy whipping cream
1 TBL rum
2 tsp sugar
1 TBL lime zest
Garnish with fresh mint and lime slices.
Instructions
Make the Cake

Preheat oven to 350 degrees.
Mix cake ingredients together in a large bowl.
Pour into a heavy bundt pan sprayed well with nonstick spray.
Bake for 35 to 40 minutes or until a toothpick comes out clean.
Glaze

Heat a small saucepan, over medium-high heat, add the butter, sugar, rum and water.
Allow to bubble, careful not to allow boiling over, for 3 minutes.
Remove from the heat and add the lime juice, zest, and mint.
Stir and allow to steep while cooling.
Once cool, pour through a fine strainer.
While cake is still cooling poke with a fork along the top.
Slowly, pour glaze over cake.
Whipped Cream

Add ingredients to the bowl of a stand mixer. Whisk on high speed until medium to stiff peaks form, about 1 minute.
Do not over beat.
Top the Cake

Once cake is fully cooled turn onto a platter.
Dollop whip cream on top and garnish with lime slices and fresh mint.
https://sumptuousliving.net/mojito-cake-2/
Copyright @ Sumptuous Living