Melon Mint Vodka Cocktail Slushies
Get out your blenders! We're slurping on a fresh summer cocktail that will make you very happy! Melon Mint Vodka Cocktail Slushies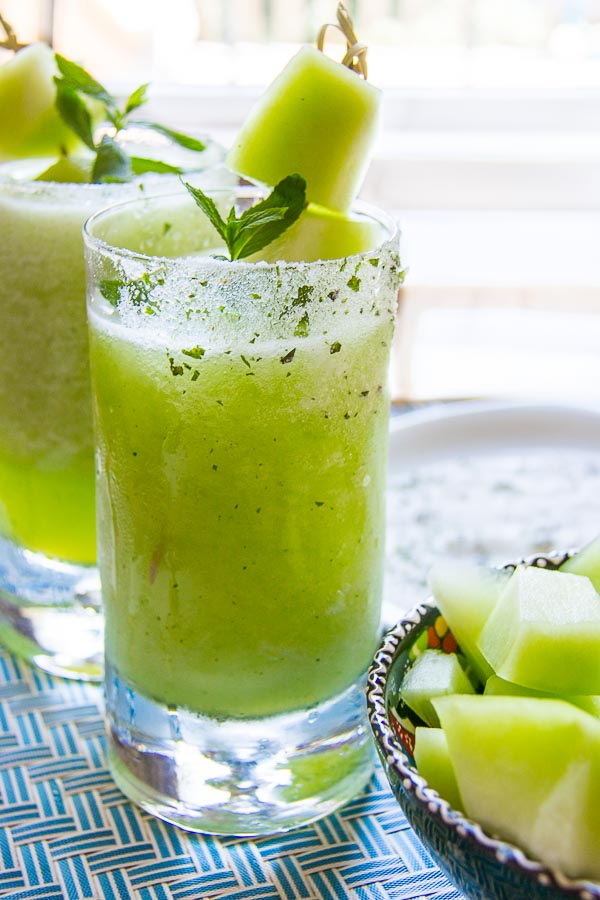 With the amount of fruit my family goes through, it's no wonder so many of our cocktails have fresh fruit or fruit juices in them. It's just what I happen to have laying around and we all know there's no way in hell I'm running to the market if I'm missing something! In the words of Tim Gunn (Project Runway is one of my daughter Gracie's fave shows), I'm gonna "MAKE IT WORK"! So with a gorgeous ripe, fat, bright green, juicy honeydew sitting in my fruit basket and the weekend approaching, I kill two birds with one stone and making Melon Mint Vodka Cocktail Slushies…
If there's fresh fruit pre-cut in the fridge then Mama can sleep in tomorrow morning and the kiddos can serve themselves at breakfast. Possibly even my hubs will whip up a batch of these waffles. Maybe lazy, probably wishful thinking, definitely smart!
It's Happy Hour! It's Cocktail Friday! And I'm thirsty!
I love a yummy fresh cocktail that acts like a little pick me up. Kind of like a spiked slushy or smoothie, this Melon Mint Vodka Cocktail is perfect for taking to the pool, hanging in the backyard while the kiddos play and you chat with a neighbor, or taking a moment to sit down (I wish!) and read a magazine (I double wish)! How many of you have a stack as big as I do of magazines you're behind on reading? Maybe in my next life…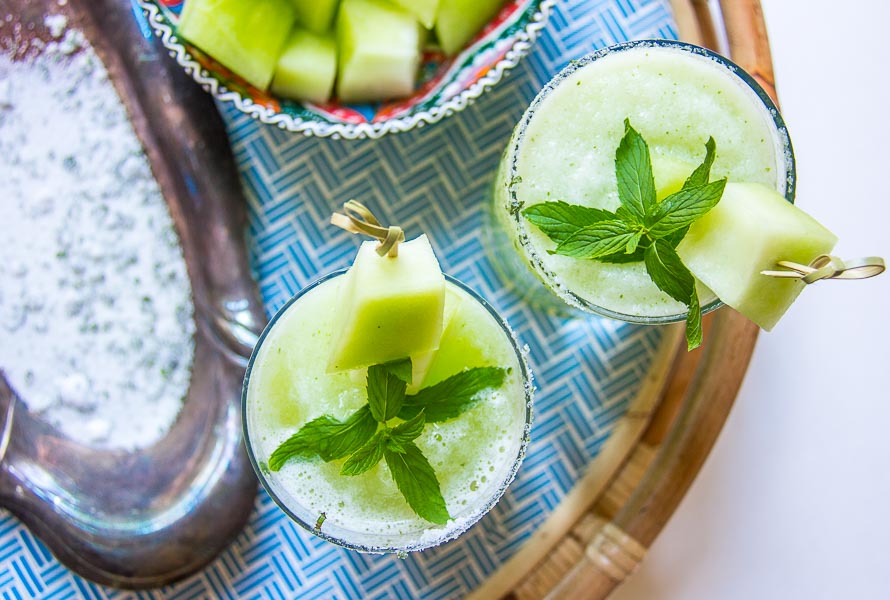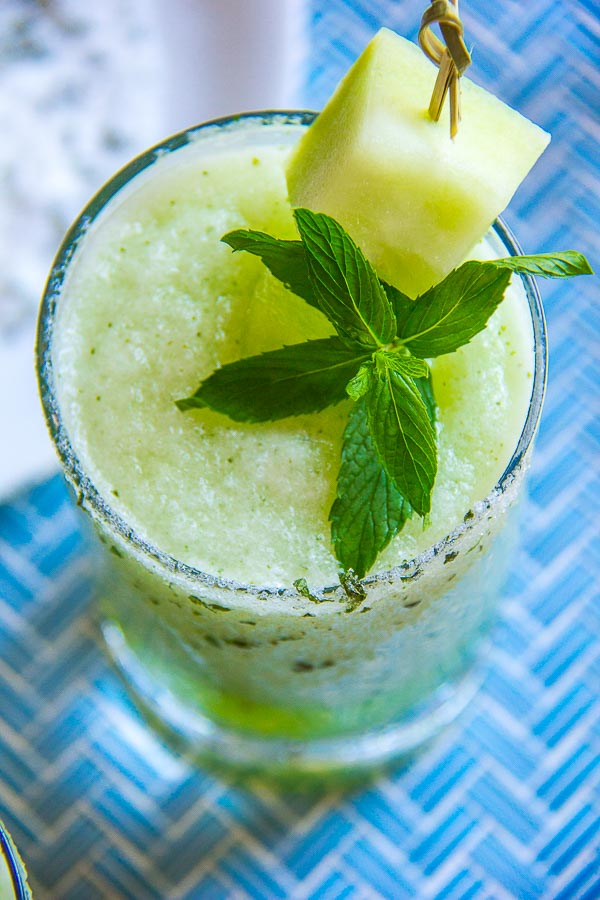 To make the Melon Mint Vodka Cocktail, I took fresh honeydew and blended it with an easy mint simple syrup, good vodka, and ice. Your vodka doesn't need to be the tip top end but it should be a good quality vodka like Titos or Cathead. Cracks me up when people mix $45-$60 vodkas in cranberry juice. Really?!? Such a waste… (I'm talking to you Aunt Debra)!  Here's a good list of vodkas that are worth keeping in your bar, what they taste like and how much they run.
Simple syrup is made in minutes and keeps in the fridge for 2 weeks in a mason jar. You can make it in an unlimited amount of unique flavor combinations (like this one) and its a great way to use up extra bits from your fridge. Just bring equal parts sugar and water to a boil and stir in whatever flavoring you want. Turn off the heat and let sit. A couple hours is good but at least till it comes to room temp. The most important aspect is to fully strain out whatever botanicals or flavorings you have added. This set of strainers is handy to have. Being that I have a huge pot of mint in our front yard, mint simple syrup is always on hand in my fridge in the summer. Great for iced tea, lemonade, and of course Mojitos.
Either honeydew or cantaloupe will work great! I served the cantaloupe version of this slushy at the Pinner's Conference in Atlanta this past spring. I brought 2900 cups and left with 150. I'd say it was a hit! Wouldn't you? If you're in Phoenix or Salt Lake city, come see me on stage this fall. I have some great cocktails planned and fab family-friendly international recipes on the menu. Read more about that here and use my exclusive discount code COCKTAIL for your tickets.
Once you've blended the Melon Mint Vodka Cocktail Slushies smooth, pour it into a tall glass that has been wet with a chunk of honeydew and rolled in mint sugar. I just finely chopped mint and mixed it with sugar. This Mojito Sugar would work great too. Add a couple chunks of fresh honeydew and a sprig of mint, grab a straw and start slurping! Then you can lick the glass. We won't judge.
Melon Mint Vodka Cocktail Recipe
Melon Mint Vodka Cocktail Slushies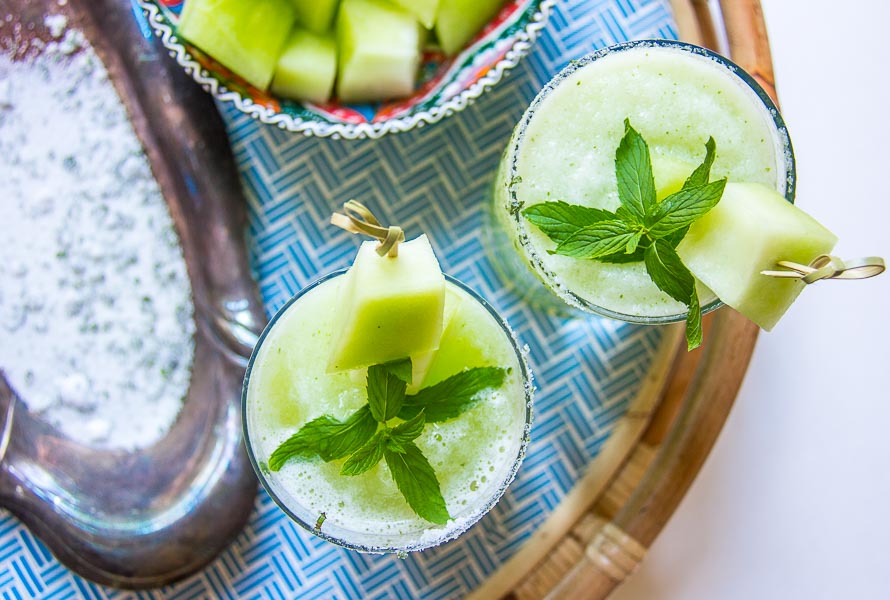 Ingredients
2 cups Honeydew or Cantaloupe Chunks plus a few extra for garnish
3 1/2 oz Mint Simple Syrup
5 oz Vodka
1/2 cup-3/4 cup ice
Mint Sugar for garnish
Long Toothpick
Mint Sprigs for garnish
Instructions
Place melon, simple syrup, vodka, and ice in a high power blender. Blend until smooth. Wet the edge of glass with a chunk of melon and roll in mint sugar. Garnish with a toothpick of melon chunks and a sprig of mint.
Mint Simple Syrup:
Bring 2 cups sugar and 2 cups water to a boil. Add 1/2 cup loose mint leaves or 3-4 stalks of mint. Turn off the heat and allow to cool. Strain simple syrup and store in a mason jar in the fridge for up to 2 weeks.
https://sumptuousliving.net/melon-mint-vodka-cocktail-slushie/
Copyright @ Sumptuous Living
CREATED BY LIFESTYLE EXPERT MANDY LANDEFELD. READ MORE ABOUT MANDY HERE