Zesty Maple Green Beans
These zesty maple green beans prove that green beans don't have to be the side dish that everybody avoids!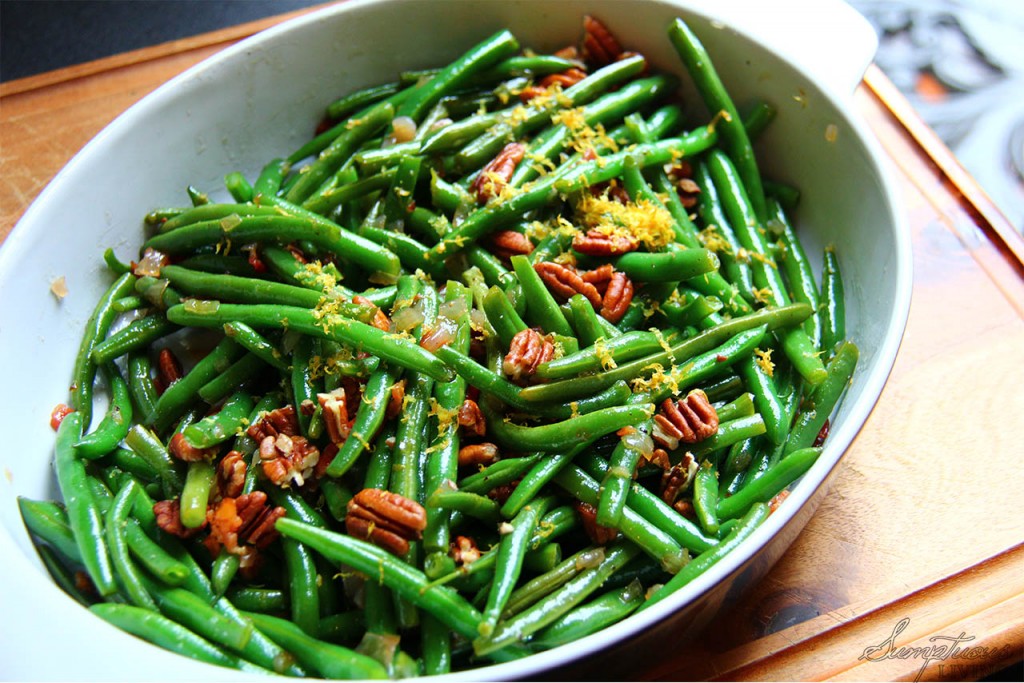 I love veggies on the table during the Holidays! Thanksgiving, Christmas and pretty much any holiday gathering beg for crisp beautiful veg and lots of them! Too many starches roaming the spread otherwise.  Today, I'm sharing our Zesty Maple Green Beans. These aren't your average green beans. Nope, not even close to mushy, salty mess that everybody avoids at the family gatherings.  These green beans really have a life of their own. Zesty, sweet, smoky and just the right amount of crispness that all good fresh green beans should have. Let me let you in on a few tricks to get the perfect green beans for the holidays that will last for as many hours as the great food and conversation the table brings.
Notice how beautifully green those beans are? They are a far cry from the the gray, mushy ones that come out of the can or that are steamed to death. The secret to keeping that color is blanching the beans in salted water for a few minutes. Then stopping the cooking process by moving them to a salted ice bath.
As soon as the beans finish cooking, you let them soak in a salty ice bath. This zaps the beans of any residual heat and completely stops the cooking process. It retains the color and the beatiful, fresh, crisp texture. I also like to pretend that the beans are football players resting their tired muscles in an ice bath after an especially hard game. Maybe that's just me though. They can hang in the bath as you gather the rest of the ingredients.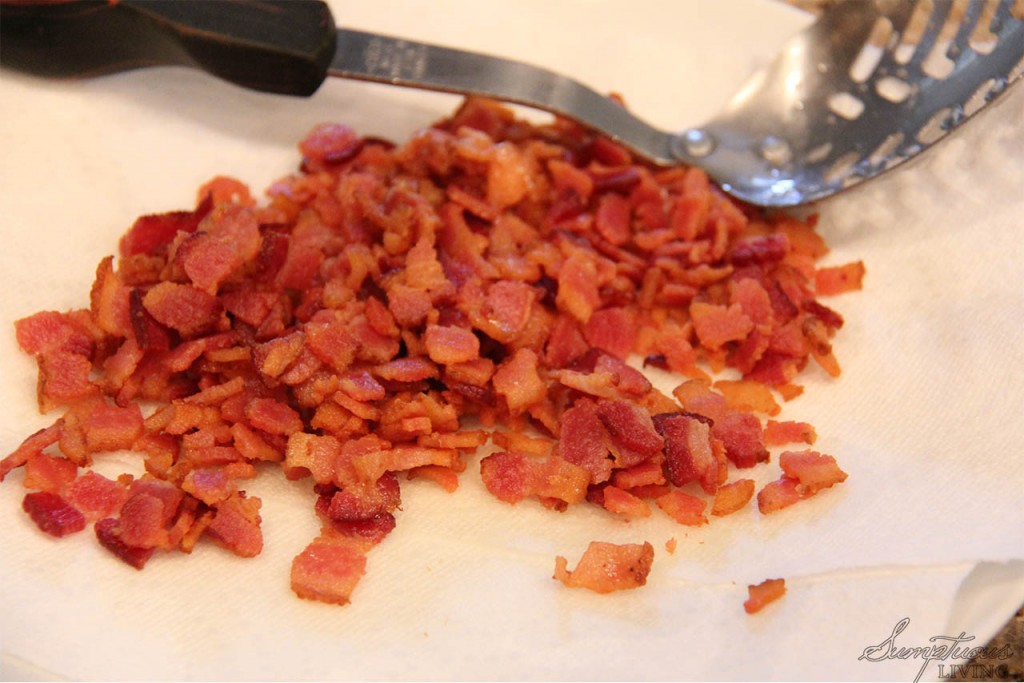 The real big flavor punch in this dish though, comes from the glaze that the green beans are tossed in after they have cooked. A mixture of maple syrup and vinegar adds a really nice additional hit to every bite. And by heating and tossing the beans in the sauce, every bean gets a bit of love. It's quite nice. Crispy little bits of bacon get tossed in.
Finish the whole thing off with some chopped pecans a bit of orange zest over the top, you have a green bean dish that is surprisingly complex in flavor. It will be the Thanksgiving and Christmas side. Or you can just take the whole dish, find a hiding spot at the family reunion and eat the whole thing yourself. Either way…
These green beans really have a life of their own. Zesty, sweet, smoky and just the right amount of crispness that all good fresh green beans should have.
Ingredients
2lb Fresh Green Beans
2 Medium Shallots (chopped)
6 thin slices Bacon (chopped)
1 tablespoon White Wine Vinegar
3 tablespoons Maple Syrup
2 1/2 tablespoons Kosher Salt (divided)
1 tablespoon Orange Zest
1/2 cup Pecans (toasted and chopped)
Instructions
Bring a large pot of water and 2 Tbsp salt to a boil.
Fill large bowl with ice water and add 1 tsp salt. Set aside
Carefully add green beans to boiling salted water and cook for 3 minutes.
Remove beans with a spider or slotted spoon to the ice water. This will stop the cooking process and retain the bright green color.
Let cool completely.
Cook bacon in a large skillet until brown and crispy.
Using a slotted spoon, remove bacon crumbles onto a plate lined with paper towels to drain.
Reserve about 5 Tbsp fat in pan.
Add shallots and cook 2-3 minutes until tender.
In a small bowl combine white wine vinegar and maple syrup.
Pour into pan.
Add remaining 1/2 tsp salt and stir.
Using spider or slotted spoon add green beans.
Remove from heat when bean are hot.
Add bacon crumbles.
Place in serving dish. Top with pecans and orange zest.
https://sumptuousliving.net/maple-green-beans/
Copyright @ Sumptuous Living