Halloween Spider Cookies
Give the kiddos a Spooky Treat with these adorable peanut butter & chocolate spider cookies!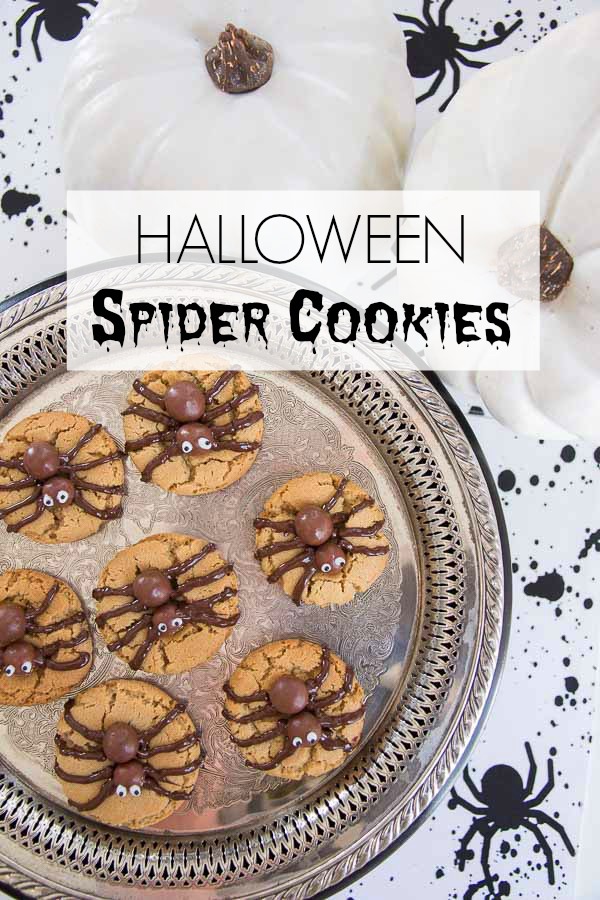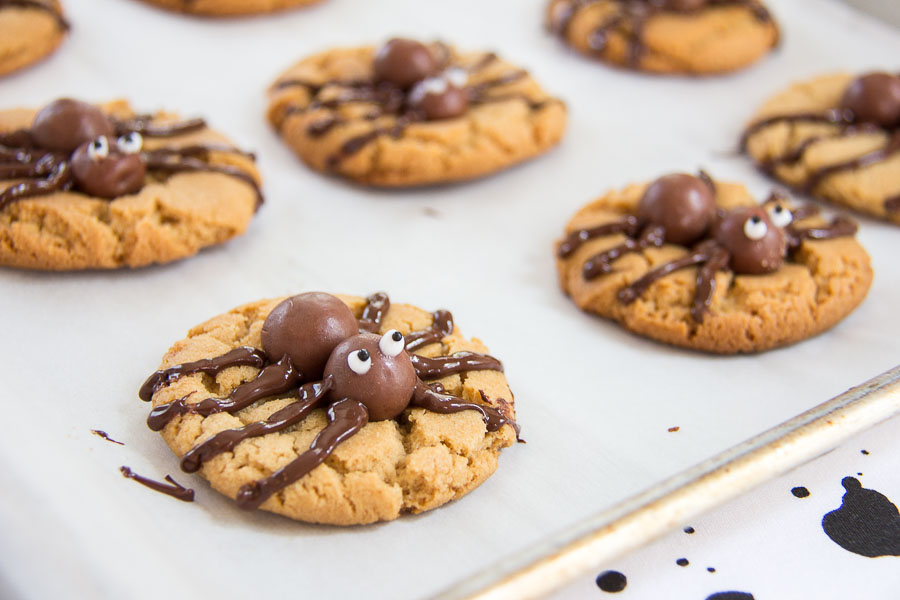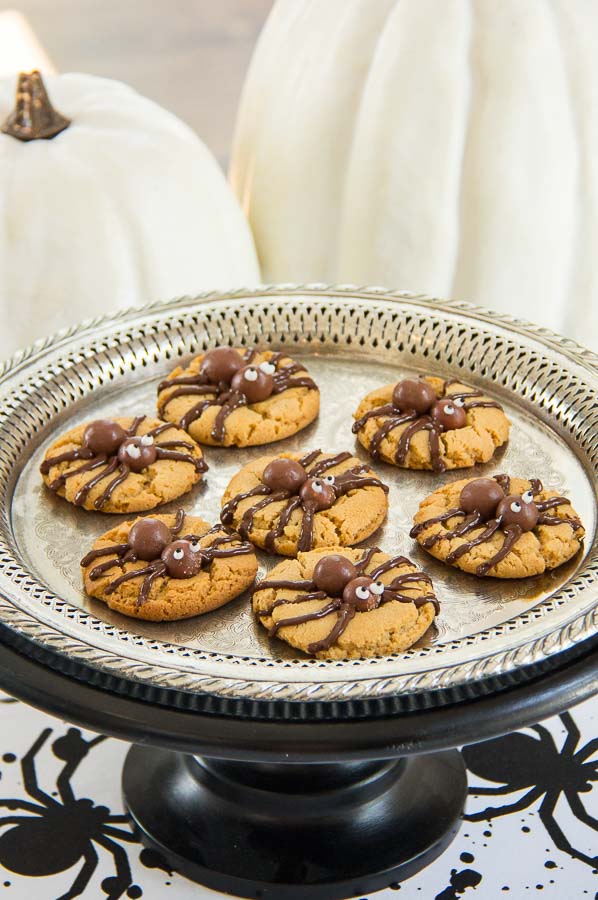 Aren't these the cutest cookies ever? I don't think they're very frightful tho! Only frightening thing about them, is that I made them! If you were watching our behind the scenes Instagram story the other day, you know my kiddos are convinced some kind of Halloween alien came down and abducted their real mom and replaced her with a cutesy, sweet mama who makes Halloween Spider Cookies. I never do stuff like this but I kind of love the devilish confusion it causes when I do! Muah Ha Ha!
My great grandma Charboneau always made us peanut butter hershey kiss cookies when she came to come visit. She was born in 1899 and lived well into the 2000's! Great Grandma used to save the old cereal boxes and wax paper bag inside to use as a cookie box. A lid was cut out of the front of the box and the bag cut up to make cookie lining sheets. So inventive & resourceful, right?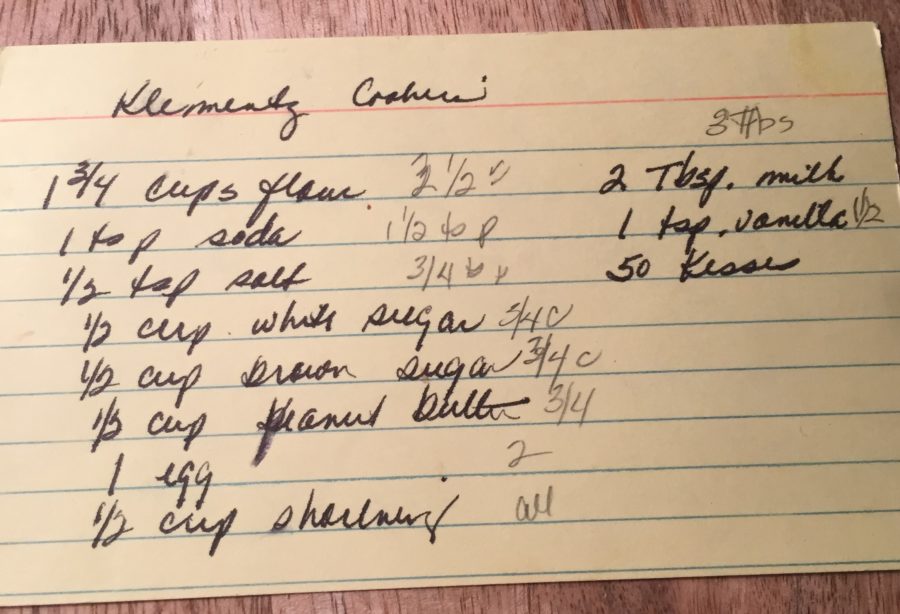 Our Halloween Spider Cookies use her yummy cookie dough recipe. I use a small ice cream scoop to make the dough balls. If the dough gets too warm, pop it in the fridge for about 20-30 minutes. Her recipe calls for shortening but I make it with a combo of butter and shortening. You can use all butter if you prefer. Butter makes them spread more and shortening makes them rise and keep their shape better.  That's the version I liked most, but many of our readers prefer not to use shortening at all, so use what you prefer. Your kitchen, right? // I have no idea what all this writing is on her recipe. Great Grandma used to edit things as she made them and took notes only she understood!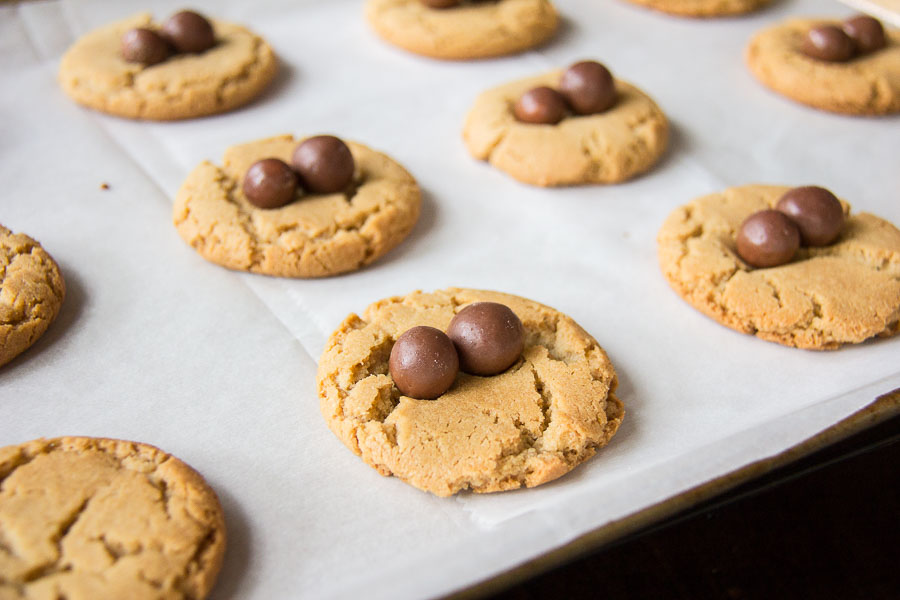 Next, decorate the spider cookies with some Whoppers and a little melted chocolate. The key to making the cookies turn into spiders, is to place the Whoppers on as soon as the cookies come out of the oven. This helps the body melt enough to set. You'll have to do a quick sort of the Whoppers first. Divide the bigger ones from the smaller ones onto two separate trays. The smaller balls become the head and the larger ones become the body of the spider.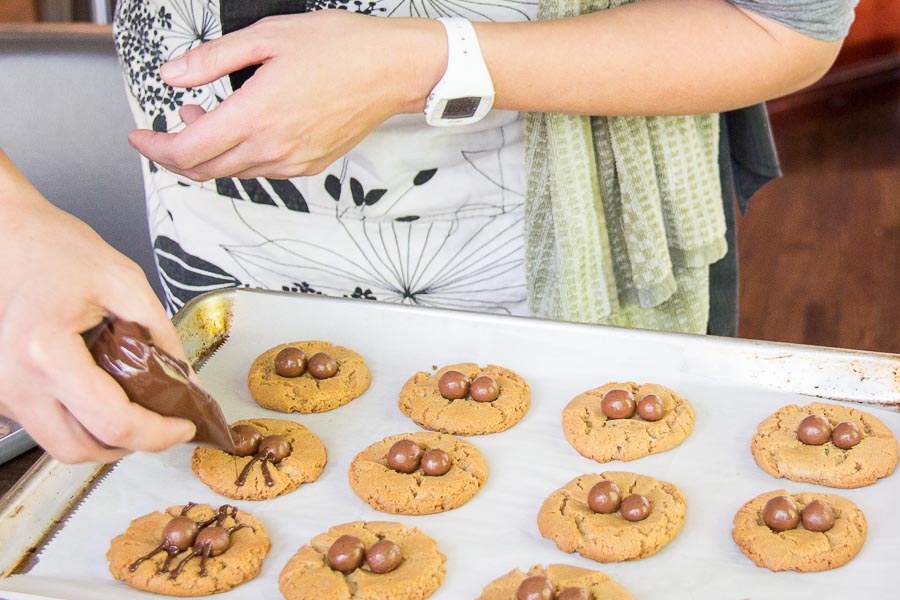 Then you'll need to melt up some chocolate chips to pipe on the spider legs. No need for a special piping bag. Make sure to let the melted chocolate cool for a moment before placing it into a Ziploc bag. Cut a small snip off one corner of the bag. Pipe 4 legs on one side and 4 on the other. This is why we used parchment paper when baking the spider cookies. I knew the chocolate would make a mess and my usual silicone baking liner would be too big of a pain to clean.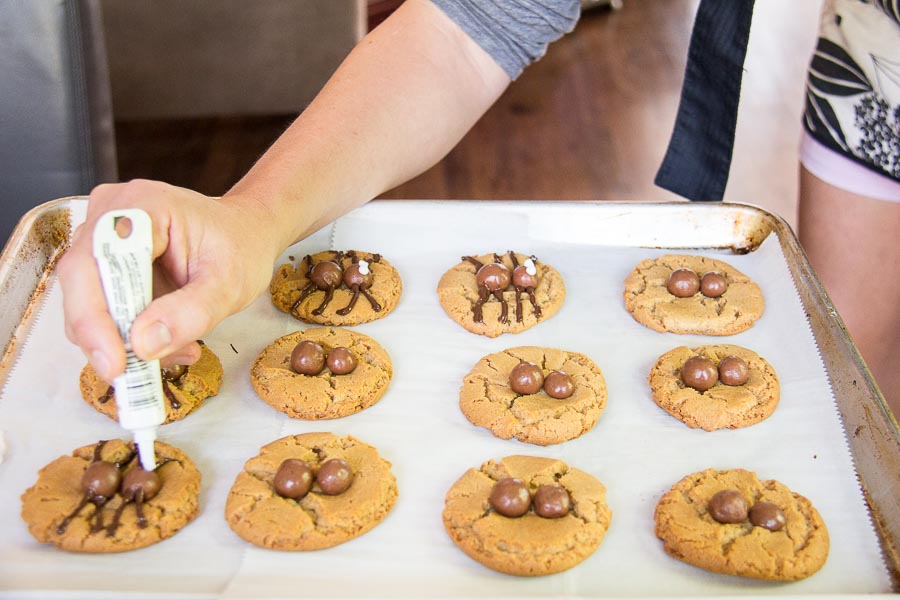 For your last step, use a little tube of white cake decorating gel to make little dots on the head of the Halloween Spider Cookies. If you want, you can use tiny googly eyes from the cake decorating aisle or just pop on a couple of black sprinkles to make the spider's eyes. You'll quickly see that when the spider gets his eyes, he takes on some serious Halloween personality! They are so cute and crazy yummy!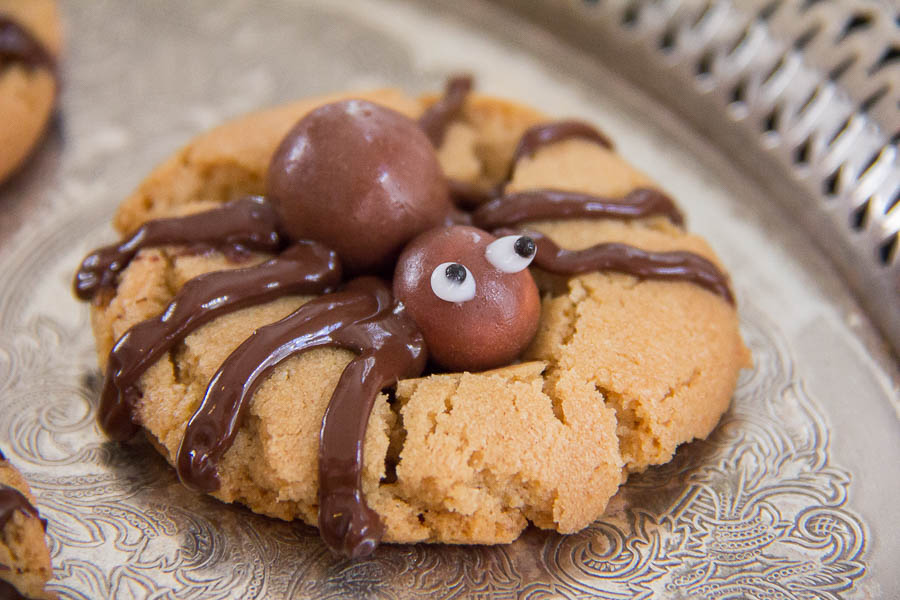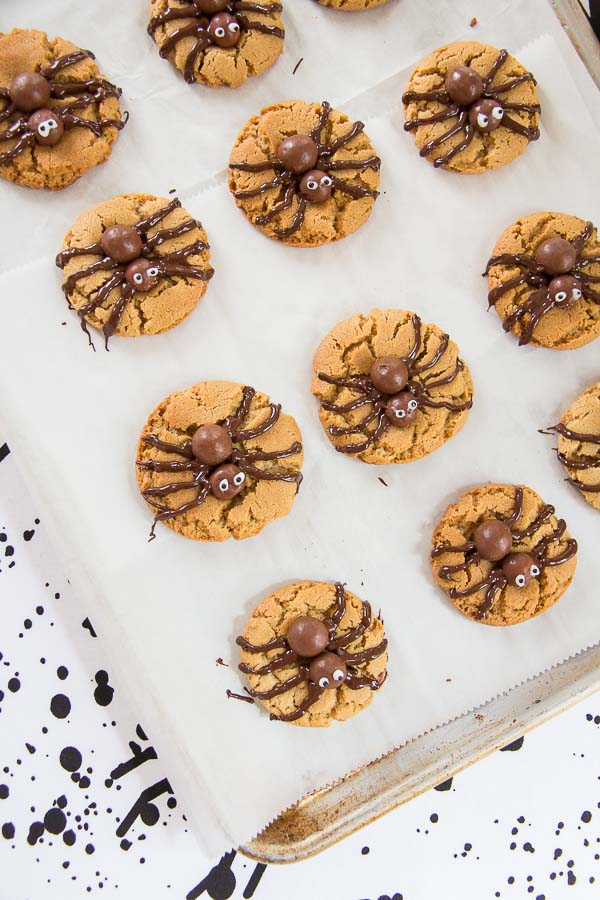 HALLOWEEN SPIDER COOKIES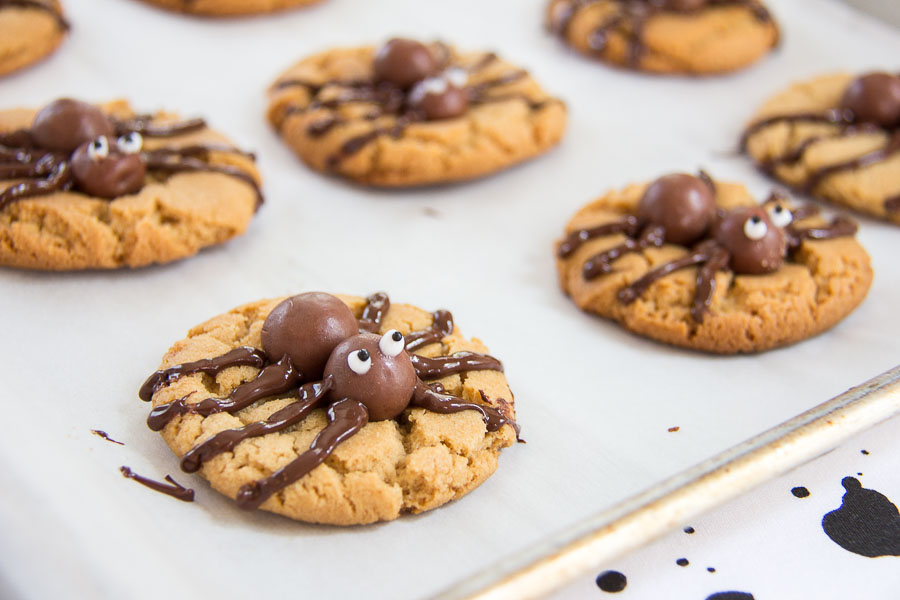 Ingredients
½ cup sugar
½ cup brown sugar
½ cup creamy peanut butter
1 large egg
¼ cup unsalted butter, at room temperature
¼ cup shortening
2 Tbl milk
1 tsp vanilla extract
1 ¾ cups flour
1 tsp baking soda
½ tsp kosher salt
1 carton Whoppers, malted milk balls
2 oz semisweet chocolate
1 small tube white cake decorating gel
Instructions
Preheat oven to 375 degrees. Line 2 baking sheets with parchment paper or silpats; set aside.
Mix sugars, peanut butter, butter, shortening, egg, milk and vanilla in large bowl until combined. Add flour, baking soda and salt. Mix well.
Roll into 1-inch balls and place on baking sheets about 2 inches apart. Bake for 10-12 minutes. Remove from oven and set pan on cooling rack.
While cookies are baking separate the Whoppers into larger and smaller balls. The larger balls will make up the spider bodies and the smaller balls the heads.
Melt the chocolate over a double boiler. Remove from heat and let cool slightly. Put into a plastic Ziploc bag and cut a small hole in the corner to create a piping bag.
When the cookies are done, immediately push 2 Whoppers (one small, one larger) into the center of the cookies. This will make the spider body. Let cookies cool; pipe 4 legs on each side.
To make the eyes, pipe two small circles on the head of each spider with the cake decorating gel. You can pipe a tiny dot of the melted chocolate to make the pupil or use chocolate sprinkles. You could also use Wilton candy eyeballs.
https://sumptuousliving.net/halloween-spider-cookies/
Copyright @ Sumptuous Living