So Delicious! Vietnamese Cold Brew Iced Coffee
One batch will last you all week! Sharing how to cold brew iced coffee, make the best iced coffee drink you've ever had, and then turn it into a delicious coffee martini!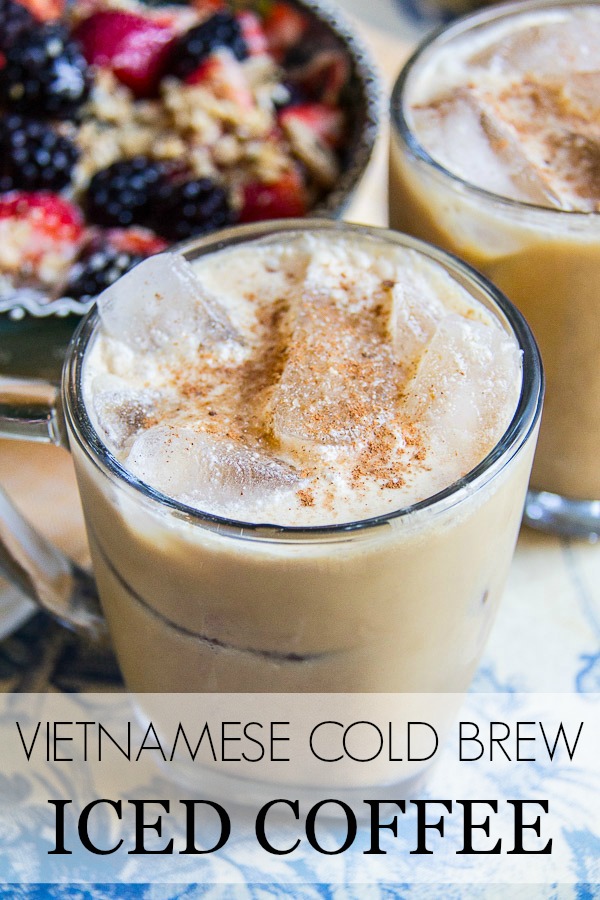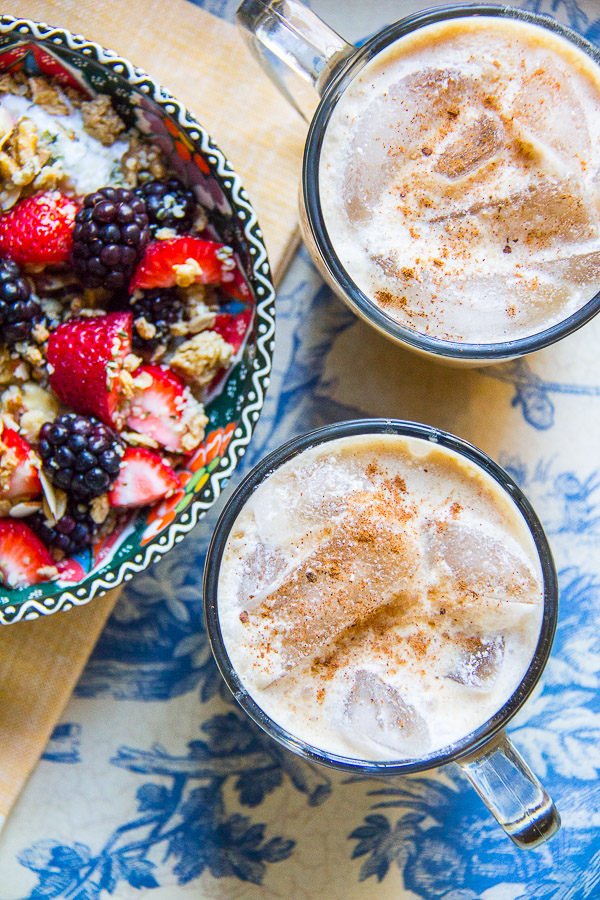 I love coffee! Haven't quite figured out how to run an IV straight into my veins with the stuff yet. Until I do, I'll keep getting my fix from a glass! Other than my typical cup in the morning, I have to get a hit in the afternoon right before I take my stroll the bus stop. How else can I greet the kiddos with a big bouncing smile?
As the weather warms up, it gets harder and harder to sip a hot cup of coffee in the middle of the hot day. A tall glass of iced coffee is the BEST for hot days! I'm instantly transported to a summer afternoon at our family farm in Louisiana. My Mamaw actually got me hooked on iced coffee in the afternoons when I visited her. She would always just pour the leftover brew from the morning over ice, and that was how I've been doing it until recently.  Now, I've concocted the perfect cold brew iced coffee recipe so I can think of her everyday.
Being that every coffee shop in the planet is doing some variation of cold brew iced coffee, I've realized how big a difference it makes to craft the perfect cup. Add that to the love affair I have with Vietnamese coffee from the amazing restaurants we have here on Atlanta's Buford Highway and you've got a perfect cold brew iced coffee recipe.  I served this coffee drink during my weekend appearance at the Pinners Conference in Atlanta – it was a big hit! Read more about it and all the details for next year's event here. That reminds me – I've got a fresh batch of iced coffee waiting for me in the fridge right now!
ONE BATCH WILL LAST YOU ALL WEEK!
and…
ONLY HAS 3 INGREDIENTS IN IT!
COLD BREW COFFEE IS EASY! WATCH THE VIDEO HERE
I use a 15 oz can of Cafe du Monde Coffee or a 10 oz. can of ground espresso like Bustelo or Pilon, all of which are super affordable and already ground. This container is the best contraption for cold brewing but if you have just an old school plastic pitcher that will work too. Then just pour the Vietnamese Iced Coffee over ice or run through your favorite blender for a frosty treat. Top with a cinnamon sugar grinder or Mexican Chocolate Sugar.
MAKE IT A COFFEE MARTINI!
Turn it into a Martini! Pour 4 oz Vietnamese Cold Brew Coffee into a martini shaker filled with ice and add 2 oz Vodka and 1/2 oz Kahlua. Shake until cold and strain into a pretty martini glass rimmed with this Chocolate Cocktail Sugar.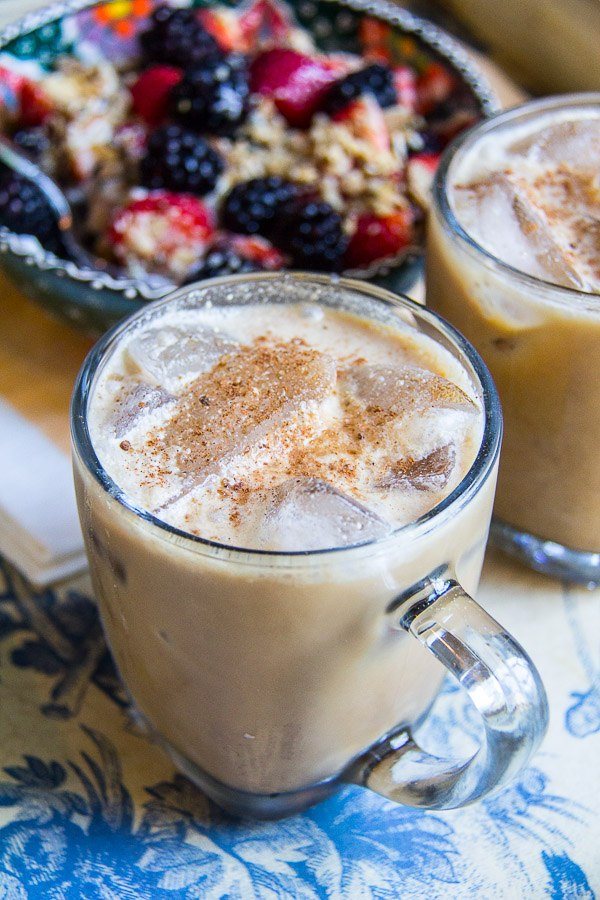 VIETNAMESE COLD BREW ICED COFFEE
Vietnamese Cold Brewed Iced Coffee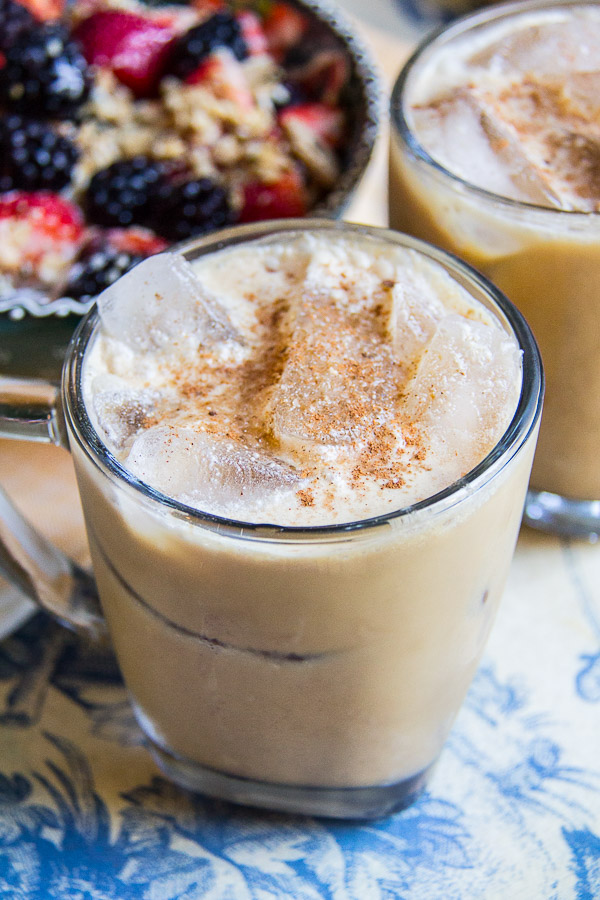 Ingredients
10 oz can Ground Espresso (Pilon or Bustelo)
12 cups Cold Water
1 can Coconut Milk
1 can Sweetened Condensed Milk
Cinnamon Sugar or Mexican Chocolate Sugar to top
Instructions
Fill container with whole can of coffee. Top with water and stir well. Cover and refrigerate for 12-24 hours (the longer the better). Strain through cheesecloth over a strainer into another container. Mix in coconut milk and condensed milk with a whisk. Serve over ice and top with cinnamon sugar. Refrigerate remainder.
https://sumptuousliving.net/cold-brew-iced-coffee/
Copyright @ Sumptuous Living
CREATED BY LIFESTYLE EXPERT MANDY LANDEFELD. READ MORE ABOUT MANDY HERE