The Ultimate Chicken Noodle Soup Recipe
What is the one dish everybody loves? Chicken Noodle Soup of course! This hearty veggie loaded rustic soup is perfect for cold nights. Freezer friendly too.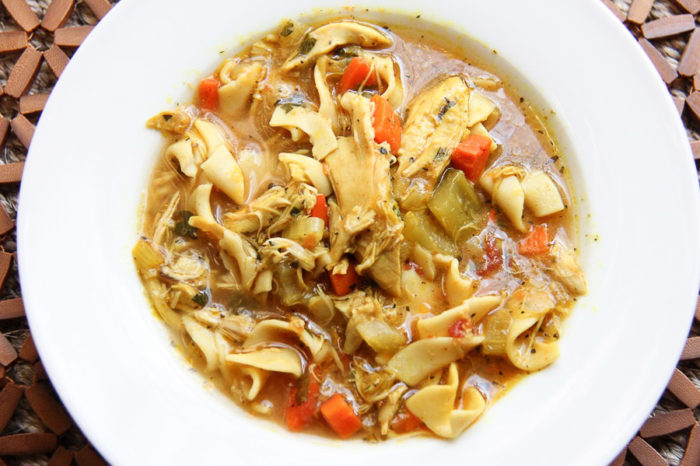 Every family, every generation has a chicken noodle soup recipe. My family was more like chicken gumbo or chicken and dumplings (my Louisiana side) and my mom made a lighter version with egg noodles, but we really didn't have a tried and true lick the bottom of the bowl version. So I had to come up with a recipe that got my kids away from the canned versions you find at the store and eating one we could stake some heritage into, at least from here on out.
By the way, I am a self confessed freezer addict. There! No special meetings necessary to admit it. I love my deep freeze and I'm proud of it! Mainly because instead of eating OUT, we eat IN by way of dishes I froze weeks ago and give us a wide variety when we need a "TO-GO" dinner.
So to start a good chicken soup, you have to start with… yep, you guessed it: CHICKEN! (you're so smart)
You're gonna want a very, very large batch of this soup! The most you can fit in your freezer, the better. I freeze mine without the noodles (we'll discuss that later).
Prep your veggies while the stock bubbles away.
You'll need the traditional 3: Carrots, Celery, and Onions.
I add a 4th to the mix: Leeks
Leeks have to be soaked in a large bowl of water after they're chopped. They grow in sandy soil and the grains will fall to the bottom of the water bath as they soak. Use a spider or slotted spoon to pull them from the water. DO NOT pour them into a colander. It will just dump the sand right back on top of them.
All the veggies join the party. Into the pot pretty veggies….
We can't forget about the chicken! He's the star of the show!
Here's where you let the soup cook and get happy. Place the amount you plan to eat right away in a smaller pot. This will be the batch you'll boil the noodles with. Don't add the noodles to the whole batch because they'll be mushy when you defrost the batches from the freezer. This can be done the day before (soup is always better the day after, isn't it?). Leave the rest in the big pot to fully cool before putting up in freezer containers. I use 1 QT plastic cylinders with screw lids. Leave at least 2″ space at the top so the cap doesn't bust when the soup expands as it freezes. Label each container with shorthand of the dish (CHK SOUP/ADD NDLS) and a date.
Everyone has their own version of this classic soup. This one is full of veggies and flavor.
Ingredients
2 Whole Chickens
24 cups Water
3 tablespoons Chicken Base (a paste found in the soup aisle -like bouillon but WAY better)
4 cups Celery, diced
4 cups Carrots, diced
4 cups Onions, diced
4 cups Leeks,sliced
1 1/2 teaspoon Turmeric
1 tablespoon Herbs de Provence
1 1/2 tablespoon Kosher Salt
1/2 tablespoon Black Pepper, freshly ground
1/2 - 1lb Dried Egg Noodles
3 tablespoons Fresh Italian Parsley, minced
Instructions
In a huge stock pot, place the chicken, chicken base and water.
Bring to a boil, then lower to simmer for 45 minutes.
Meanwhile cut your veggies. Remember to float the leeks in a bath of water and scoop off the top (the grit will stay in the bottom).
Remove chicken to tray to cool.
Strain the broth through a cheese cloth lined colander.
Return broth to the pot.
Pull the chicken apart with a fork.
Add veggies, spices, and chicken to the pot. Simmer for 20 minutes.
Into a smaller pot, pull out the soup you wish to eat today or tomorrow (soup is always better the next day).
Leave the rest to cool to put up to freeze in 1 QT screw lid containers (leave 2" space at the top for expansion during freezing).
Label containers in shorthand (CHK SOUP/ADD NDLS) along with the date.
In the smaller stock pot, bring soup to a boil.
Add egg noodles (1/3 noodles to soup ratio or whatever you fancy).
Let simmer for 10 minutes.
Add fresh parsley, and taste for seasoning.
Don't be afraid to adjust! Make it your own!
https://sumptuousliving.net/chicken-noodle-soup-recipe/
Copyright @ Sumptuous Living