Caribbean Shrimp Salad with Key Lime Vinaigrette
Fresh flavors and perfectly cooked shrimp come together in our island-inspired Caribbean Shrimp Salad. Make dinner tonight a vacation!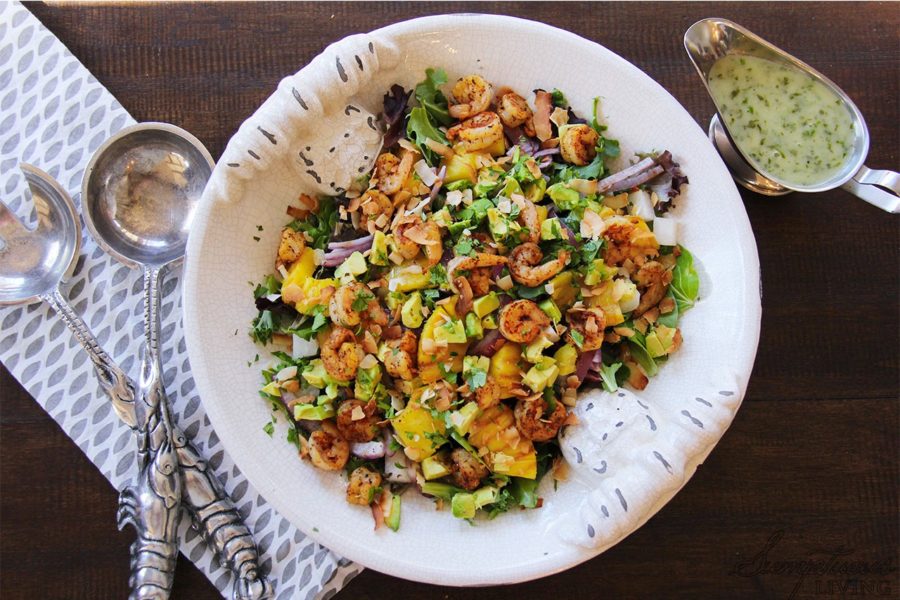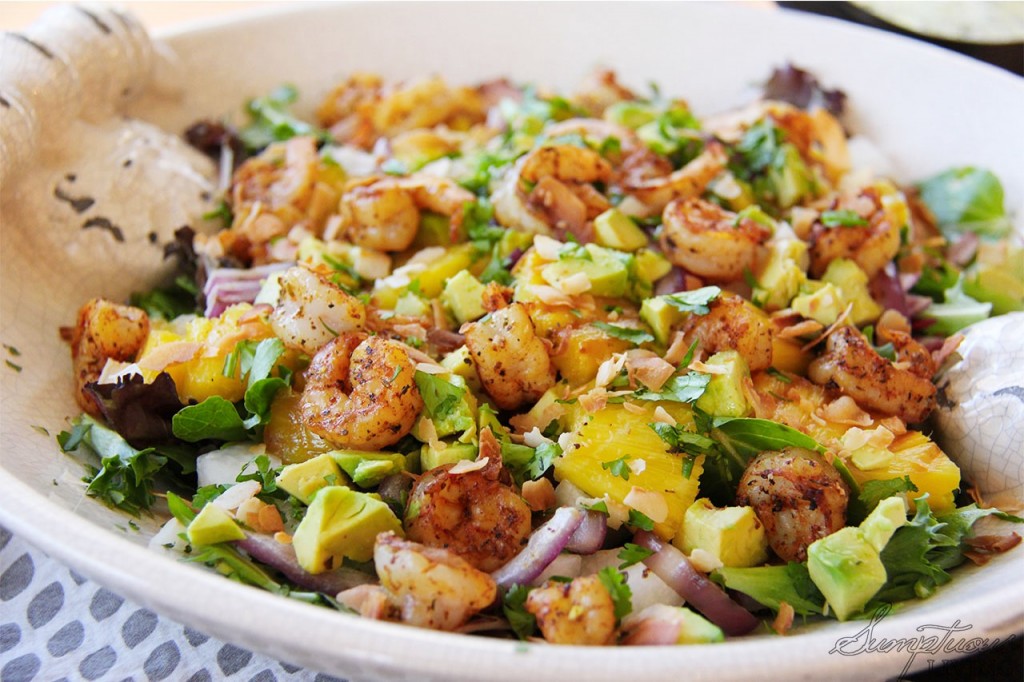 Winter is here. We had snowflakes last night. In Georgia! Sometimes we just need a taste of something distinctly summer to get us through these long winter months. Our Caribbean Shrimp Salad is the perfect dish to bring a little island sun into your life!
This amazing salad packed with lots of goodies, all of them bursting with flavor. Creamy avocado, grilled pineapple and red onions, crunchy jicama, zesty herbs, and toasted coconut are piled in a bowl of fresh garden greens.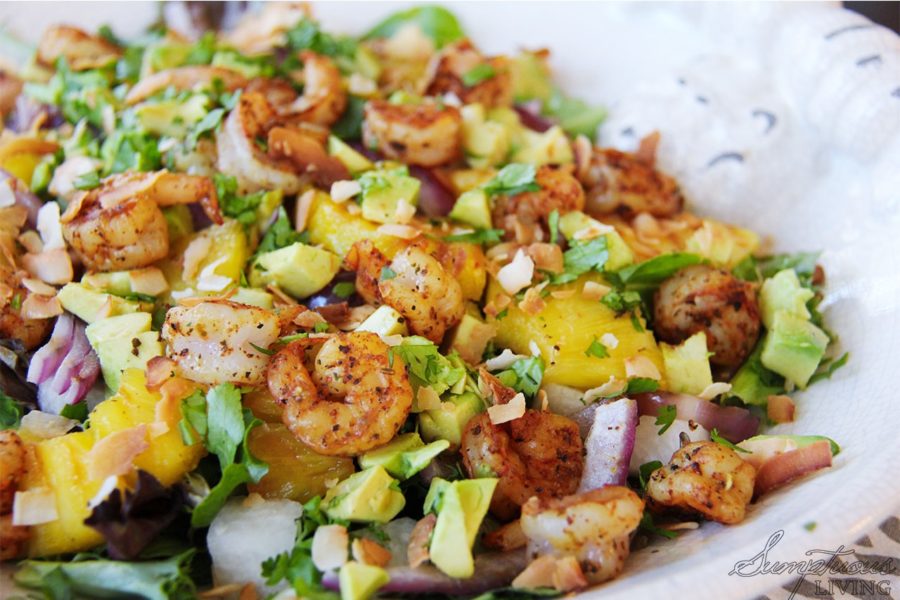 The true star of this dish is the perfectly grilled shrimp! Tossed in a jerk seasoning to really highlight the Caribbean flavors and grilled, the shrimp makes this salad perfect. And with just the right amount of our bright and citrusy key lime dressing, every bite is as delicious as the next one! Gorgeous! So bring it winter…I know just how to kick your tail.
Caribbean Shrimp Salad is the perfect dish to bring a little island sun into your life!
Ingredients
Shrimp

1lb Shrimp (peeled & deveined, 31-40)
1 1/2 teaspoon Jerk Seasoning
Dressing

1/4 cup Key Lime Juice
2 tablespoons Orange Juice
1/4 cup Fresh Cilantro
2 tablespoons Honey
1 teaspoon Kosher Salt
1/2 teaspoon Fresh Ground Black Pepper
1/2 tablespoon Lime Zest
1/2-3/4 cup Olive Oil
Salad

1/2 Jicama (peeled and cubed)
1 Avocado (peeled and cubed)
1/2 Pineapple (grilled and cut into bite sized chunks)
1 cup Fresh Cilantro (chopped)
1/2 Red Onion (sliced and grilled)
4 cups Spring Mix Lettuce (or your favorite lettuce mixture)
Topping

1 cup Coconut (toasted)
Instructions
Heat grill on medium high heat.
Grill pineapple and red onion on each side until you have nice grill marks. Set aside.
Shrimp

Place shrimp on skewers.
Brush with olive oil and sprinkle with jerk seasoning (or your favorite Caribbean spice blend).
Grill for 2-3 minutes per side or until shrimp start to curl up and turn pink. Set aside.
Dressing

Place dressing ingredients in a blender and blend until smooth.
Taste for seasoning and thickness. For a thicker dressing add more oil. Set aside.
Salad

In a large bowl, place all of the salad ingredients except the lettuce.
Toss with dressing (use plenty).
On serving platter or large bowl, arrange salad greens, top with dressed salad fixings, shrimp and toasted coconut.
https://sumptuousliving.net/caribbean-shrimp-salad/
Copyright @ Sumptuous Living