Bacon Kale Breakfast Bread Pudding
Bacon & Kale are the star power of this savory breakfast bread pudding that's full of flavor and perfect for your next big family breakfast or shower.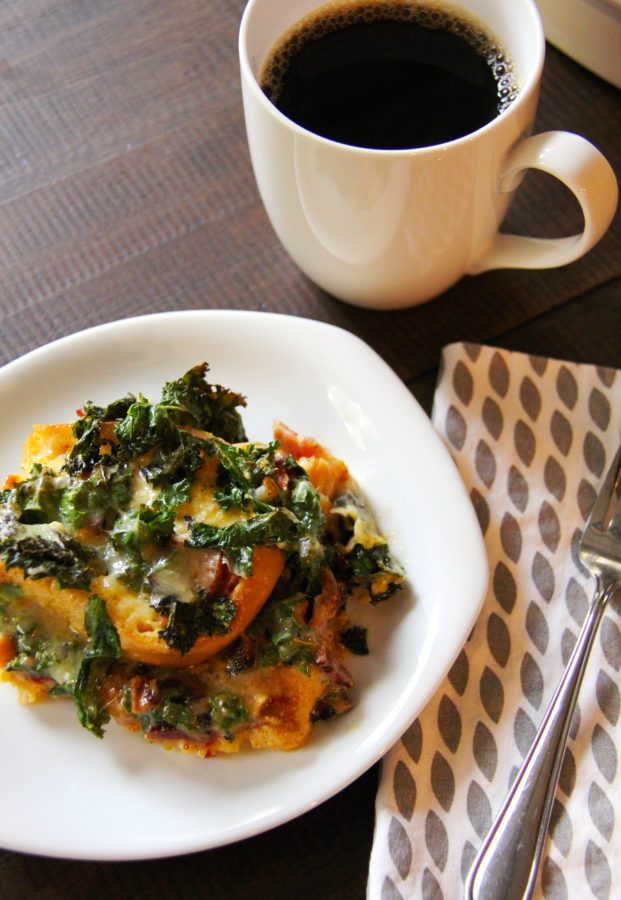 Best way to start the day! Bacon, kale, cheese in the eggy bready heaven of this Breakfast Bread Pudding.
Fall & Winter is full of gatherings. From holidays to family visits, cold weather begs for big dishes with rustic flavors that are easy to prepare, and breakfast is no exception! Even better are dishes you can make ahead with simple ingredients with a super quick prep time too. Who doesn't love that?
This Bacon Kale Breakfast Bread Pudding is a savory version of its buddy but just as easy. I start with everybody's favorite… Crispy Bacon! Say it with me…BACON!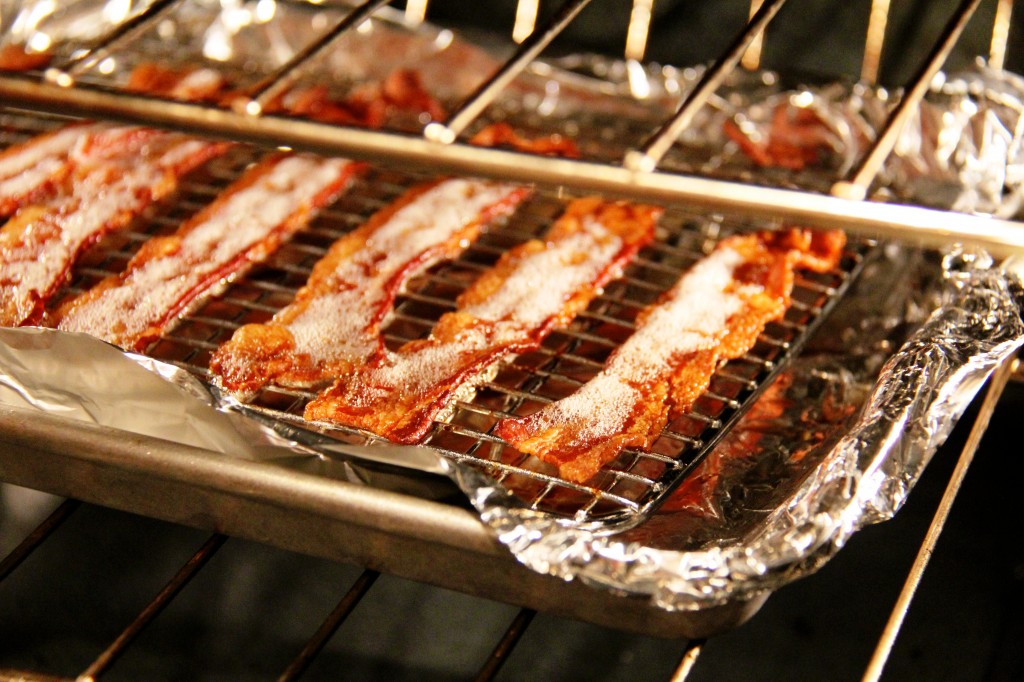 My favorite way to cook thick cut bacon is on baking rack in a foil lined pan baked at 375 for 10- 15 minutes or until crisp.  SAVE the bacon fat for later! This recipe makes a really big casserole! You can choose to make one BIG one or 2 smaller ones. Just adjust the baking time down for 2.
Next comes the best smell in the history of all mankind! See you probably thought the bacon cooking in the oven was the best smell, but nope, no way…
The BEST smell is the onions you cook in the reserved bacon fat! Lordy!
Remove the onions with a slotted spoon, leaving behind some of the bacon fat. Sauté the kale in the same pan, scraping up every bit of yummy brown goodness you can while it wilts. Building flavor here! Season lightly with salt & pepper, we'll add more later
Next comes the layering…
Cuban Bread, Heavenly Onions, Crumbled Bacon, Sautéed Kale, Sharp Cheddar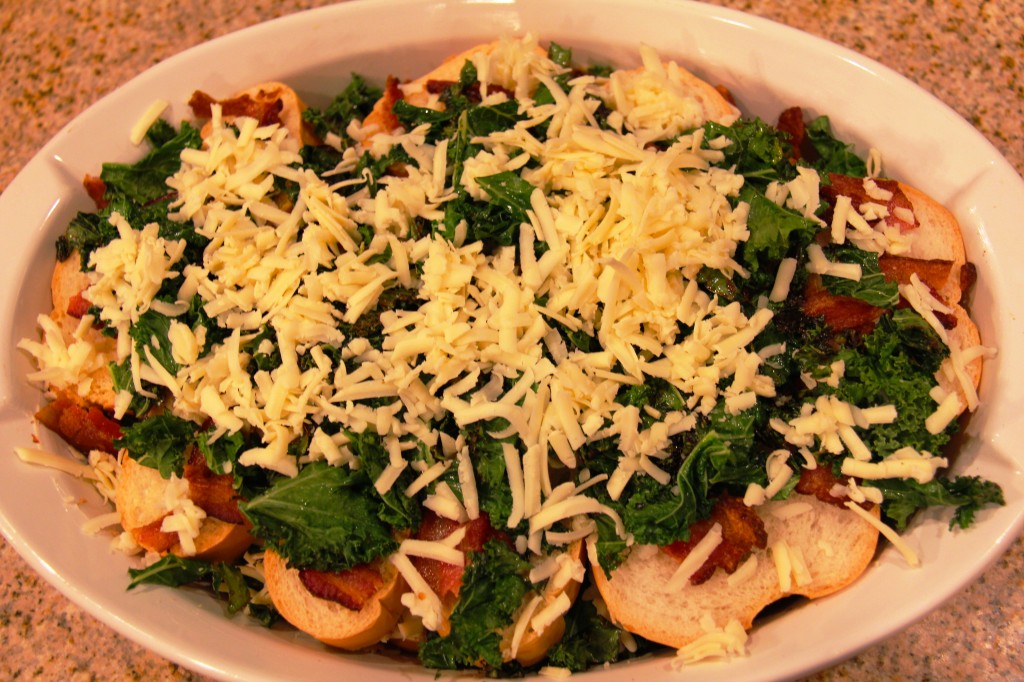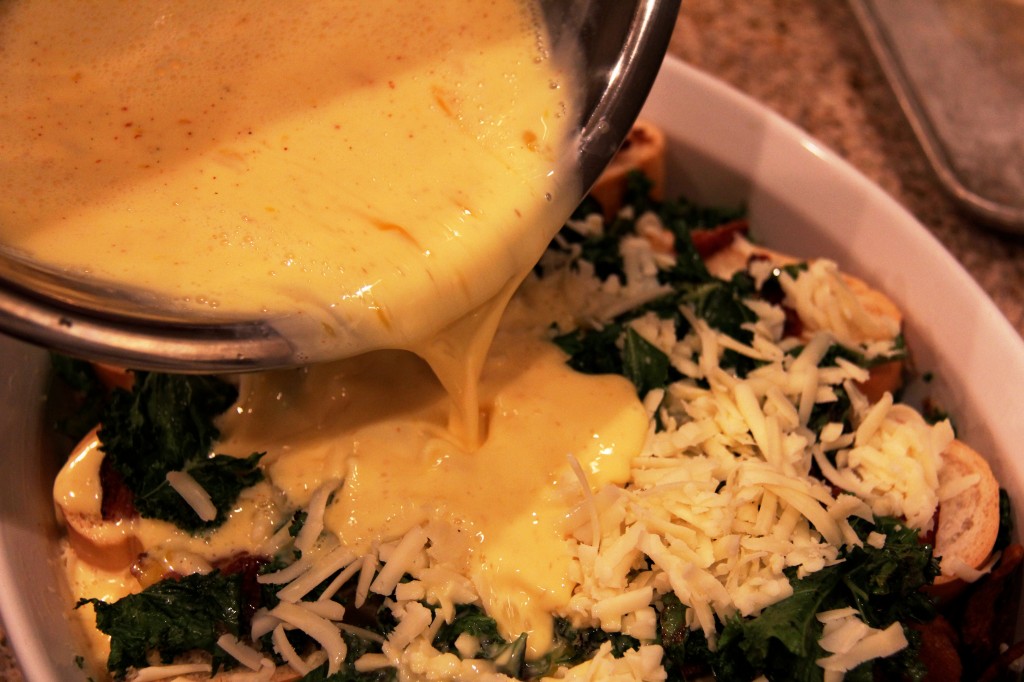 After you've got 2 stacks of layers, pour the egg mixture over the whole thing. Then cover and chill overnight. Patience comes to those who wait!
Once you have your bread pudding fully assembled, cover it with foil and chill for at least 4 hours or overnight. This lets the egg custard saturate the bread and all the flavors to meld together.
The next morning as you preheat your oven, set out the bread pudding. Let it start to come to room temp while the oven preheats. The dish will cook for a little longer than an hour, which will give you time to make a lovely fruit salad, or grab a cup of coffee and sit on your fanny while someone else does that job. I like option #2!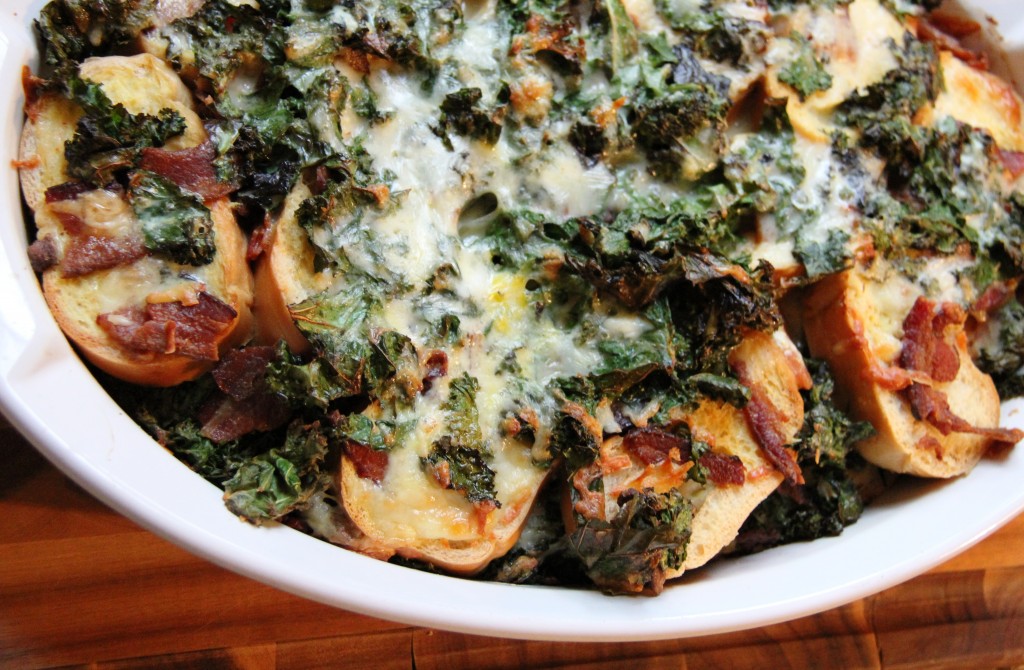 Holidays, Brunches, Family Gatherings, Showers, You Name It! This recipe is fit for a crowd and has the flavor power to wow everyone there! Enjoy!
Holidays, Brunches, Family Gatherings, Showers, You Name It! This recipe is fit for a crowd and has the flavor power to wow everyone there!
Ingredients
1 Loaf Cuban or Italian Bread, (cut into 1 inch slices)
2 tablespoons Butter
12 thick slices Bacon (cooked until crisp & crumbled, reserving bacon grease)
2 Medium Sweet Onions (sliced into half moon slices)
1 head Kale (roughly chopped)
3 cups Sharp White Cheddar Cheese (shredded)
18 Large Eggs (beaten)
1 1/2 cup Half n Half
1 1/2 teaspoon Kosher Salt
3/4 teaspoons Black Pepper (freshly ground)
1/4 teaspoon Cayenne Pepper
1/2 teaspoon Garlic Powder
Instructions
Using a paper towel, coat sides and bottom of a large casserole or baking dish.
In a large skillet, heat 2 tablespoons of the reserved bacon grease over medium high heat.
Cook onions in bacon fat for 4-5 minutes or until golden brown.
Remove from pan with slotted spoon onto a plate. Set aside.
In same skillet, sauté kale just until slightly wilted. Remove from heat.
Line the bottom of the baking dish with a full layer or bread, filling in as tightly as possible.
Top bread slices with half of the onions, followed by half of the bacon, then half of the kale, then half of the cheese. Repeat these layers: Bread, Onions, Bacon, Kale, Cheese.
In a large bowl, whisk together eggs, cream, and spices. Pour over layered dish.
Cover with foil and refrigerate overnight.
Preheat oven to 375 degrees. Leave out casserole while oven preheats.
Bake covered for 30 minutes.
Uncover, bake for an additional 15-20 minutes or until set in the middle.
Let rest for 5 minutes before serving.
https://sumptuousliving.net/breakfast-bread-pudding/
Copyright @ Sumptuous Living