Blueberry Rum Cocktail: The Midnight Island Blues
Run away to the Caribbean with me! Tequila, Rum, Blueberries, and Orange make a sultry island inspired blueberry rum cocktail called The Midnight Island Blues

Who wants to run away with me? It's been a loaded week, my lovelies. Full of doctor's appointments, funerals (yep, stinks doesn't it?) and tackling a kitchen remodel myself. I have painters tape vertigo, appliance confusion syndrome, paint swatches running a muck in my kitchen and all of my pans just hanging out, having their own party in the dining room (did they invite me… heck no!). It's been a doozy! I don't nap. I really could use one. Physically impossible, really, but Lord, honey, I wish I could!
I'd settle for an escape, even if it's just by way of "Cocktail Friday". Today's Blueberry Rum Cocktail started with fresh flavors, muddled blueberries and oranges, so the oils from the orange peel can infuse the blueberries as they pop. And very Caribbean liquors like tequila, rum and Blue Curacao.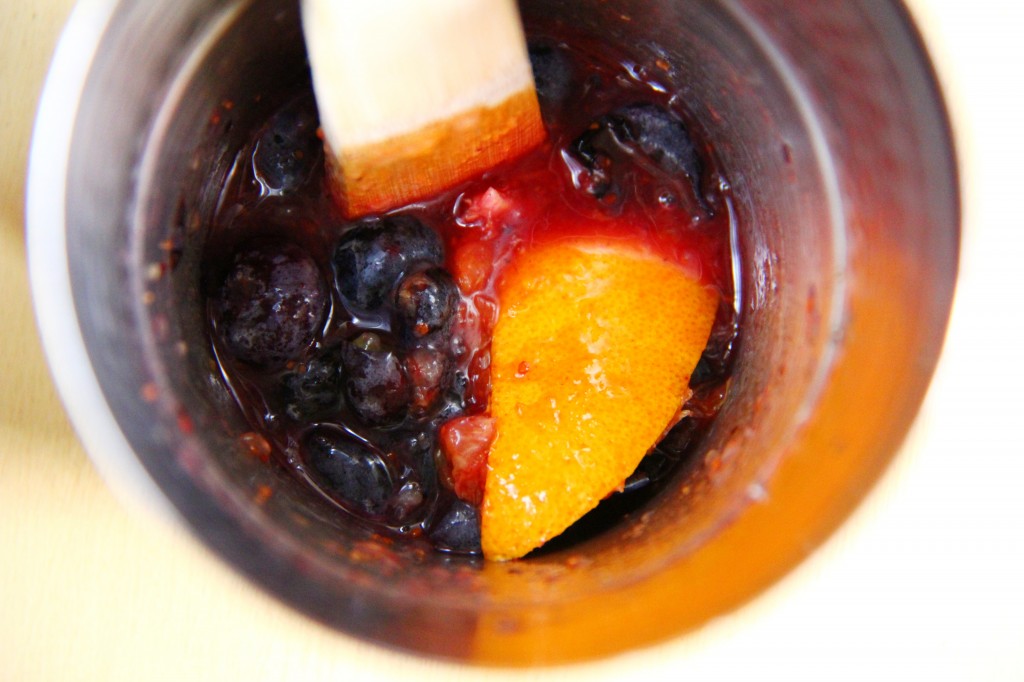 MUDDLING FRUIT for Blueberry Rum Cocktail
But, as I poured it over crushed ice, the color turned a beautiful purple… dark and "bluesy". So pretty, yet very much like a stormy afternoon on an incredibly breathtaking island beach. Grab a blanket, put on some Ray LaMontagne, Bob Marley, Nina Simone or Miles Davis, and sit on your patio pretending the grass and play set is really a cloud covered yet tranquil, rain forest lined beach. I'm there…are you?
Blueberry Rum Cocktail: The Midnight Island Blues
Run away to the Caribbean with me! Tequila, Rum, Blueberries, and Orange make a sultry island inspired cocktail called The Midnight Island Blues.
Ingredients
1/4 cup blueberries
1 wedge orange (cut in half crosswise)
1 1/2 fl oz rum
1 fl oz tequila
1/2 fl oz Blue Curacao
1 fl oz club soda
Crushed ice
Garnish: fresh blueberries and orange wedge
Instructions
In cocktail shaker, muddle together blueberries and orange wedge until all blueberries have been crushed (this releases the oils from the orange skin and infuses the two flavors together).
Add liquors and shake well.
Fill a tall glass with crushed ice.
Pour through the straining cap of the shaker (you may have to jiggle & shake a bit) over the ice and top that with club soda.
Garnish with fresh blueberries and orange slice.
https://sumptuousliving.net/blueberry-rum-cocktail/
Copyright @ Sumptuous Living