Baby Potato Salad with Herb Yogurt Sauce
Our baby potato salad is a fresh twist on a classic party-friendly side dish!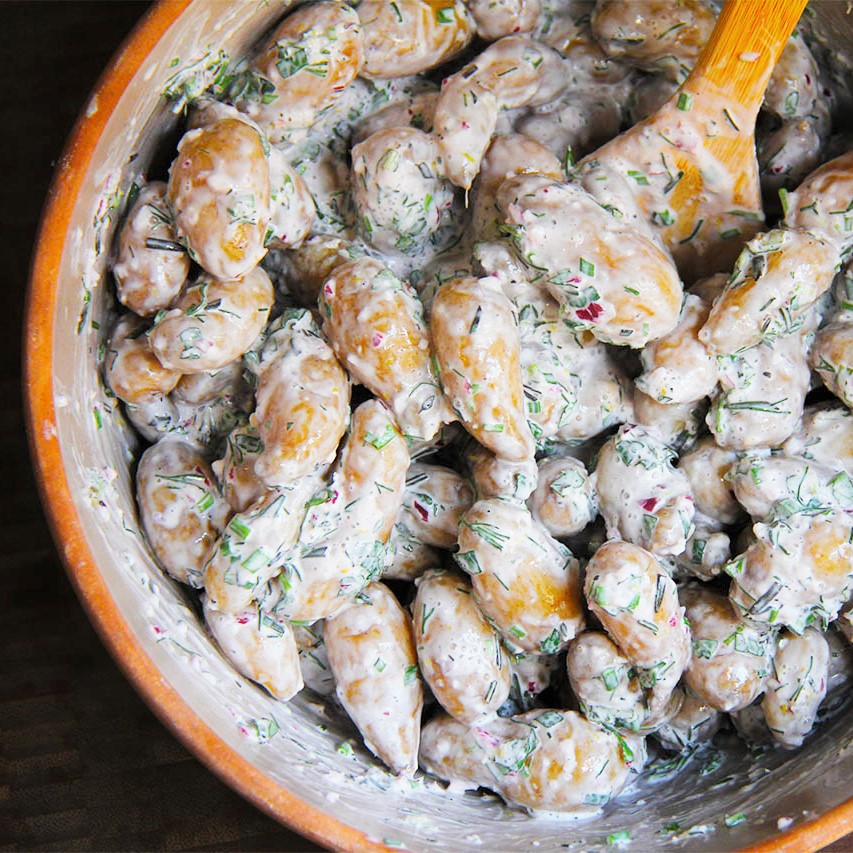 Okay, so football season has been going strong for the last several weeks now and you have undoubtedly had a party or two. But as the season progresses and the games get bigger, so will those Sunday afternoon parties! Needless to say, you will need something to feed all those people who stop by to watch the game. Yes, even that one family who cheers for the other team. We have to put our differences aside for delicious party food.
Potato salad is the quintessential get-together food. Put out a big bowl and it's sure to be to empty by the time the last straggling guest hits the door. But as foodies, we all know we won't just be serving any old potato salad. This recipe updates the classic potato salad and puts a lighter, fresher spin on it.
Featuring baby potatoes, tons of fresh herbs, and a yogurt based sauce, Sumptuous Living's potato salad is a much fresher, but equally delicious alternative to what granny used to make. Give it a try at your next social gathering or maybe whenever you are feeling a little peckish.
Our baby potato salad is a fresh twist on a classic party-friendly side dish!
Ingredients
Potatoes

3lb Baby Yukon Gold Potatoes
2 tablespoons Kosher salt
Herb Yogurt Sauce

1 1/2 tablespoons Kosher Salt
2 tablespoons Fresh thyme (chopped)
3 tablespoons Fresh dill (chopped)
4 tablespoons Chives (chopped)
3 tablespoons Fresh rosemary (chopped)
6 tablespoons Mint (chopped)
1 tablespoon Lemon zest
2 Lemons (juiced)
3 cloves Garlic (chopped)
1/2 cup Sliced red or sweet onions (soaked in ice water and then strained)
1/2 cup Light sour cream
1/2 cup Fat free Greek yogurt
1 teaspoon Fresh ground pepper
Instructions
Potatoes

Bring a large pot of water to boil.
Add in 2 tbs Kosher salt and baby potatoes.
Cook for 20 minutes or until fork tender.
Drain potatoes from the pot and lay flat, in a single layer, on a baking sheet to cool.
Herb Yogurt Sauce

Place all ingredients for the sauce into a food processor and pulse until mostly smooth.
Make the dish

Mix sauce with cooled potatoes.
Check for seasoning and chill until ready to serve.
https://sumptuousliving.net/baby-potato-salad/
Copyright @ Sumptuous Living