My Avocado Toast Addiction
Avocado Toast Addiction... my new love! Fresh Avocados mashed on top of hearty whole grain toast, seasoned and topped with easy go-to items from your fridge! Healthy tastes pretty darn good right now!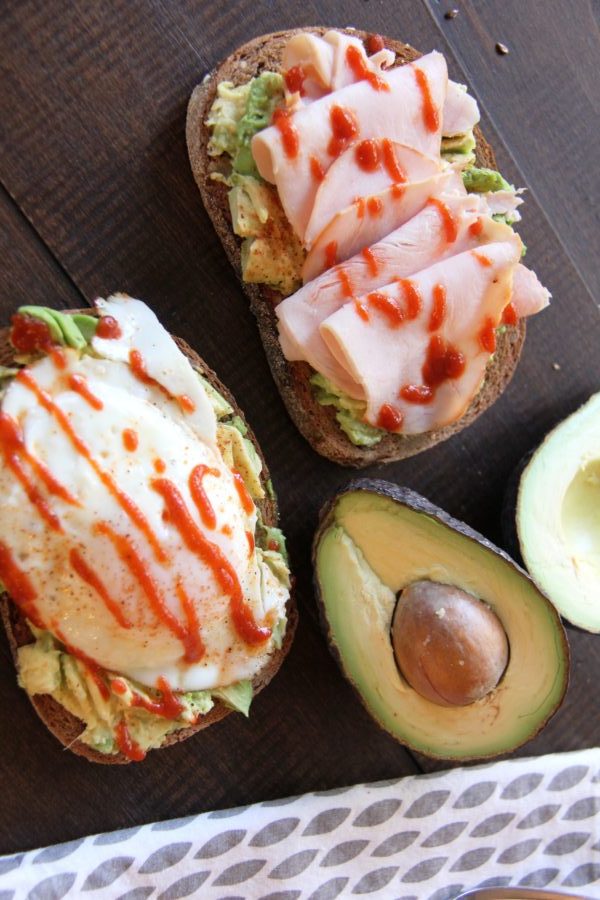 I've gotten pudgy. A whirlwind year looking for houses, a massive renovation, changing kids schools and moving all while doing appearances and designing houses for clients, let me lose sight of staying fit. The gym became a far off distant memory and I put everything & everyone else above myself.
We all do it. Especially moms. Working out is my brain management, being toned and strong is just the perk that comes with it. I miss it and I am going to get it back! Time for better food choices and getting my fanny to the gym. Like today's Avocado Toast, made in so many ways, its a great breakfast, post workout or midday snack option that lasts and is super healthy! I've become addicted. I want it everyday.
Avocados are the good fats we want in our diet. Its only when we eat them with a bowl of tortilla chips that they are a bad food choice (although my guacamole is pretty killer). Pairing these vitamin packed green gifts from heaven with a bit of spice, hearty whole grain toast, and a bit of protein by way of an egg or lean smoked turkey and you have the ultimate meal that will last for hours!
Get the best bread you can and lightly toast it. I used a thin sliced nutty multi grain bread from the bakery at my wholesale club.
Score and scoop half of a ripe avocado. For a tutorial on cutting avocados without getting green mess all over your hands, check out my post on Marinated Avocados.
Next come the toppings! I like a little heat to balance the sweet creaminess of the avocado. My favorite is to sprinkle it with Creole Seasoning (I use Tony Chachare's, found at any grocery store) then top it with either a fried egg, boiled egg, or lean deli meat like smoked turkey.
Then top the whole darn thing with the sweet heat of Sriracha Sauce. It used to be you had to go to a specialty international market to find this addictive vial but now its available everywhere. It add the heat of tabasco without being as potent or vinegary. I long for this toast the second I wake up, its so good!