Arugula Fennel Salad With Citrus
Break your salad rut with something fresh, bright and crisp! Arugula Fennel Salad with Citrus topped with creamy Parmesan and a zippy vinaigrette.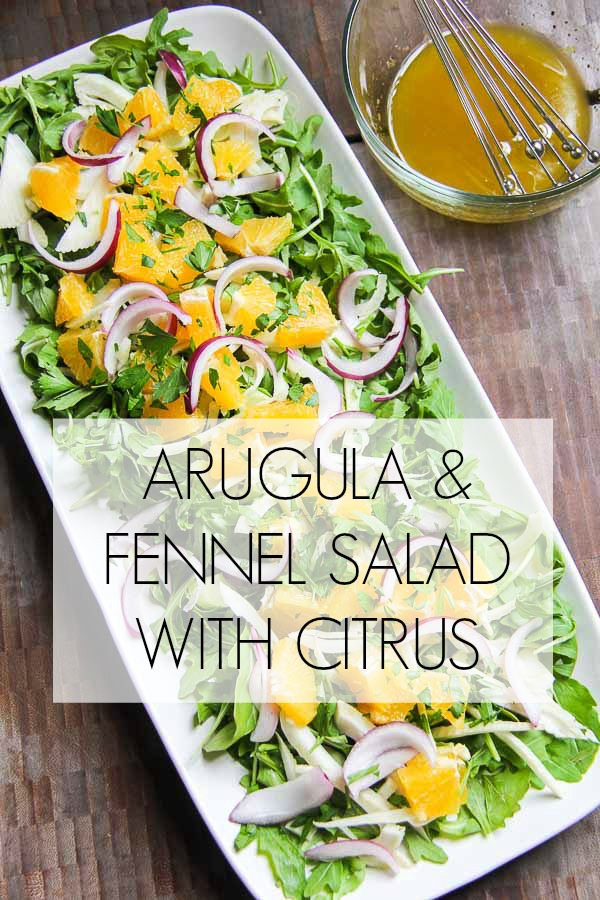 My grocery bill is insanity. My kiddos are grubby, hungry, munching monsters. They eat everything! You name it, it goes in my grocery cart and my wallet will spit out the cash for it. Which is why we rarely eat out. Our biggest part of our household budget is for food and the bulk of that is for vegetation. Fruit and veggies are so hard to keep around because they eat them so crazy fast but sometimes I feel like we get stuck with how to keep a yummy variety rolling on our dinner menu at home. Know what I mean?
I try and serve salad with every meal (much to my 15 year old's dismay) but keeping the salad bowl exciting and new can be a little bit like convincing teenagers to keep their room clean. Gotta Get Smart & Creative! Our Arugula Fennel Salad with Citrus is a delicious break from the boring old romaine salad with ranch dressing. It has peppery arugula, crisp and crunchy fennel, juicy citrus, Parmesan cheese and an easy vinaigrette. YUM!
Fennel when you first smell it or taste a big chunk will remind you of black licorice. I hate black licorice but I LOVE fennel! Sliced thin and mixed in with the peppery greens of the arugula and red onions, and you'll forget I even mentioned licorice before. It will be a crunchy fresh addition to the salad.
TIP:  Soak the sliced red onion in a bath of ice water for just a few minutes to remove the over-powering raw onion flavor. Then strain before adding to the salad.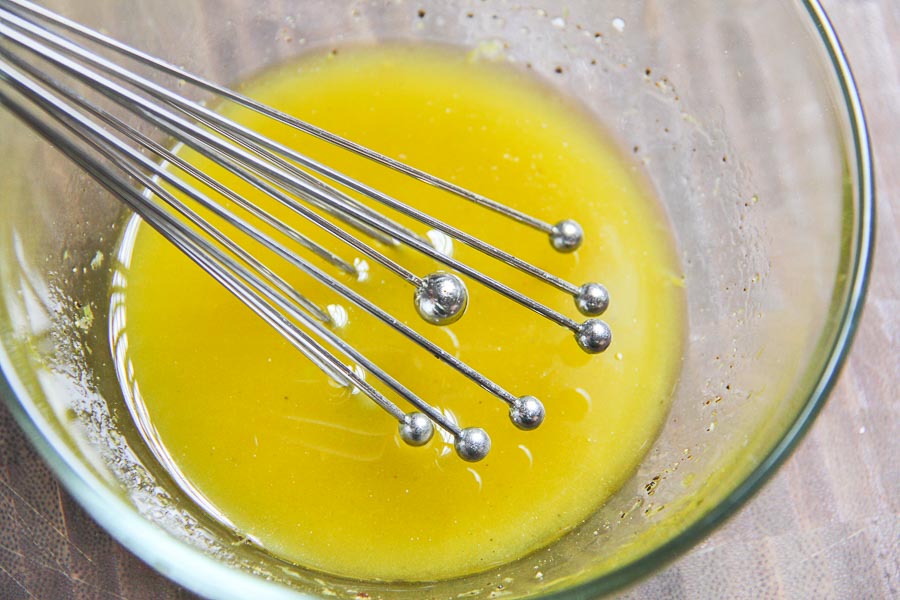 Then just whip up a bright and light vinaigrette. I know most salad dressing recipes are a ratio of 3 to 1 for oil to vinegar but I think it makes the dressing too heavy. I want to taste my salad! So my dressings are usually a 2 to 1 ratio and if I need more oil, then I can add it. This way the dressing is healthier, lighter, and more zingy. Feel free to swap out the vinegar for any one you have lying around (red wine, champagne, balsamic, apple cider, etc).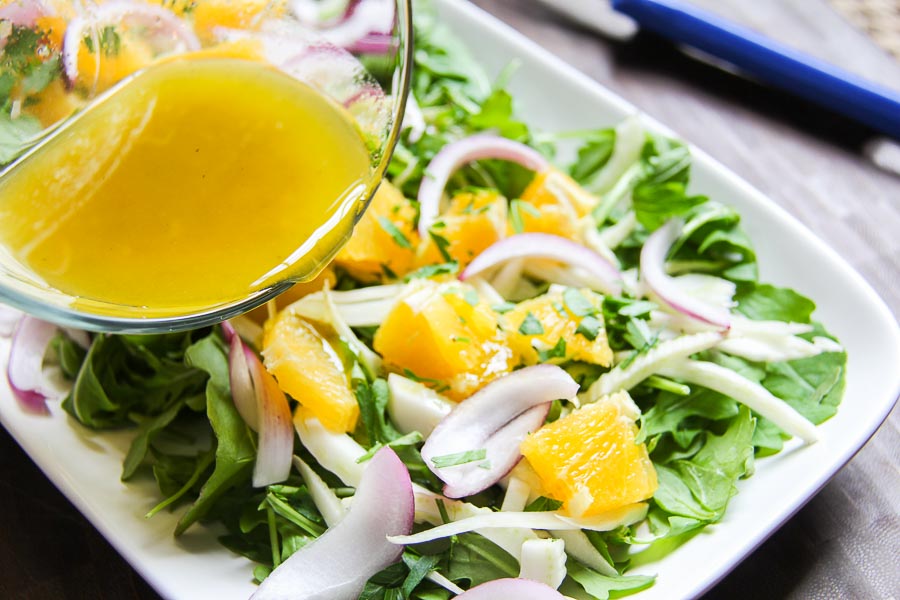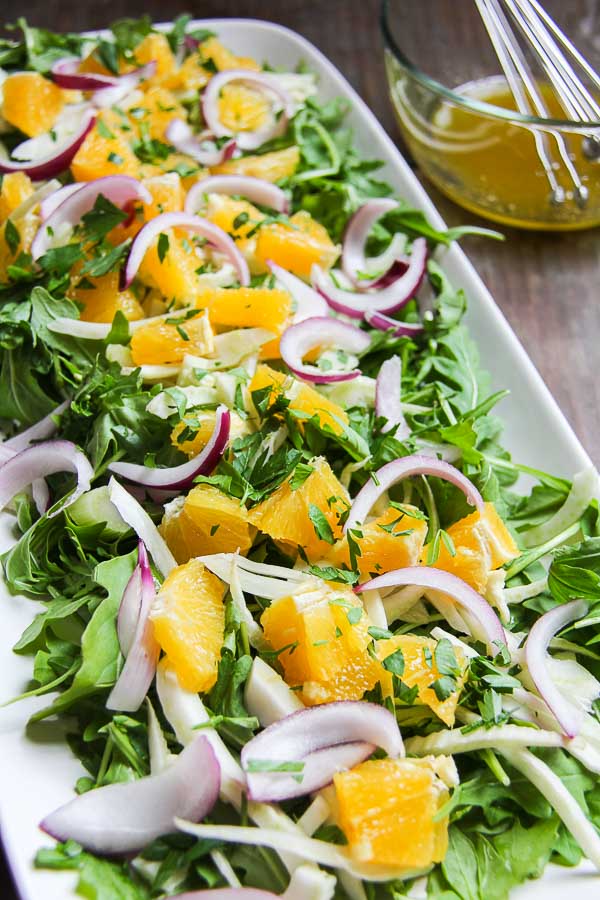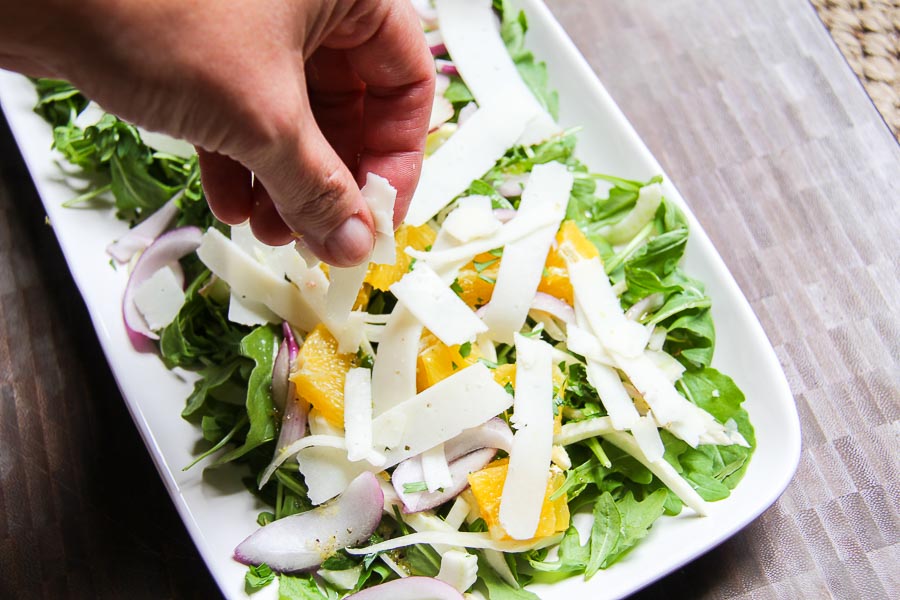 Serve it as a side dish with this delicious salmon recipe or a main course salad by adding some grilled chicken or shrimp.  Yum! Happy Eating!
What's your Go-To Salad Combo to keep you eating healthy? Share with all of us in the comments below and maybe we can all widen our salad range!
ARUGULA & FENNEL SALAD WITH CITRUS
Arugula Fennel Salad With Citrus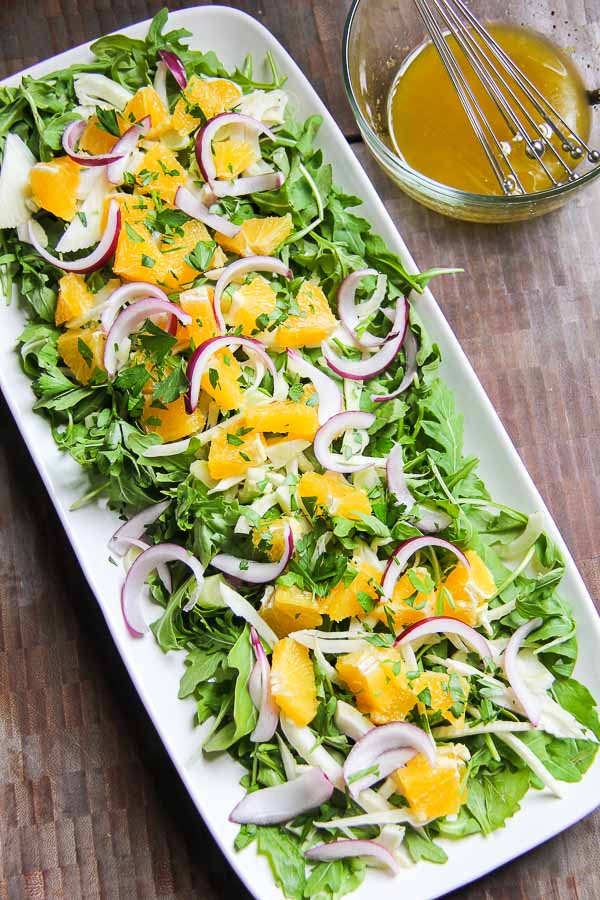 Break your salad rut with something fresh, bright and crisp! Arugula Fennel Salad with Citrus
Ingredients
1 large fennel bulb
1 navel orange, sliced into segments
1/2 red onion, thinly sliced
3-4 cups arugula
¼ cup flat leaf parsley, roughly chopped
½ cup shaved Parmesan or Manchego cheese
For The Dressing:

3 tablespoons extra-virgin olive oil
1 lemon, juiced
½ tsp lemon zest
Kosher salt and freshly ground black pepper
Instructions
Trim the fennel bulb and reserve the fronds. Cut the bulb in half and remove the tough inner core. Using a sharp knife or a mandolin cut the fennel into very thin slices and put them into a large bowl. Cut the onion into very thin slices and add them to the bowl. Add the arugula, parsley and oranges to the bowl and give it a good toss. Place the shaved Manchego on top.
Pour in the olive oil, lemon zest, and lemon juice, season it with salt and pepper, and toss it again to coat all the ingredients; put the salad onto a large platter. Garnish with the reserved fennel fronds.
https://sumptuousliving.net/arugula-fennel-salad-citrus/
Copyright @ Sumptuous Living