Urban Bungalow Dining Room
We put some spunk into a tiny dining room in a Midtown Atlanta bungalow. Color, pattern, and textures mix treasured family pieces and modern additions in this Urban Dining Room.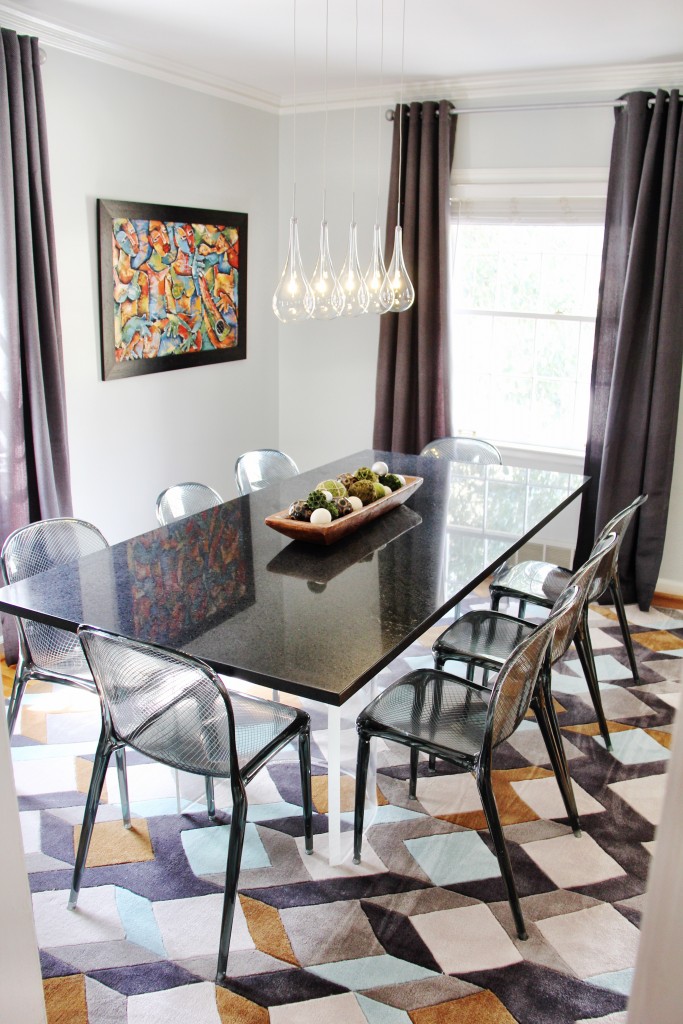 I love this house! LOVE! The fella that lives here is a sweetheart and let us have full reign with making this house feel more like him. He's traveled the world (I'm totally jealous of the places he's been), has an active life in the city, and a true love of family history. With a push to modern, rustic, and mid-century styles, he hands my team the key and let's us work some very personalized magic to bring this house back to life! I loved every second on this job and still can't decide which room is my favorite. Today, we share the urban dining room of an Atlanta bungalow and all the design details that went into its transformation…
Before Pics:
Task List:
Paint room light & airy blue/gray
New 8×10 wool rug with bold modern mid-century pattern
Big mirror on wall near kitchen doorway (urban/tribal wood feel)
New linear chandelier (Get rid of ceiling fan pronto!)
Keep Grandma's granite & acrylic table
Keep gray Lucite chairs
Curtain panels in deep gray with texture, hung high to maximize height of room
Frame client's art & photography
The ceiling fan has go to go! I feel like the flight attendant on SNL saying "Bye",  "Bye Now", "Buh-Bye"… Can't get rid of it soon enough! We add new lighting with a modern glass element. I love this teardrop linear light fixture!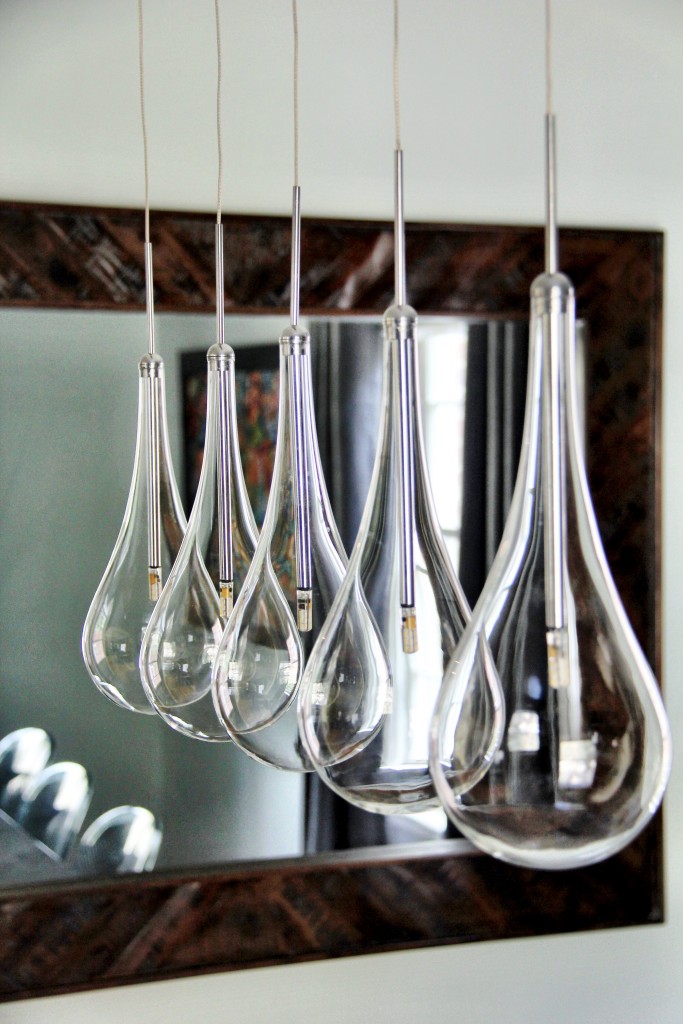 The paint color is just as pitiful and once we settled on a rug (always choose your boldest textile first before picking paint colors), we could choose the right shade of faint blue gray.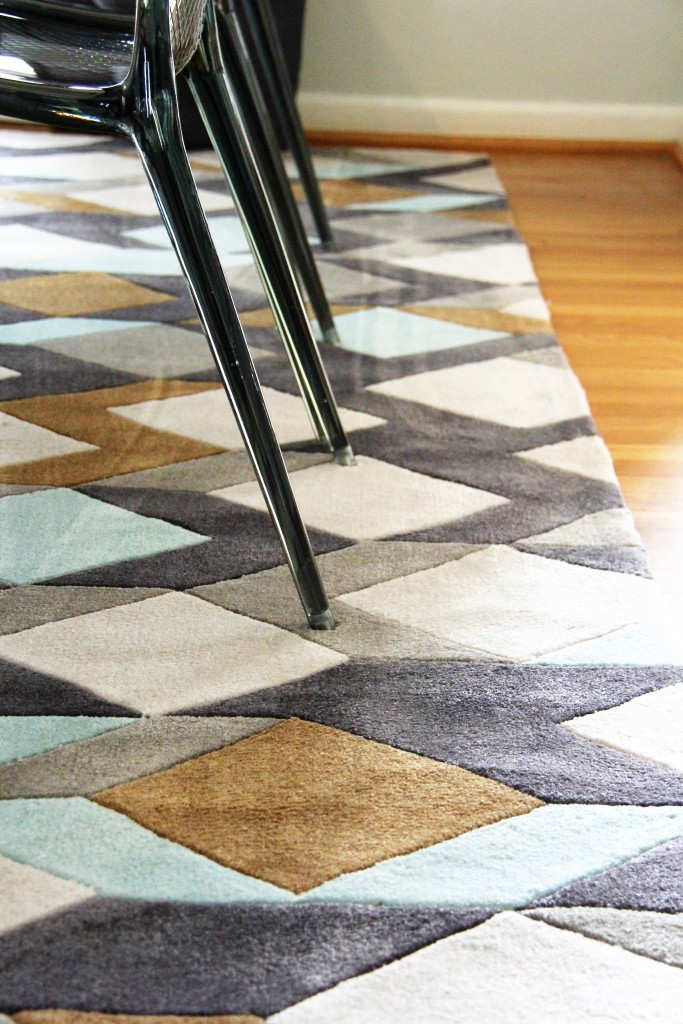 Next comes curtains, mirror and artwork. All the fun finishing details. Remember, the room is very small so we need height and interest wherever we can get it to make it feel bigger! As you've heard me preach every design post I write, HANG YOUR CURTAINS HIGH! I'm a broken record right? It brings the eye up and always will make a room feel taller. Always!
Ready made grommet curtains (95″ Reina in Steel Grey)  and curtain rods from HomeGoods keep us on budget. This crazy-gorgeous mirror with heavy carved wood frame (this sucker was so heavy and well made, a steal for only $200!) from HomeGoods.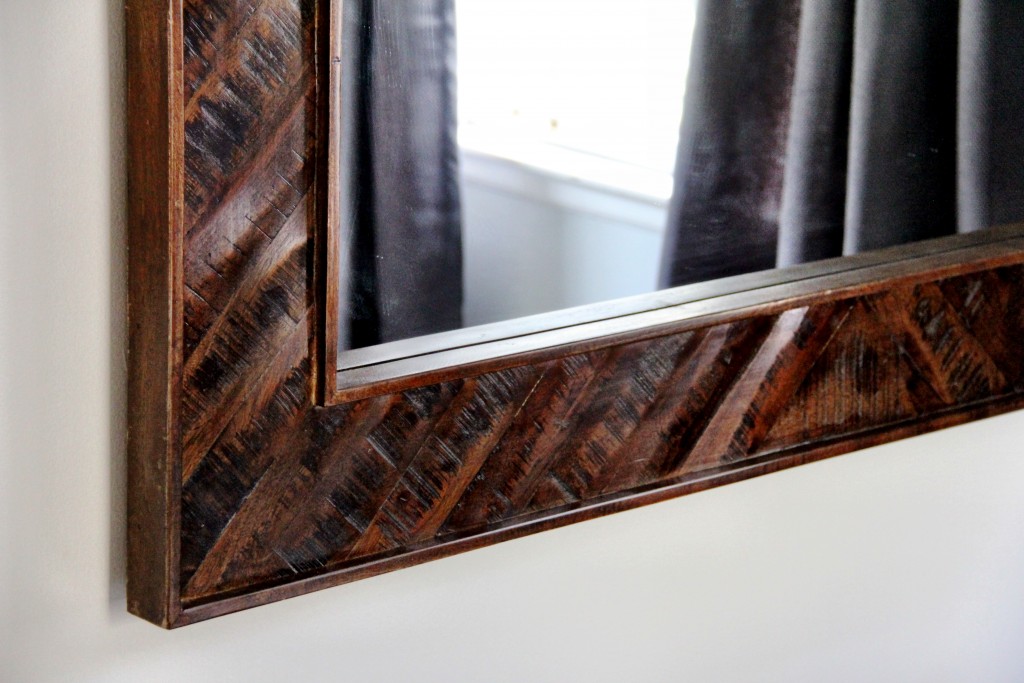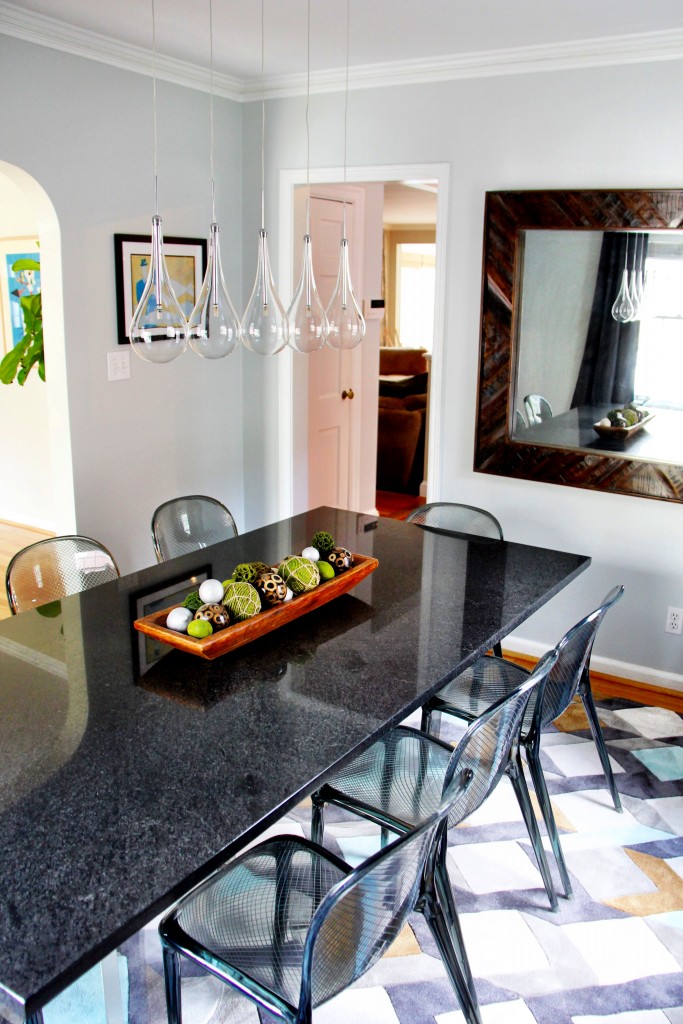 Last few touches…like a simple wooden tray filled with an assortment of moss and painted balls as the centerpiece. And we are DONE!