Easy Summer BBQ Recipes with Mandy Landefeld
Summer is here! Mandy heads to NBC's Atlanta & Co to share Easy Summer BBQ Recipes and Tips to get you ready to host your next BBQ!
Easy Summer BBQ Recipes
Grill out with family and friends! Mandy's back on NBC's Atlanta & Company sharing her Top Backyard Summer Entertaining Ideas! First  fabulous summer BBQ that thrills a crowd (with Mandy's tips for big batching your favorite single serve cocktail recipes), grilling recipes that are easy to prep and serve, and charming mason jar desserts. Here's our Easy Summer Grilling Menu: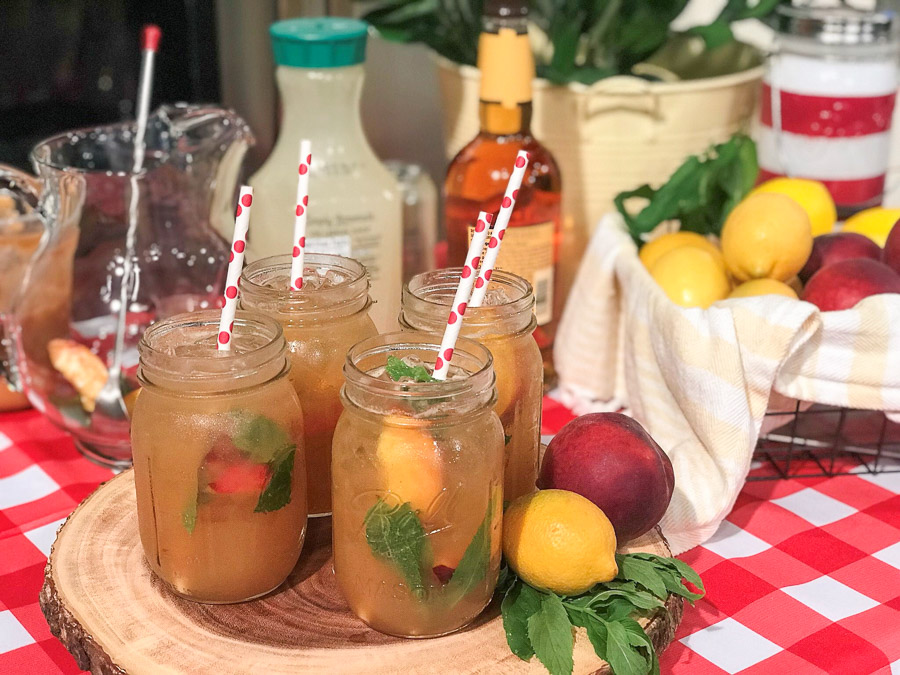 Every party starts with a great drink but it doesn't have to be hard! Make it in advance to keep things simple.
Southern Summer Punch
4 cups good fresh lemonade (divided)
1 cup ?Four Roses Bourbon
4 ripe peaches, Peeled & sliced
3 sprigs of mint
ice
1 cup club soda or peach flavored sparkling seltzer (optional)
Place 1/2 of the sliced peaches in a high power blender with 1 1/2 cup of the lemonade. Blend until perfectly smooth. In a large pitcher, mix remaining lemonade, bourbon, peach puree, peach slices, and mint. Stir and store in the fridge for 1 hour to overnight. When ready to serve, add club soda and stir. Serve over ice, garnished with mint and peaches.
---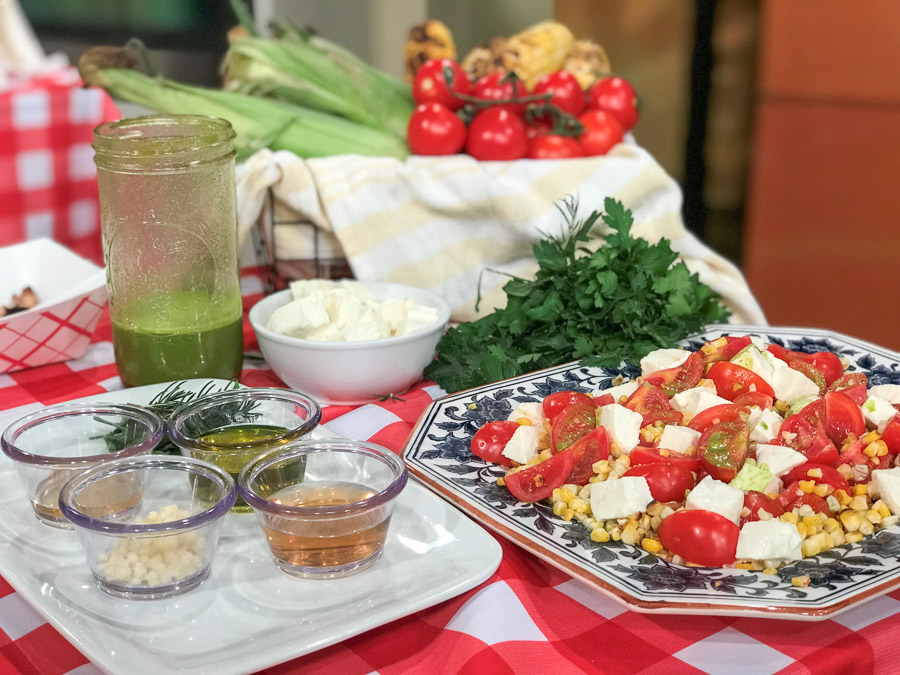 Grilled Chicken Sandwiches
Cut chicken breasts in half to make 2 thin cutlets
Place all chicken in large zipper bag and add bottle of herb garlic marinade
Marinate chicken overnight
Prep Sliced Onions & Peppers Night before
Gather All condiments into cute caddy for easy service
Set out trays of Grilled Chicken, Buns, Grilled Peppers & Onion Blend, Sliced Tomatoes, Lettuce, Cheese and Condiments
---
Grilled Corn & Tomato Salad
Serves 8
Salad
2 lbs Campari tomatoes, quartered
3 ears corn
4-6 oz pearl mozzarella balls
Dressing
1/3 cup fresh basil
1/3 cup fresh mint
2 Tbl rosemary
1 Tbl honey
1/3 cup olive oil
3 Tbl red wine vinegar
½ tsp kosher salt
¼ tsp fresh ground black pepper
1 clove garlic, chopped
Place all of the dressing ingredients into a blender and blend until smooth; set aside.
Grill corn on grill pan or hot grill until lightly charred on all sides.  Let cool; using a knife remove kernels.
Place tomatoes, grilled corn and pearl mozzarella balls into a large bowl and stir slightly to combine. Lightly drizzle dressing to taste.
---
Next, make dessert easy and irresistibly cute by prepping them in mason jars ahead of time!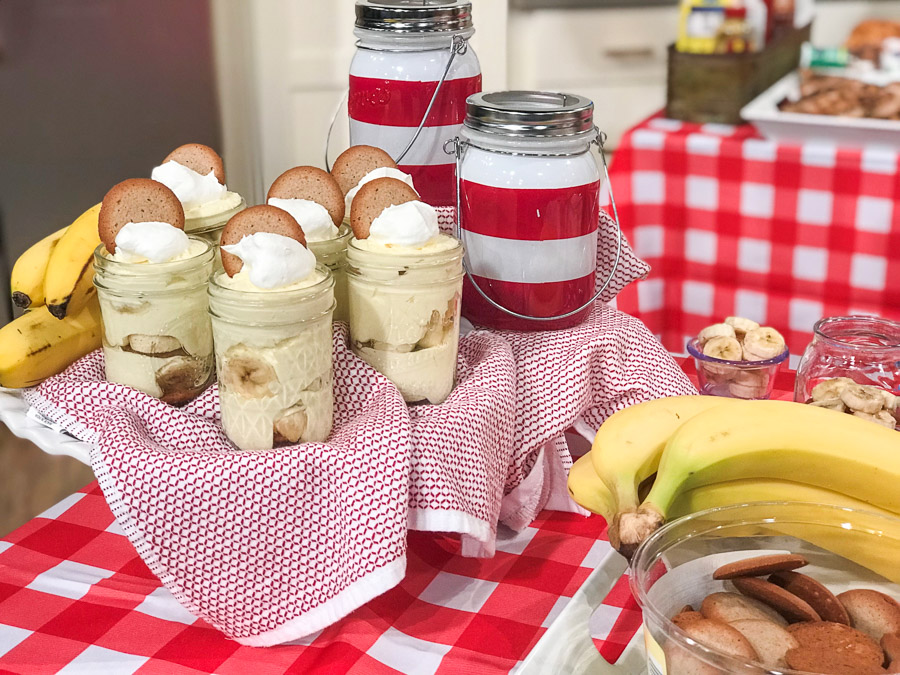 Aunt Debra's Banana Pudding
Mix first 4 ingredients together in large bowl. In small mason jars, layer wafers, bananas, pudding mixture, and repeat. End with a final layer of pudding. Place lid on jars and chill until ready to serve.