Quick Dining Room Makeover Made Easy!
See how we tackled a quick dining room makeover in a flash with just a few key changes! Make a dramatic design difference in a day!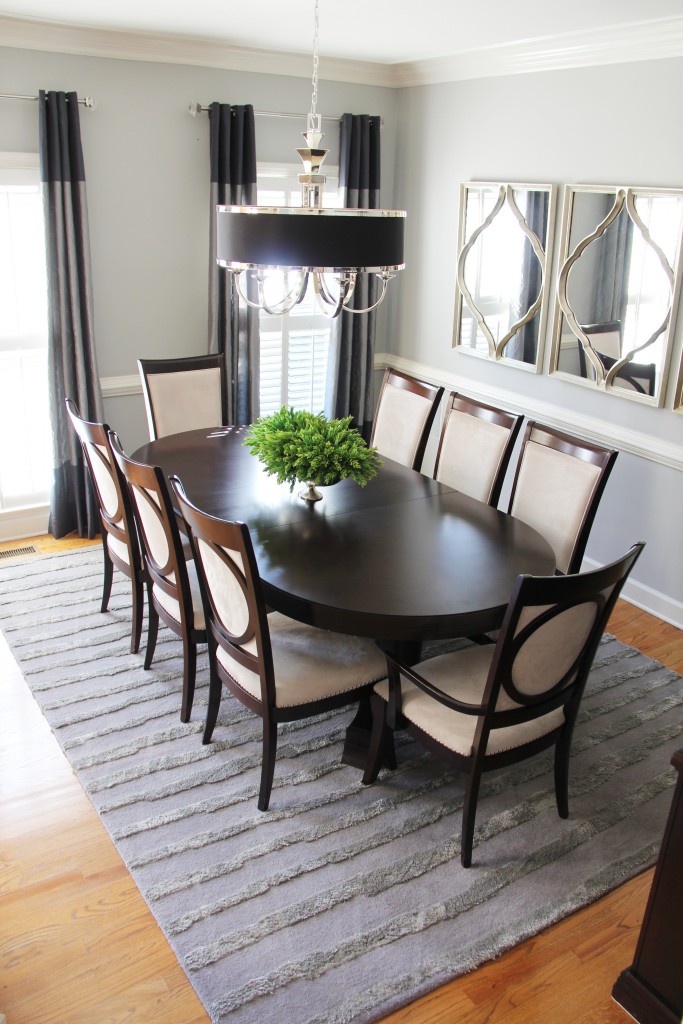 Here's a Dining Room Quickie! All we did was swap out a few key design details and the result was a huge transformation for a high profile space.
The client had the dining table and chairs along with a beautiful china cabinet already (so new the seats were still covered in plastic wrap). The walls were painted a pretty grey. All we needed to do was dress it up!
DINING ROOM BEFORE PICS…
QUICK DINING ROOM MAKEOVER TASK LIST:
Reflect Light! Create a wall of stylish mirrors that serve as art and reflect the light in the foyer
Swap out the old-school gold chandelier for a Sleek Chrome Drum Chandelier
Remove current curtains (too short) and replace with long colorblock silver & black ready made curtains
New silver & acrylic curtain rods that are larger diameter than what's there now
Rearrange the China Cabinet using what they already have
We sourced our rug from our fave rug go-to place, where rugs ship straight to your doorstep FOR FREE, their prices are the best and you didn't spend countless hours running from store to store to find the perfect rug. We love them. Make sure your rug is big enough for the table and the room. No one wants their chair hanging off the rug and a bigger rug makes the room feel bigger too. This rug is the Safavieh Soho Stripe Wool Rug and I love how it's tone on tone but the texture of the shimmery stripe lets it stand out.
The old chandelier did not fit this couple at all. We sold it at a consignment store and put that money towards a new sleek, modern, chrome chandelier with a black drum shade. This one makes a statement in the room and sets a swanky mood. Changing out your lighting to something everyone will notice is one of the smartest ways to quickly give your dining room a makeover.
Some rooms need light more than color or art but you can kill two birds with one stone with a mirror arrangement with pattern. Luckily, I found some modern Moroccan style mirrors to create a wall of mirrors but doing 3 in a row. They act like art while still reflecting all the light pouring in from the foyer and play off the shiny silver tones of the chandelier.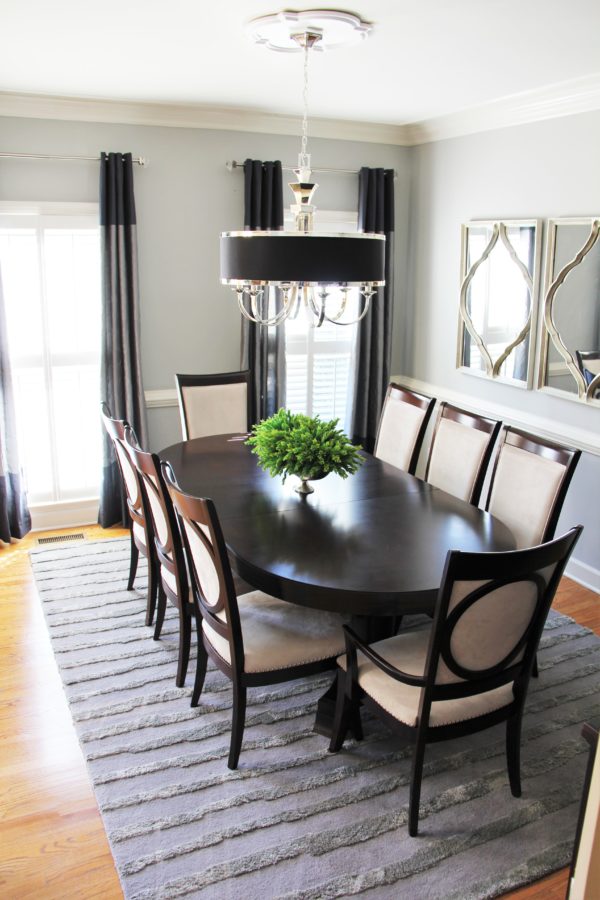 We added curtains that are colorblocked with silver and black to carry through the sleek & modern formality of the room. The old curtains were hung just at the top of the window (this will always make a room feel shorter because it brings the eye down) and way way way too short. I kind of hated them, a lot!
The key to working with ready made curtains is to hang them as high as you can. These are lined, hemmed, and weighted and hang from grommets and only cost about $50 a panel! You can't even buy the fabric for that, much less have them custom made! We hung them from good silver and acrylic adjustable metal rods about 6″ out from the window frame to keep from covering the window too much.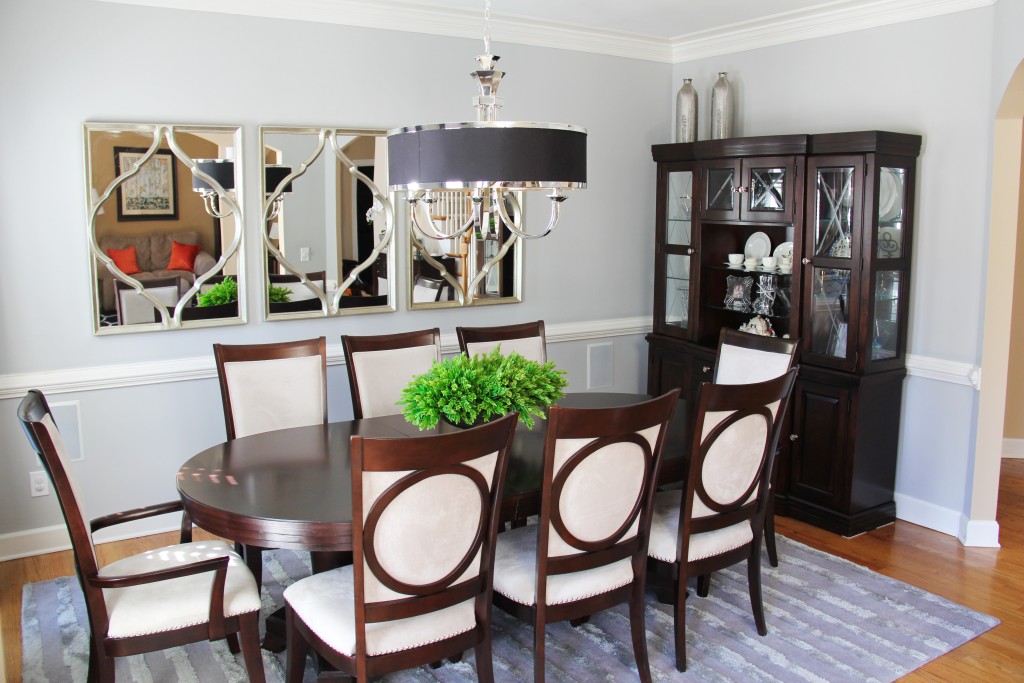 Last, I tweaked the collectibles and cherished items the clients had stored in the china cabinet to tell a story. We added a simple & lush greenery arrangement in a silver bowl to the center of the table and we're done! With a little planning & shopping online, this whole makeover can be done in a day! Quick Dining Room Makeover Made Easy!
QUICK MAKEOVER BEFORE & AFTER…