Overnight Trip to Chattanooga
Looking for the perfect city to spend a weekend? Give Chattanooga a try!
Every now and then, you just need to get away. It doesn't matter how long you go or how far away the destination is, sometimes being in another city can really refresh your mind.
Recently, I had a couple of days in which my girlfriend Marissa's schedule aligned with mine. With such a short time, we knew we couldn't go too far. Luckily for us, Chattanooga, one of the hippest little cities in the southeast, is only a couple of hours away. So off we went to to do a little of that aforementioned refreshing!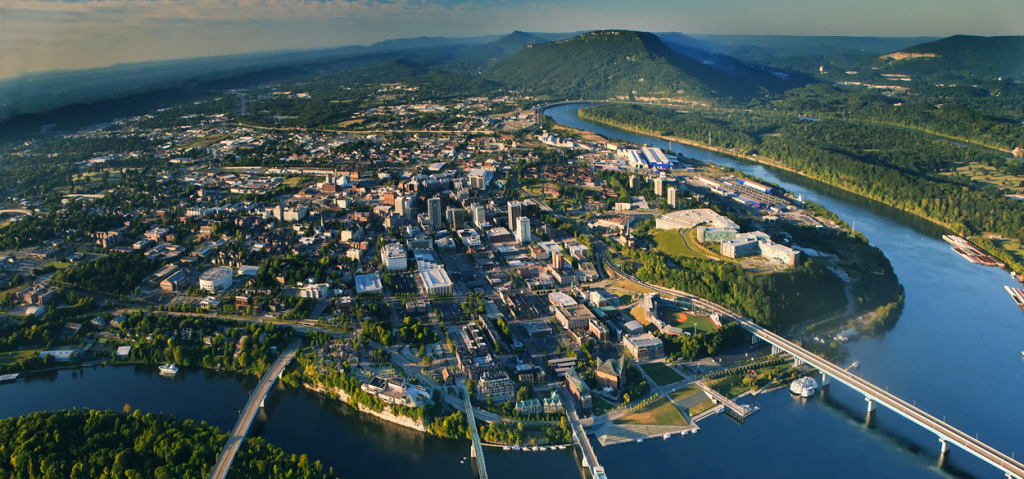 Now, if you haven't been to Chattanooga in recent years, then let me tell you about the boom this city is going through. Thanks to a municipal company offering crazy fast internet speeds at much lower prices than competitors, Chattanooga has seen some really interesting growth over the last five or so years. When you pull of the highway and drop into the downtown area, this growth is immediately evident. It makes sense that a nice perk like great internet will bring a few types of people: young folks like myself, tech companies and small businesses. With these people comes a modernity that a lot of cities in the southeast lack.
As you drive down Market Street and into the heart of downtown, you'll see a lot of the old, brick buildings either being renovated and refurbished or torn down in favor of a much sleeker, modern style. There are those who will decry the idea of tearing down buildings that are full of history, but it's nice to see that some of the most historic spots are being protected or even given a chance to be hot spots again. But more on that later. Let me tell you about our trip.
We left Metro Atlanta fairly early and reached Chattanooga by about 11 o' clock. We had dinner reservations for six o' clock, and check-in at our hotel was set for three o' clock. Until then, we were free to wander a bit.
Our first stop was a little bistro called The Camp House located a block from Market Street on MLK Blvd. The Camp House is quite the chic spot. They feature some delicious snacks, fresh meals and coffee from Counter Culture Coffee which is actually a company located in Atlanta.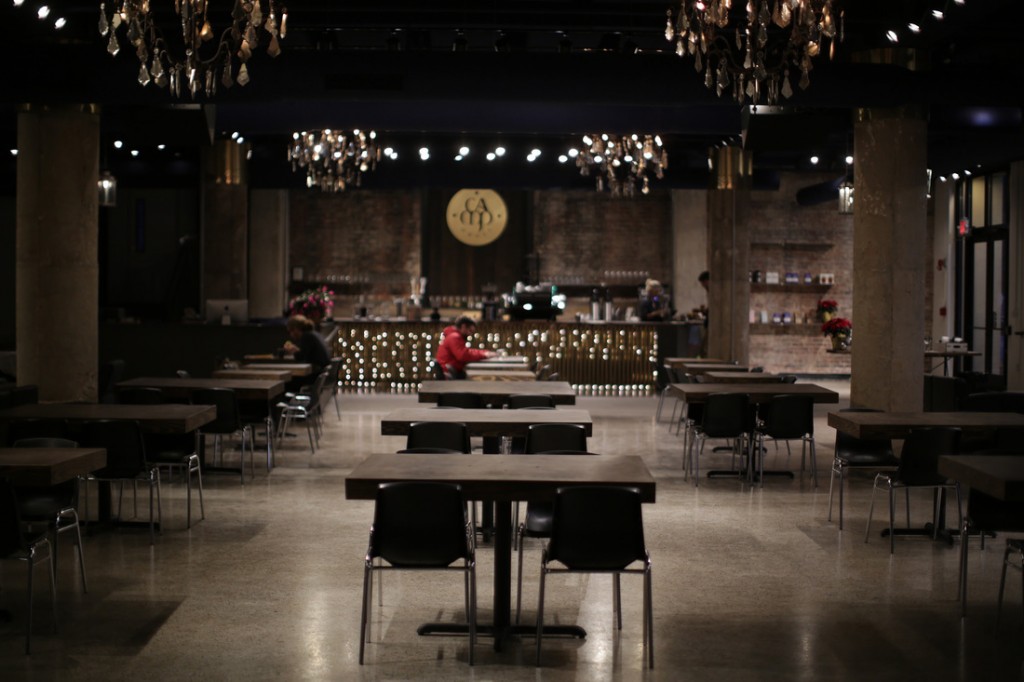 I had already had my morning coffee fix before we made the drive, so we decided to just stick around for lunch. I ordered the couscous bowl while Marissa ordered the meatball sub. Gotta love a girl who knows what she wants!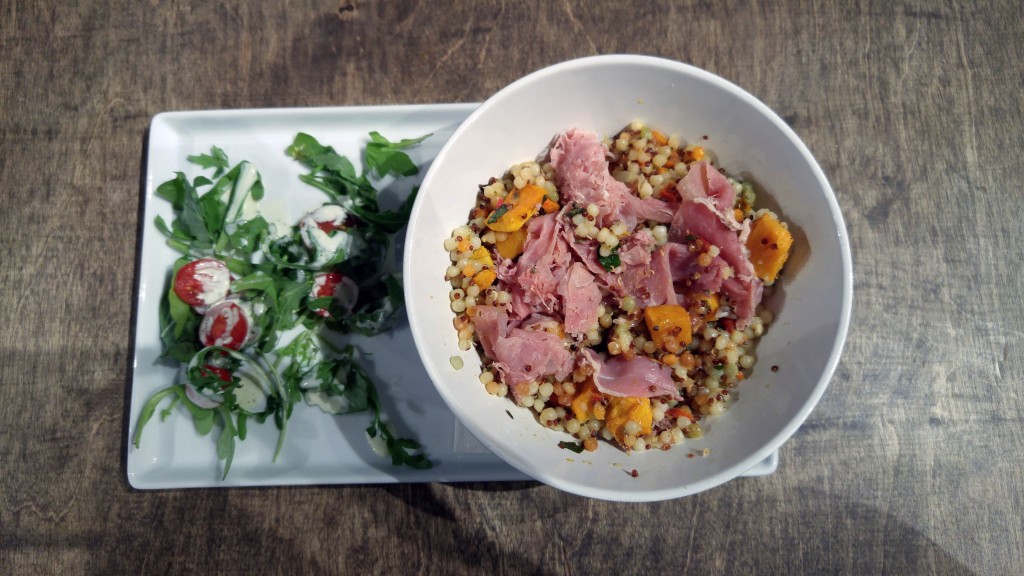 The color of that couscous bowl is awesome. It was packed full of ham, squash, sun-dried tomatoes and quinoa. It was hot and fresh and I would find it hard to pass up if I ever find myself back at the Camp House. Oh and that meatball sub? Gone before I could even get a picture. By all accounts it was delicious though.
After we chowed down at The Camp House, we still had quite a bit of time to kill. Seeing as we were only a mile or two from the Tennessee River, I thought it might be a good idea for us to check out Chattanooga's River Walk area. Rather than being a big jumble of shops all piled at the banks of a river, the River Walk is actually nestled in the much larger Tennessee RiverPark. You get a beautifully kept walking path that allows for several nice views of the river and the south half of Chattanooga that lies across the river.
It really is a great area. The walking path is paved and immaculately kept, and there is truly a lot to see. The Aquarium, a beautiful art museum, and two large bridges loom above you and on the horizon. There is a pedestrian bridge that crosses the whole river, but we just didn't have the time to walk all the way across and then back again to get my car.
However, we did find this peculiar little game paved into the walkway.  Shaped like a snail shell, there were eighteen spaces in the playing space. You started on number one standing on one foot. Without losing your balance or stepping on a line, you try to hop all the way to the middle of the circle. It was way, way harder than we anticipated. Those pictures leave a little to your imagination, so I'll just say we made it all the way to the middle on our first tries. No one was there so good luck proving otherwise.
By the time our legs were sore and we were beginning to sweat, it was time to check in at the hotel. Before we left, we did notice another cute little monument. Chattanooga is just full of little interesting things like this.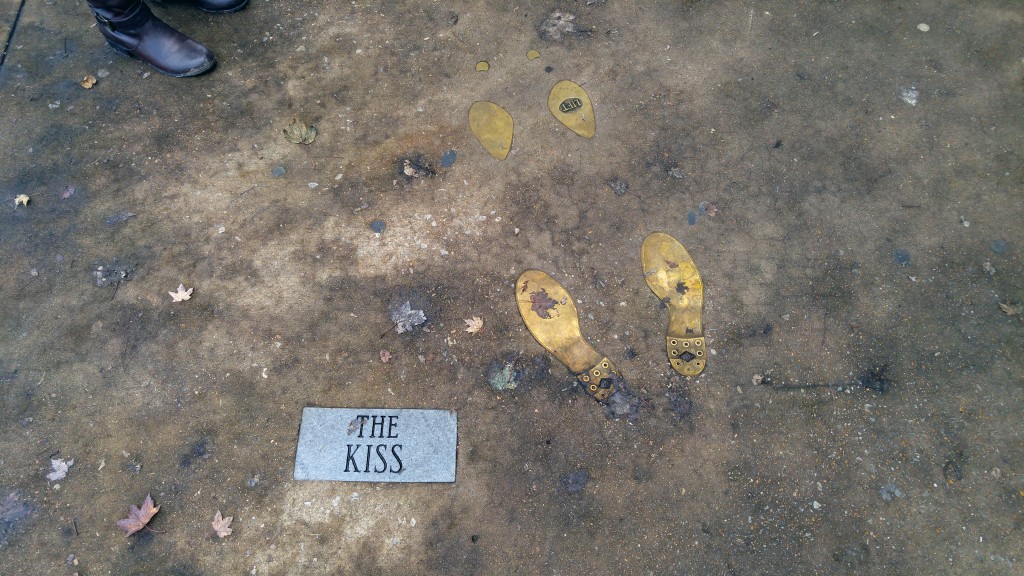 Now, on to the hotel. Marissa and I had decided that if were going to be staying in Chattanooga for just one night, we might as well pick an interesting hotel. What better than the historic Chattanooga Choo Choo? Once a fully functioning train station, the Chattanooga Choo Choo is now a rather large complex of buildings with hundreds of rooms. Some of the rooms are actually in retrofitted train cars!
Now unfortunately we didn't actually stay in one of the train car rooms. A last minute booking will do you no favors. We ended up in a building that actually looked like something right out of 1982. The room was large, clean and fairly updated, but there were several areas of the Choo Choo where it was really showing it's age.
After dropping our bags off at the room, we still had a few hours to kill. We had heard about the Choo Choo's gardens and decided to check them out. And while the rest of hotel may be more novelty than anything, that garden makes the whole thing worth it. Even this late into the fall, there were still some beautiful blooms and even a full water garden complete with fish. I am sure it is quite the sight in the springtime. Lined on both sides by those old train cars and dotted with several water fountains, we spent quite a while wandering around that garden.
With our dinner reservation time approaching, we decided to make our way towards our eventual destination on foot; if you know where you are going, Chattanooga can be a fairly walking friendly city. The restaurant was located in an area called Warehouse Row.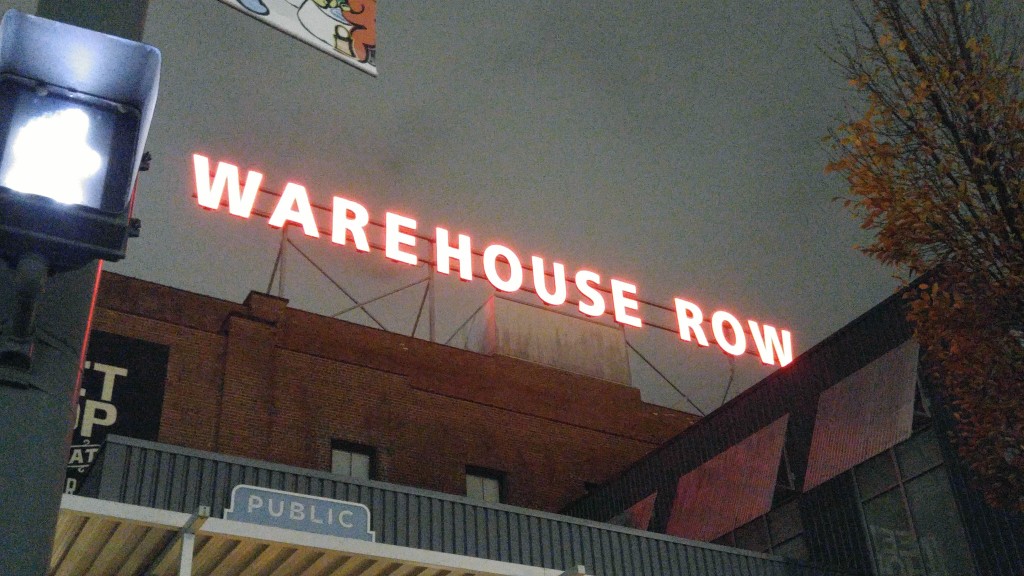 Now Warehouse Row is a very interesting and fairly recent development in Chattanooga. Okay, maybe recent isn't the right word. The area has worn a lot of different faces over the years. The location was once a Civil War fort. By the turn of the 20th century it was a full fledged warehouse district and industrial center for the city, hence the name. In the 1980's, it was turned into a mixed use commercial area. After that project failed, it stayed in limbo for quite a long time. Now, the same company who owns New York's Chelsea Market and is currently building Ponce City Market in Atlanta is working on a total do over for this historic location.
Separated into two buildings, Warehouse Row is quite large. Many of the units are still vacant or being prepared for use, but those that are open are filled by some pretty high end clothing, jewelry and cosmetics boutiques. It's pretty chic shopping and looks like it will only get better as more business move in. On top of all the shopping there are some private offices and eateries. Chattanooga is big on the coffee, food, and drinks scene. I would expect Warehouse Row to be packed full of top notch bars, coffee shops and restaurants.
But what will really catch your eye is the design. They have modernized while at the same time accentuating the original architecture of the buildings. It's kinda hard to explain, and pictures don't quite do it justice. You really just need to see it for yourself if you are in the area.
With our feet starting to ache, our reservation time approached. Dinner tonight was at a restaurant located right at the front of Warehouse Row: Public House.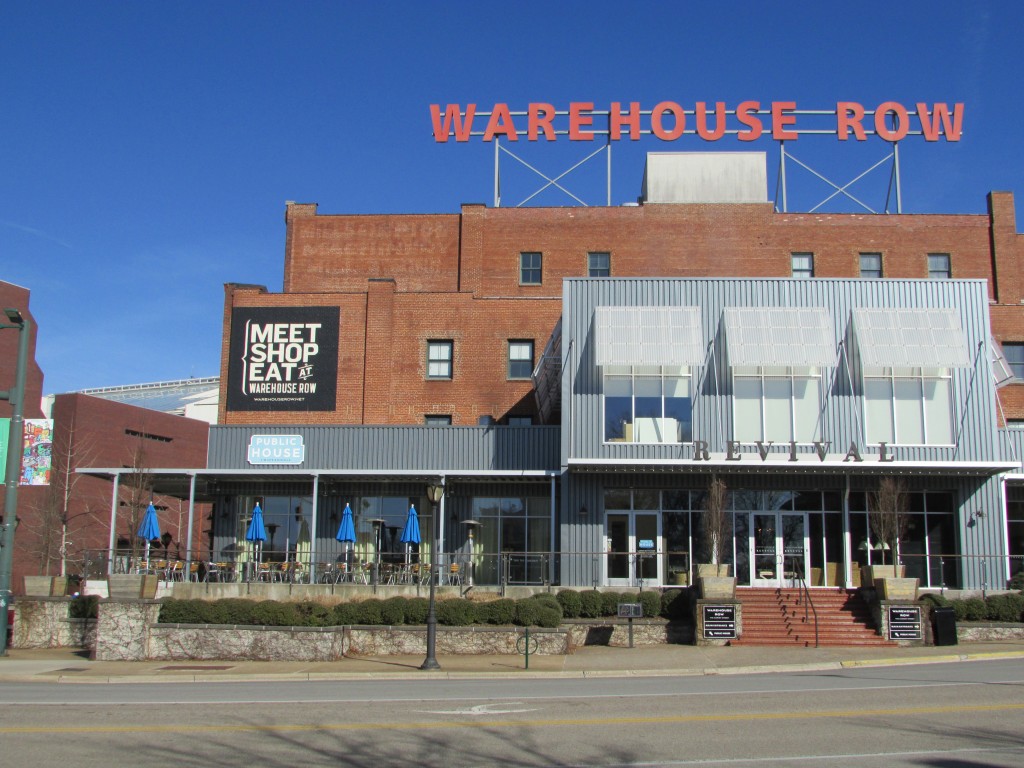 Public House fits right in with the rest of Warehouse Row. Embracing it's Southern locale, they serve a lot of great modern Southern cuisine that is quite popular these days. And we lucked out with some great nighttime weather. We got to enjoy a great (small) city view as we ate.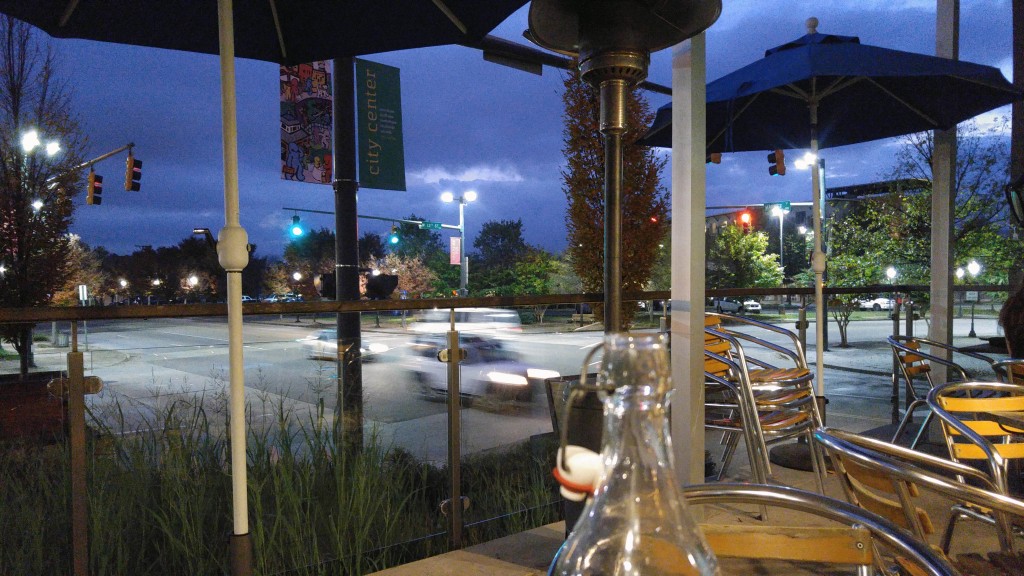 When you come to a place called Public House, you expect good drinks. We stuck to the basics and were not disappointed. Marissa ordered a tasty and not to sweet Mojito and I got a cocktail of sparkling lemonade, mint, cucumber and vodka. I totally understand if you got a laugh out of my drink choice, but hey, it was delicious and I am not ashamed.
Next up: the food. And the food here is the real reason to come. The chef is the brother of a James Beard award winning chef, so I'm guessing some of that must have rubbed off. We started off with a plate of deviled eggs topped with candied bacon. I had the duck confit and Marissa a crab cake sandwich.
We gobbled those deviled eggs down so fast that I am lucky to have gotten a picture. The eggs were tangy with just the right hint of smokiness and sweetness supplied by the bacon. The waiter recommended them and I am quite glad we decided to follow his advice. My duck confit was quite the decadent dish. The duck was crispy and literally falling off the bone. The chow chow ( a Southern pepper relish) was a nice complement to help cut the fattiness of the duck. And that side of cannellini beans was worthy of a dish all to itself. Smoky, meaty, crispy and oh so good. That crab cake sandwich was just as big as it looks too! I always appreciate when a chef is smart enough to let the crab do all the talking in a crab cake. In the small bite that Marissa allowed me to take ("It's for Sumptuous Living, I swear!"), the crab was front and center and well complemented by the fresh veggies and soft bun.
After dinner, it was time for dessert! Right across the street from our hotel was a place we were dying to check out the moment we saw it. It was called The Hot Chocolatier and the smell that wafts through it's doors is heavenly.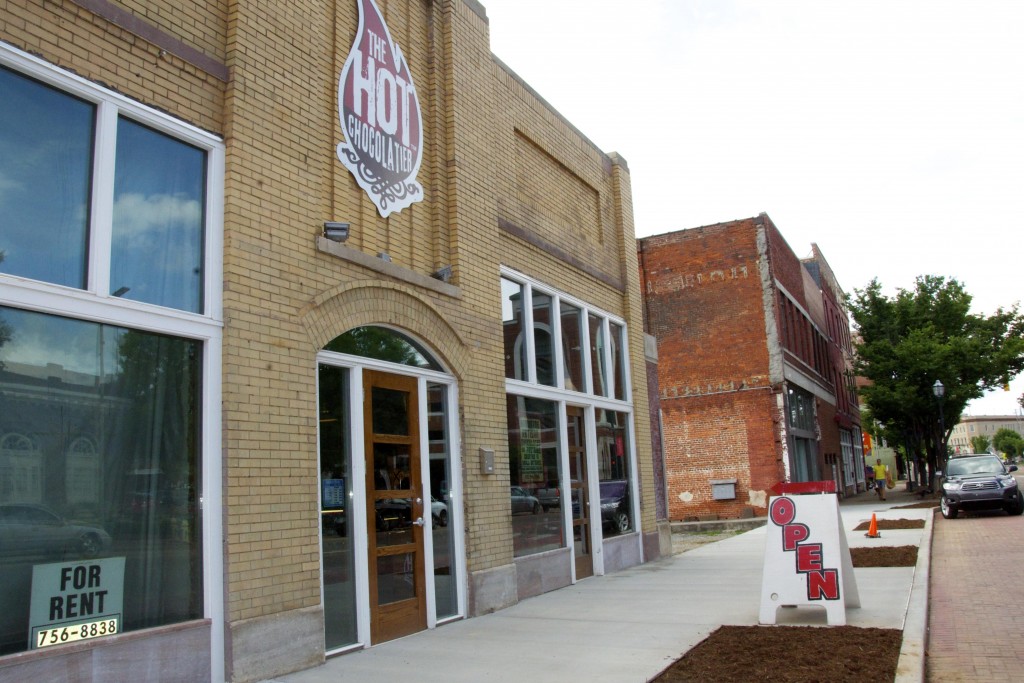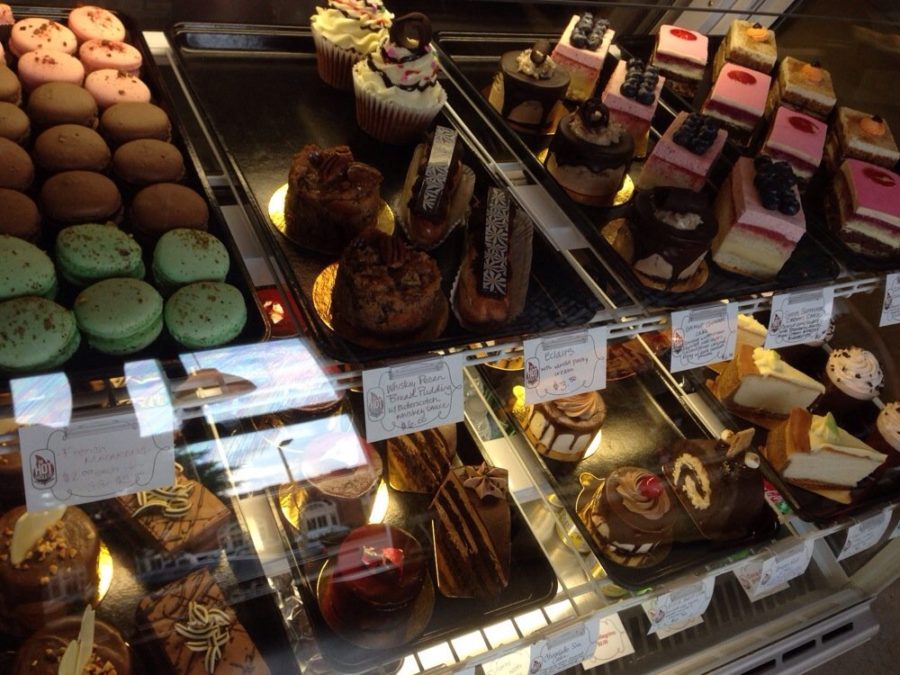 The Hot Chocolatier specializes in, you guessed it, hot chocolate. However, the store is chock full of other goodies as well. Cakes, pastries, cupcakes, cookies and coffee… So much goodness. We eventually settled on a couple of yummy sounding cupcakes and two cups of hot chocolate. White hot chocolate and hot chocolate topped with almonds, coconut and marshmallow. Basically an almond joy in a cup. Tell me that doesn't sound good.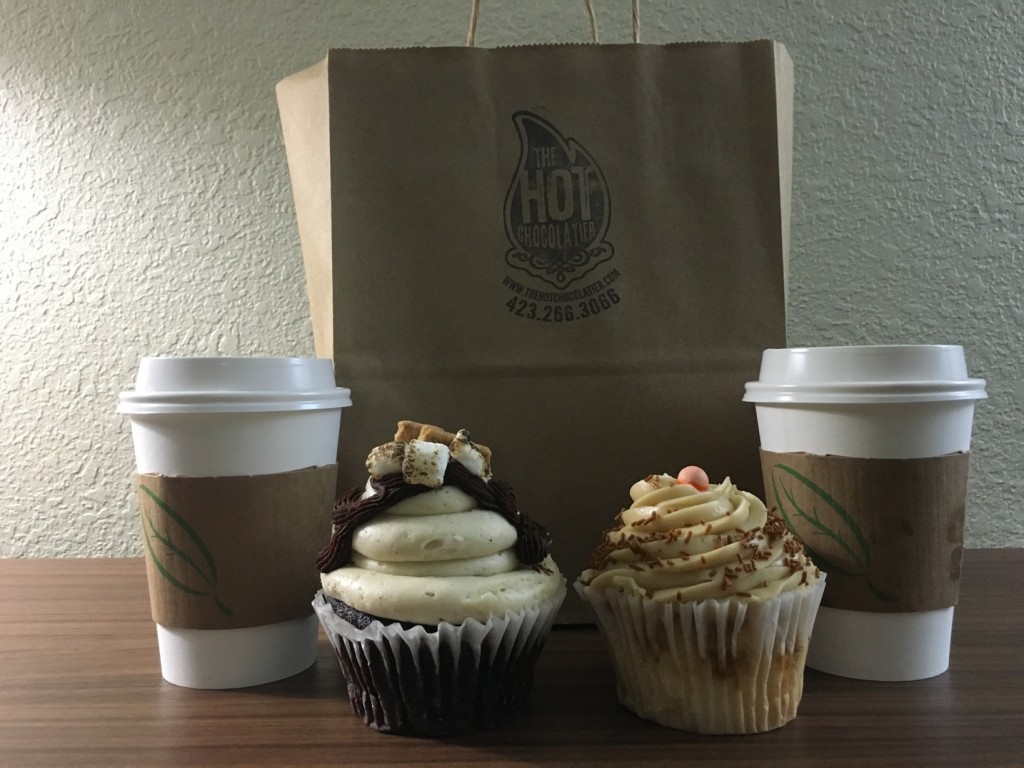 We brought our treats back to the hotel and turned in early after a long day of walking, shopping and stuffing our faces with good stuff.
The next day, we really didn't have anything planned. We woke up, checked out of the hotel and then just started walking. Our feet ended up bringing us to a coffee shop we had noticed the previous day on the seven miles of walking (!) we had done. The place was called Mean Mug Coffeehouse and I'll go ahead and say this: I wish I had this place down the street from me right now. I would seriously be there every morning. They serve fresh hot biscuits, hotter coffee and the coolest atmosphere. We chose to sit on a small sofa situated at the front of the shop and enjoy our biscuits and coffee. I ordered the classic bacon, egg and cheese biscuit with a cappuccino. Marissa settled on a biscuit with avocado, prosciutto, cheese and tomato and a mocha to drink.
The biscuits were as good as they look. Or better, depending on how good you think they look. And the coffee? Oh my. Now I'm not a huge coffee drinker, but I'll have to say that this was probably the best coffee I've had. The coffee comes from a local Chattanooga coffee roaster, so you are drinking it at the peak of freshness and it truly shows. The espresso was strong but didn't have the hints of bitterness or sourness that a lot of coffee tends to have. Also, check out that artwork!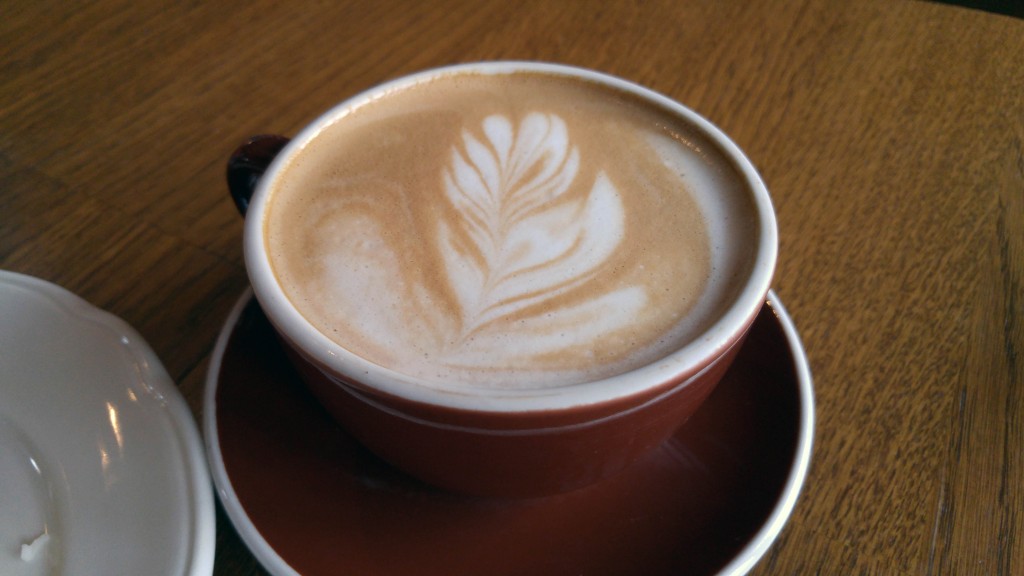 After one of the best quick breakfasts I've ever had, Marissa wanted to try our hand at some natural beauty. We headed to the outskirts of the city to Lookout Mountain, the gently rising peak that stands over Chattanooga. We were there for Ruby Falls!
Now Ruby Falls is a pretty unique experience. You drive about halfway up a mountain, buy your tickets and then head underground. You trek through a short cave system and are treated to a 140 waterfall that, at 1120 feet below ground, is the deepest waterfall in the country. Now, I could tell you all about the short hike and the waterfall, but sometimes words don't do it justice. Here are some of the pictures I took on the trip.
Ruby Falls is definitely worth seeing. At this point in its existence, the whole place is highly commercialized so while the natural beauty of the falls is something to behold, it's not somewhere I would linger too long. The views from the top of the tower were quite spectacular though!
And with that last gaze out at Chattanooga from Lookout Mountain, we were off. Vacation coming to an end is always slightly depressing. You begin to realize that it's time to get back to the real world. Work, school, life… But when you remember that an awesome spot like Chattanooga is just a couple of hours way, it doesn't feel so bad. So if you in the Atlanta area and looking for a different spot to spend a weekend or longer, give this funky little gem a try. I don't think you will be disappointed.