Big Spaces: How To Tackle Open Floor Plan Design
Open floor plan design can seem impossible, but with these tips you can create a warm inviting living room that makes you feel at home.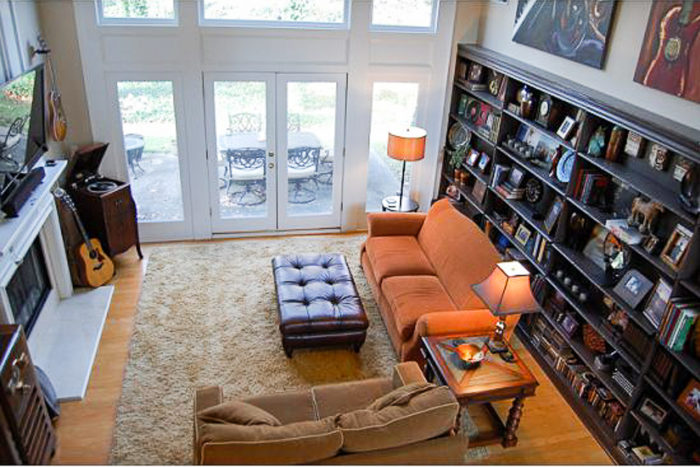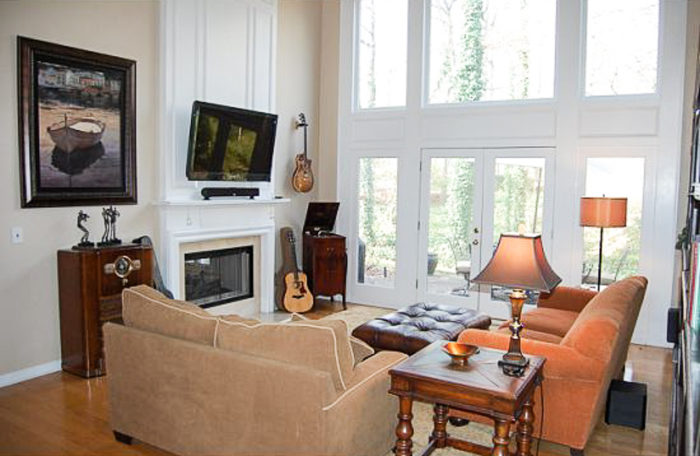 Open floor plan design are so popular these days. The issue most people have is how to make such a huge space seem warm and cozy. You want to feel like walking into your home is like getting a great big hug (from yourself). Somewhere you can feel like kicking off your shoes, grab a cup of coffee and curl up to listen to some great music or read that book you've been dying to start in on. The client in this space is a bachelor who loves music, being comfortable and great travels. I wanted to give him a space that was all him.
That can seem like a very hard task with ceilings that are 18 ft tall, a 22ft long white bookcase, a wall of windows and neutral builder beige walls that are not your typical do-it-yourself to repaint. What to do?
THE BEFORE SHOTS
This is the home of client who has a great love of music, playing guitar, entertaining old friends, and traveling. His style is warm earth tones, deep rich woods, and pieces with unique character and history. But what the space looked like before said nothing about him!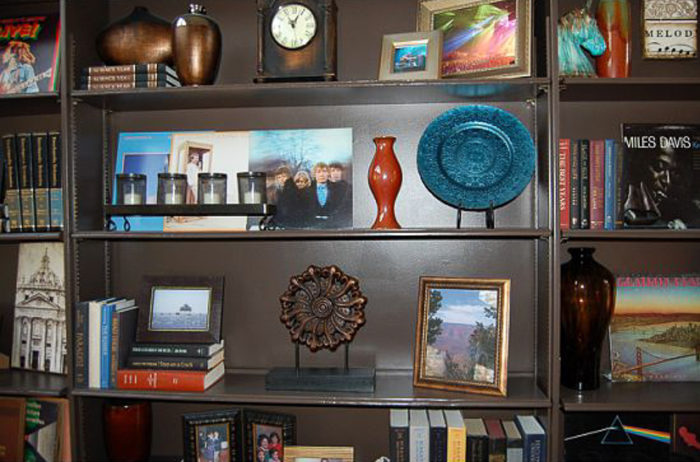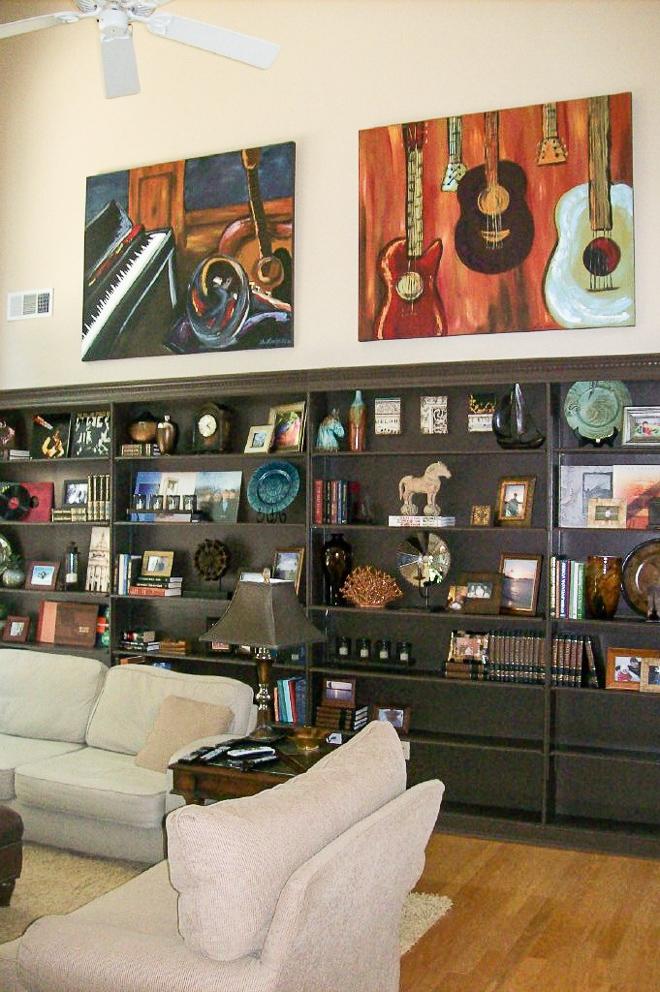 We painted the bookcase a dark brown to make it feel more like a furniture piece and to anchor the wall. Hugely important in open floor plan design. That still left a huge space above to find art for. An impossible and very expensive task if we went with retail or gallery art! So I bought the largest canvases I could find and painted artwork for him.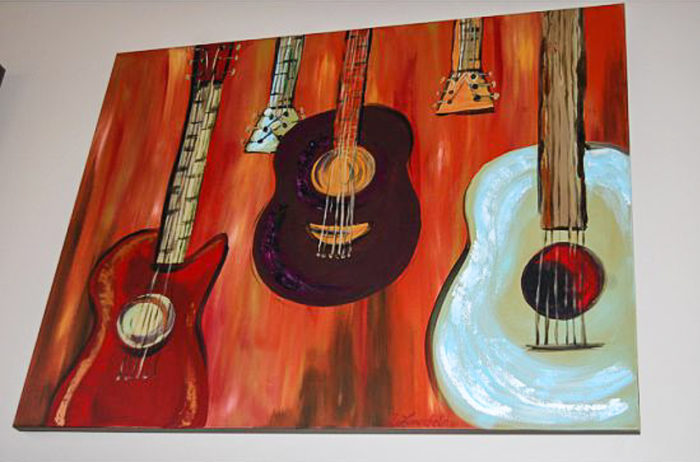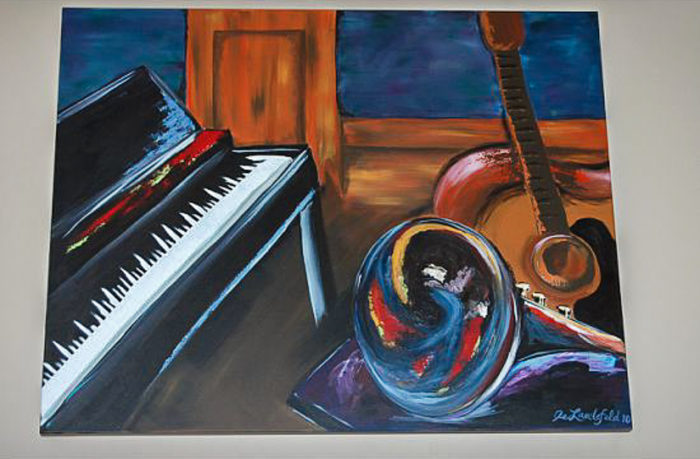 These pieces are 4 ft tall by 5 ft wide. HUGE! They would have cost us thousands to buy or commission. You can find an image or photo that you love, copy it onto a transparency, and project it onto the canvas. After tracing it, simply color it in like a gigantic coloring book. Even simpler, do an abstract with horizontal bands of color, keeping the paint wet and blending each color into the next. It's just paint! If you mess it up, repaint it over again. No biggie!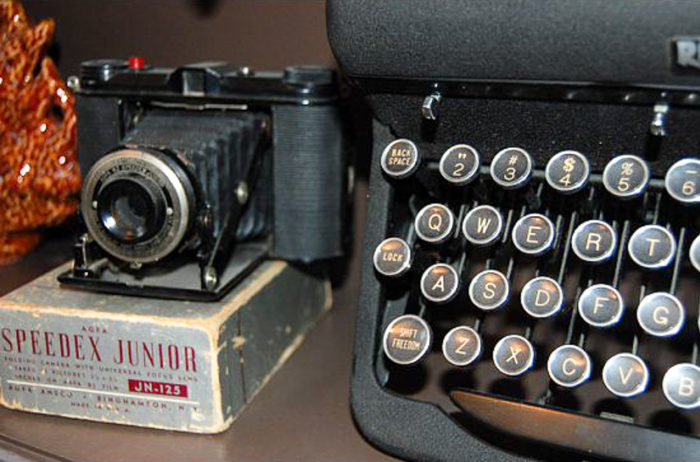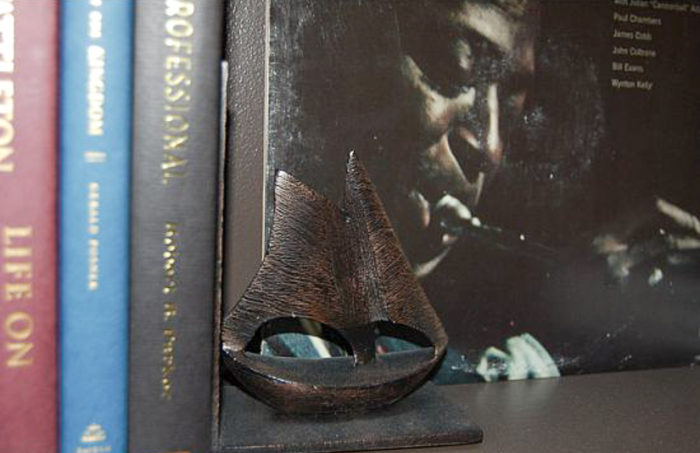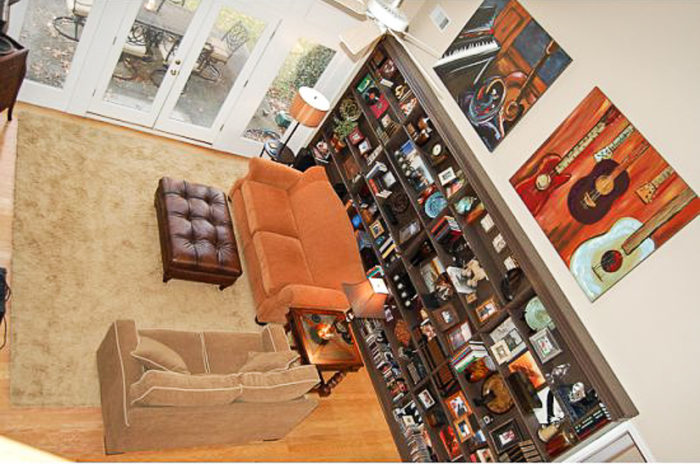 After filling the bookcases with his favorite albums, photos, antique cameras, unique lighting and plants that were his, I filled in the rest with old books and interesting finds that gave the shelves color and character. Antiques and guitars were used as much as art pieces as items to play music.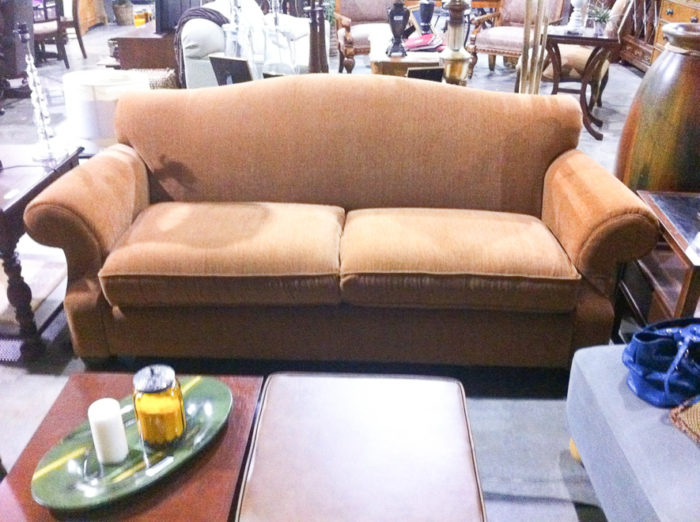 We changed out the bound carpet for a camel rug and gave the room some color with an orange chenille sofa (found at a local home staging resale center), anchored with a tufted dark leather ottoman. Warm lighting filled the space and kept the light level low considering how tall the ceilings are.
Whoo! Done! Now a big space can feel as cozy as a small one with style and character.