Navy & Coral Bedroom For A Teen Girl
A fun and bold color combo make this Teen's Navy & Coral Bedroom a place she can love for years to come! Plus when company comes to visit it works perfectly as a guest bedroom. Get all the great design details here!

When a girl is ready for a bedroom to take her into her teens, you want that room to LAST! … As in THROUGH COLLEGE kind of LAST! Redecorating a room costs mullah and I love knowing that every dime spent on a space isn't wasted but invested in the long term.
Inspiration…
I first invited this dynamic young lady to our design offices for a client meeting and before she came asked her to start a Pinterest Board of bedrooms she liked.  She was tasked with making a little note on each pinned picture of what in the photo she liked (ie: wall color, bedding pattern, color combination, artwork, layout). Then I asked that she go back and edit the board the day before our meeting, deleting any pins that she didn't like now as much as when she first saw them. This last step is super helpful in defining your style! She shared the board she created with me and added me as an editor so that I could add in pins that I wanted her to consider. Great way to collaborate!
Before Pics…
Task List:
Move her into the room across the hall (a room rarely used by guests) where she can have her own bathroom (she shares a super tiny bathroom with her 2 younger brothers)
Repaint the room and add color to the ceiling
Color Scheme: Navy & Coral
Keep the current furniture in the new room
New bedding
New curtains
Wall decor (Artwork, Fun 3D wall display with initials)
Desk area so she can work on homework that can store books (she loves to read)
Shelves for trophies & photos
Bedside table for all the necessities with a book basket underneath for easy reading at night
Lamps
Bedding and Curtains
After painting the room a soft linen color and highlighting the trey ceiling with a deep navy, I searched for a playful mix of pattern and color for the bedding. Focusing on Navy & Coral for our teen bedroom color scheme, we love the mix of a comforter set layered with a quilt set. Target was our jackpot for affordable & fun bedding with a sophisticated look. The Navy & White Star Comforter Set works great with the Coral Flower Quilt. I pulled a different kind of geometric into the mix with the curtains. The Navy Chevron Curtains are hung high to make the room feel taller on Mercury Glass Curtain Rods.
Wall Decor
Let's make the walls pretty! We spray paint some open wood frames we found on clearance from Hobby Lobby a pretty coral color. Hung the bright frames over some dark gold initials (her monogram) and completed the wall over the headboard with Gold Metal Sea Urchins from Target. Funky wall art and fun cork boards (all from Hobby Lobby) play on our geometric patterns and Navy & Coral color scheme with another touch of gold (metallics make a room more mature and will help the room last the test of time).
Desk, Table & Shelves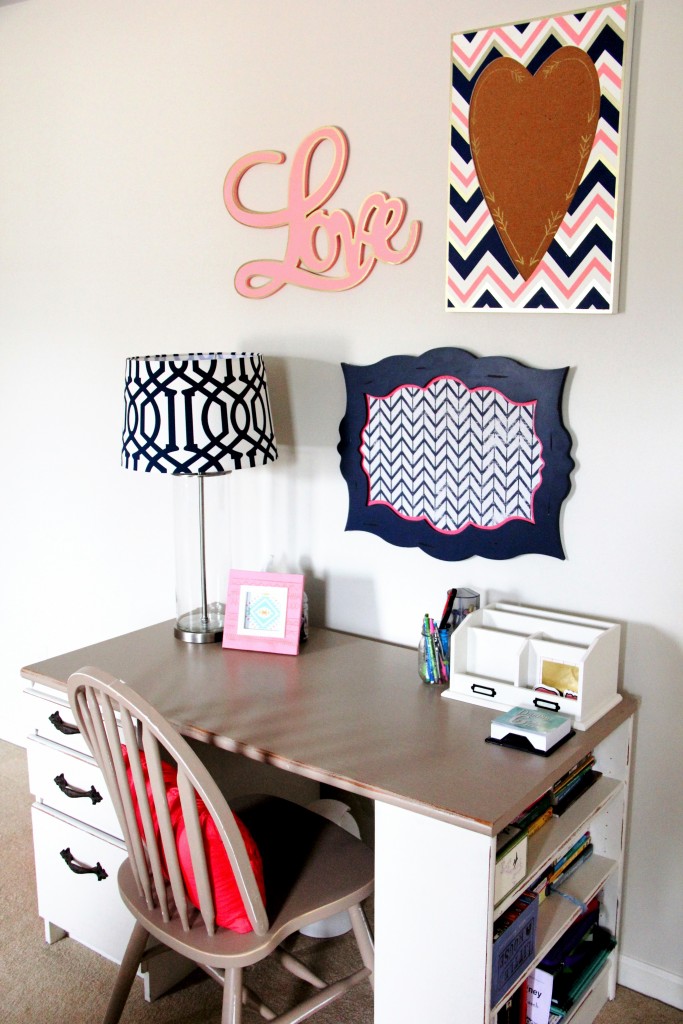 We found the navy blue & white bedside table at a local antiques market and added a pop of color with a coral lamp and canvas basket from HomeGoods (along with a few other lamps, picture frames & desk organizer too). The desk came from Rethunk Junk and is the perfect storage solution for this avid reader! 
With that, our Navy & Coral Bedroom is done! A space that reflects her personality but can grow with her as she matures into an amazing young woman!