Home Office with Modern Historical Twist
Check out the before and after reveal and our tips to blend a love of the old and the design style of today in a modern historical home office.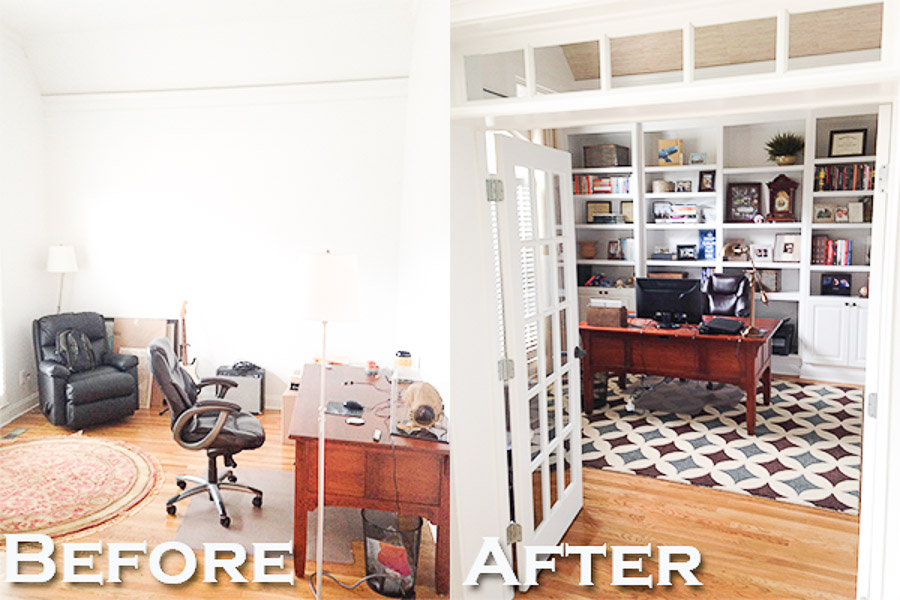 Sometimes the first intention for a room isn't how it will best live its life! The formal living room would be best suited as a home office for this young family, a wonderful couple with a new baby girl. They recently moved into this house and are room by room putting their warm, modern, slightly industrial but with a few feminine pops of color.
The husband is a college professor and often works from home. He needed a quiet work space that he could close off and work that's bright and airy and allows him to also play his guitar (again with doors that close) and display his love of antique aviation memorabilia.
So we gave him this amazing space… just needed some tweaking. The room was a simple box. Great light via a huge arched window and very tall angled ceiling. It needed storage by way of built-in bookcases and architectural details.
MODERN HISTORICAL HOME OFFICE TASK LIST:
Add in ceiling feature (Wood plank? Paint? Wallpaper?)
Built-In Bookcase on long wall 141" long
Rearrange furniture (desk facing doorway, chair in corner)
Big rug, 7'6×9'6 with bold pattern
Antique Maps, old feel with modern white walls
108" burlap textured curtain panels hung
144" long oil rubbed bronze curtain rod
Place amp in corner with chair & guitars for easy playing
New lamps (floor, table/desk lamps)
Add in 15 light (meaning all window panes) French doors to the office doorway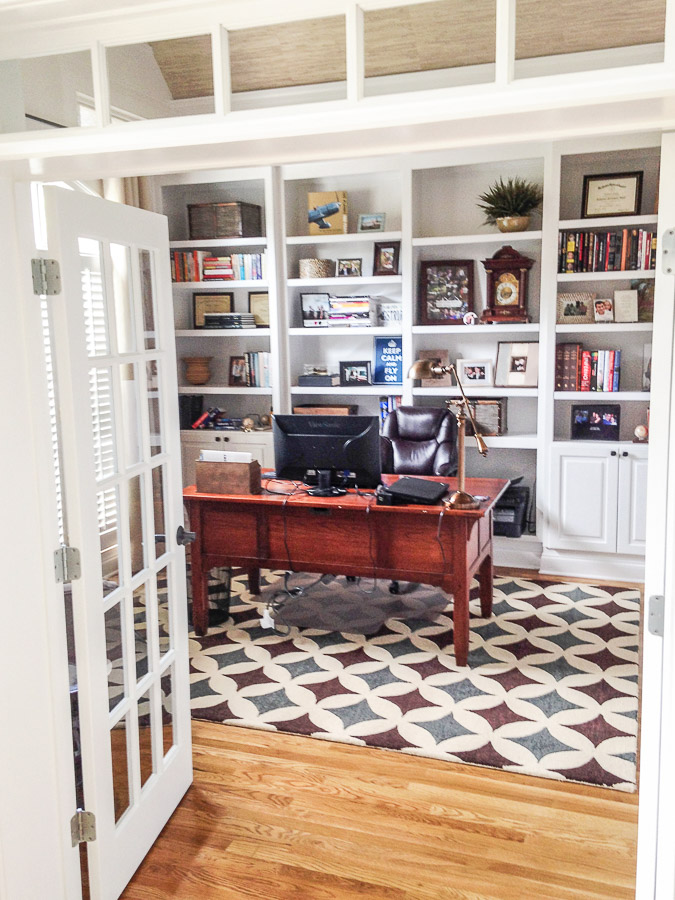 We kept the room white and our contractor added in a wall of built-in bookcases and French doors. They were painted white as well. The bookcases were filled with the husband's books, old family antiques, favorite keepsakes, and pictures. A few greenery arrangement s and organizational boxes fill in the remaining spaces.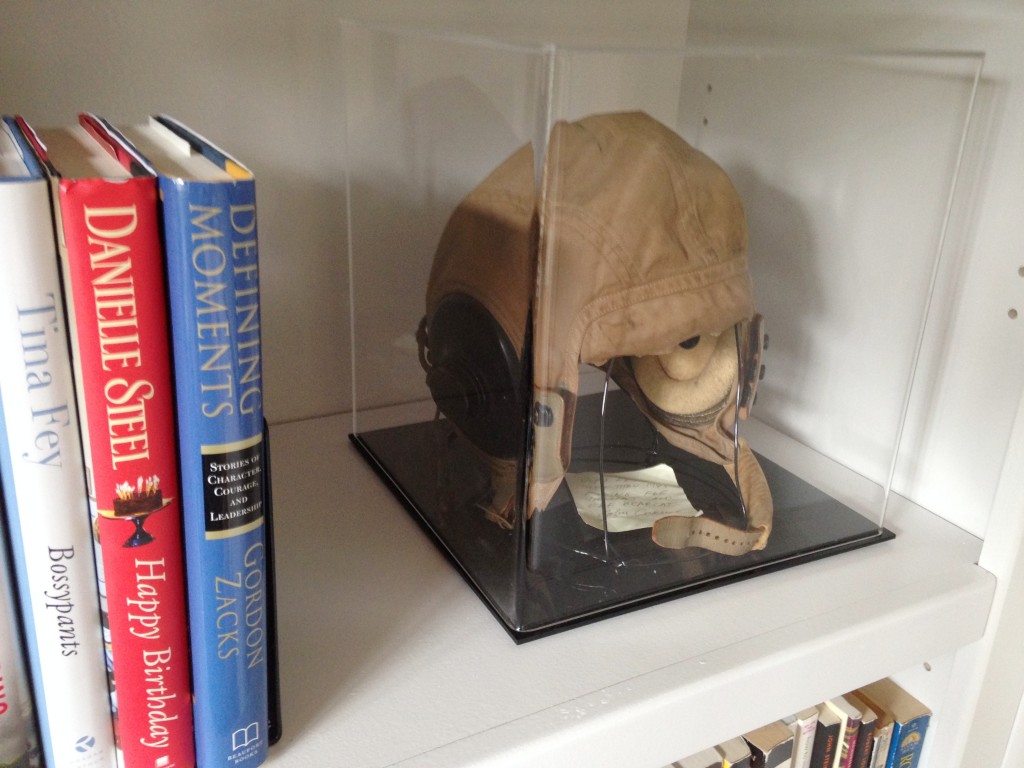 Adding your own personal story fills the bookcases with history and interest. Like this old aviation cap. The room has amazing height and to play on that we hung the curtains just above the arching window. The best part of this room is the ceiling!
We wallpapered the ceiling with
grasscloth
. It is stunning and adds a huge amount of texture to the room. I love this! The curtains are the same shade and texture of the ceiling which allows the two details to balance each other well.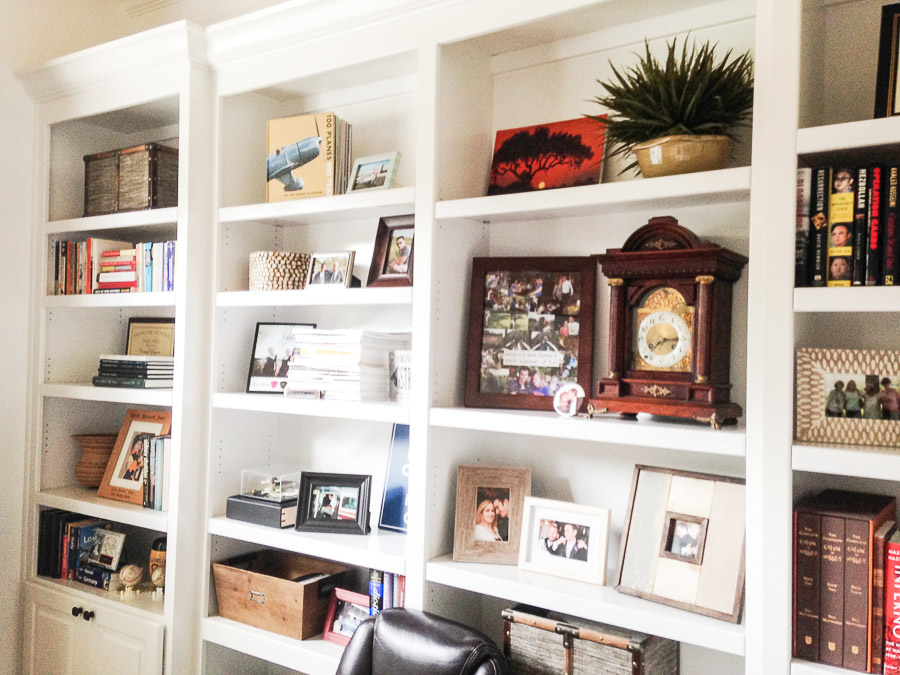 The mission style desk was moved to the center of the room and placed over a masculine yet modern rug in browns and dusty blue-gray tones.
The chair in the corner picks up that same blue-gray tone and provides a great music spot for this great guy.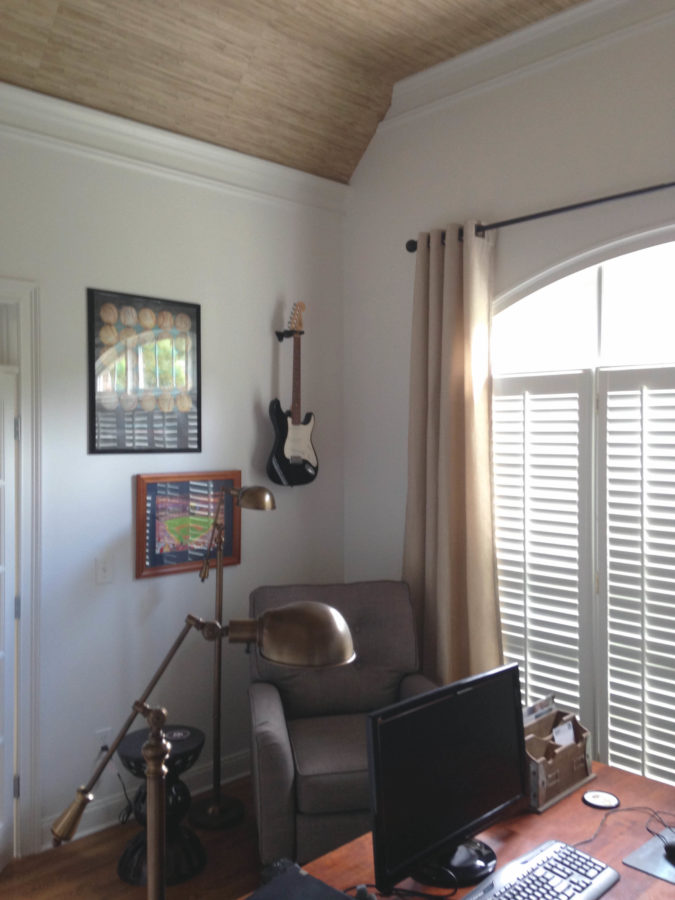 The walls all tell a story! The wall facing the window becomes a gallery space for old plane prints and war posters. Antique maps and family history adds to the mix. Laying out the collage as one larger unit breaks up the white wall without looking cluttered. TIP: Play with the arrangement on the floor before you hang it so you know you like the composition.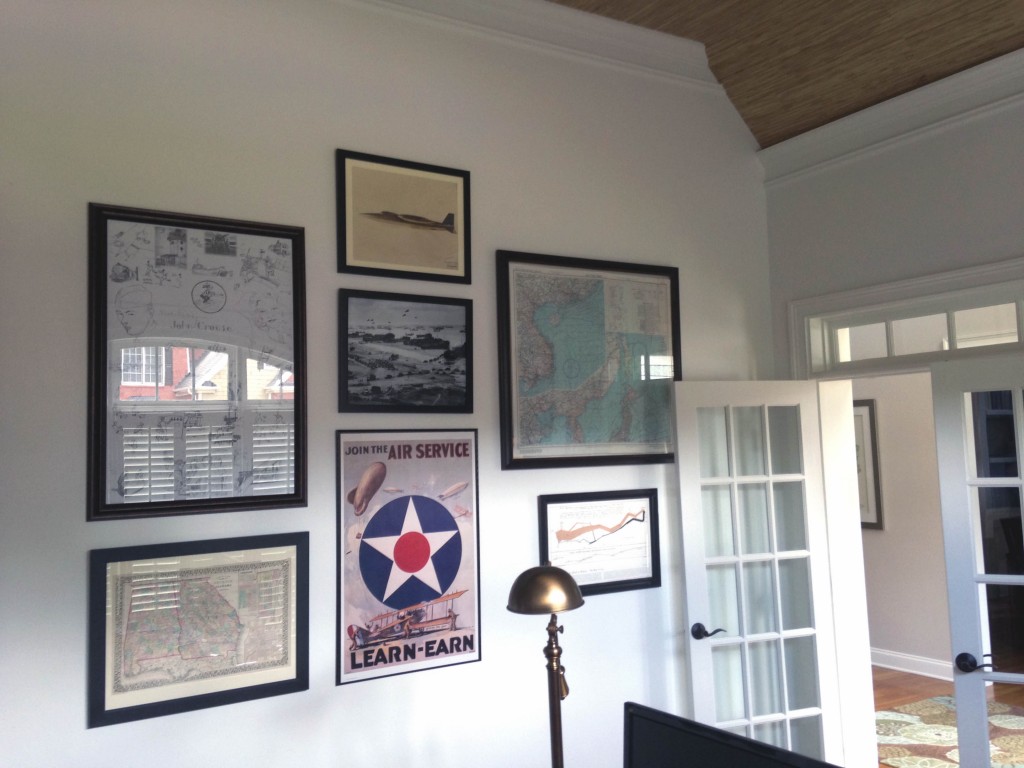 The end result is an office with so much character and backstory! A room you want to spend time in, laugh, chat and hear the tales of family history long ago.