Revive Your Home With A Living Room Makeover!
We brought life back into this Living Room! With all the details you need, this design post will help you tackle a Living Room Makeover so everyone in the family can enjoy it!

Bring some new life into your home with a living room makeover with the help of fabrics, furniture and function! Should we call them the Three F's?
This living room makeover was a long time coming! The family had a space that was rarely used because it simply didn't function well. A massive sectional (the biggest I've ever seen) swallowed the room and left no room for tables. The layout was pressed into a corner to serve the sectional and a humongous TV which didn't work either. And the space was a sea of burgundy (both in the drab valance and in the leather) and oak which created a lack of personality and meant that no one ever spent any time in here. We can fix all that!
Living Room Before Pics…
Makeover Task List: 
Move sectional into basement
Donate the old TV
Remove old curtain valances
Repaint the room
New sofa & 2 chairs
Discard tree
Entertainment Center with new flat screen TV
Big rug with pattern
Replace ceiling fan
95″ curtain panels
Artwork over the mantle
Let's Go Shopping
First, we clear the room and put a fresh coat of paint on the walls. I swap out the ceiling fan for one that sits closer to the ceiling and offers better lighting.  We source seating at our local furniture store. A linen sofa with an unexpected pillow combination sits adjacent to a pair of ball spindle arm chairs with French script upholstery. The client loves the time she spent visiting France, so these are perfect!
For rugs and storage pieces, we run to HomeGoods and love what we find! Have I mentioned how much I love this store? We add in a leather ottoman and a tray (gotta have somewhere to put your Cocktail, right?).
We hang 95″ ready made embroidered silky chartreuse green curtains. Like so many of our design posts, I always hang curtains high above the windows to lift the eye and make the room feel taller. Then I tackle the mantle. A tribal wood sculpture that the clients already owned goes to the left of a stunning antique Asian pen and ink. A pair of cranes balance the other side. So pretty!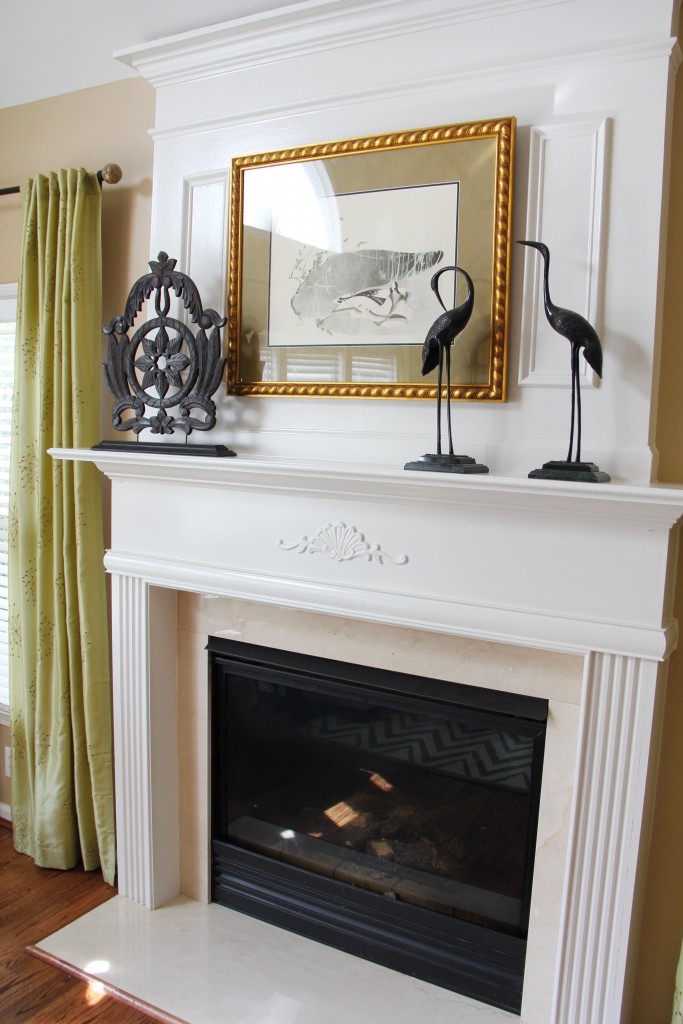 Once the living room is set with end tables and new lamps, the room is done. Full of new life. Revived!