Put Some Glam in Your Master
Our master bedrooms are our retreat. With busy careers, growing families, and the general chaos our everyday brings, we need a place that when you walk in you instantly feel like it's all yours. We loved doing this Master Bedroom for a family with two precious little girls. They wanted Hollywood Glam mixed with warm purples and beautiful sparkly silvers.
The clients had started with the bed and had a bedding they liked, but we needed to fill in the rest.
TASKLIST:
Finish out bedding: Duvet cover & shams (Kohls?)
Move current furniture to spare BDRM
New bedside tables (1 small round mirrored table 20″-24″ & 1 nightstand w drawers 36″ & under)
New dresser & chest of drawers
Mirror for over dresser
Contemporary loveseat for sitting room
Pair of art paintings over loveseat
 Accessorize bookshelves in sitting room
New bedside lamps (HG/TJMAXX)
New fan (ceiling hugger w light)
Shift bed to left
 Mount TV to above FP in sitting room
Large art piece to left of bath
Bench at foot of bed (grey)
Brushed nickel hardware for all windows
Curtains
Order (2) 16×20 or 18×24 photo canvases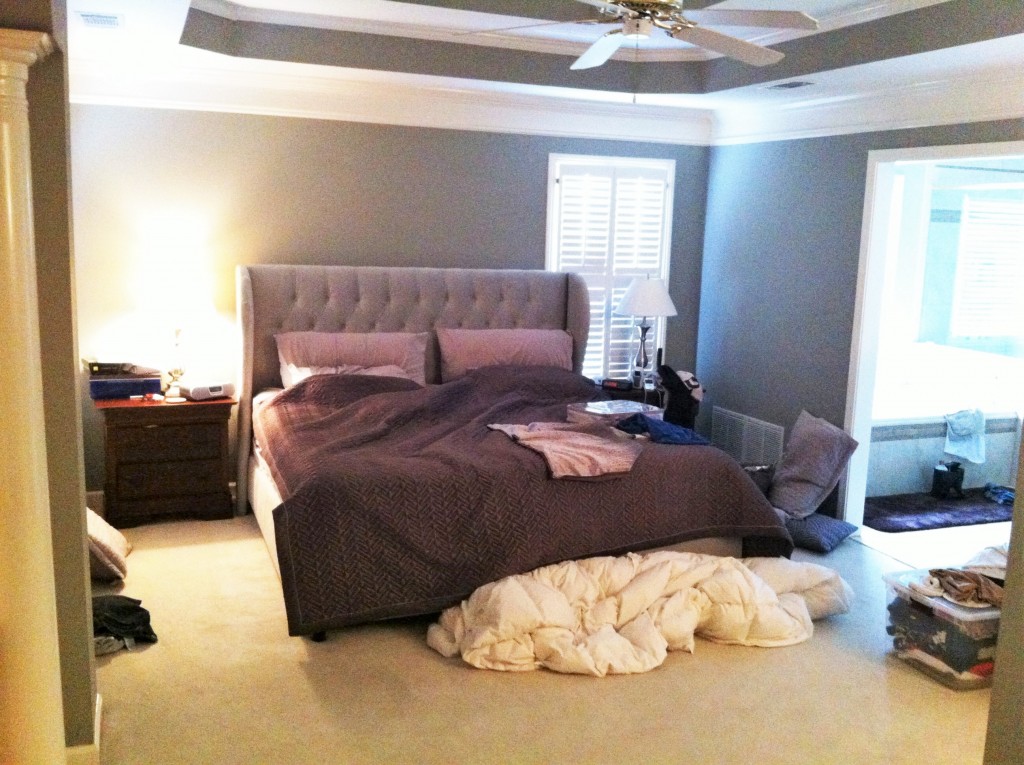 Big perk is that the room is already painted and the client already chose a color palette of deep purples, grays, and silvers as the motivation. She knows what she wants, she just needs a little help getting there. (By the way, she had just had their second baby 2 weeks before I came into the picture which will fully explain the "before" pics, so look past the laundry peeps. This lady is dead tired!)
We need to move the cherry dressers and nightstands to the spare bedroom. It is too traditional for the look we're going for and that room (which we'll post later) needs the furniture. This room needs furniture that's dark espresso and more contemporary with better drawer space. Only the dresser and chest of drawers will match. Gone (thank goodness) are the days that every single piece must be part of the same bedroom suite. Please don't match your bed, dressers and nightstands. Let the room feel collected. I find these dressers at I.O. Metro on clearance. The backrooms of local furniture stores can be a huge cost saver! Don't be afraid to ask if there are any clearance pieces in the back and then negotiate for a bigger discount! Doesn't hurt to ask, I always say (my hubby might have that etched on my headstone)!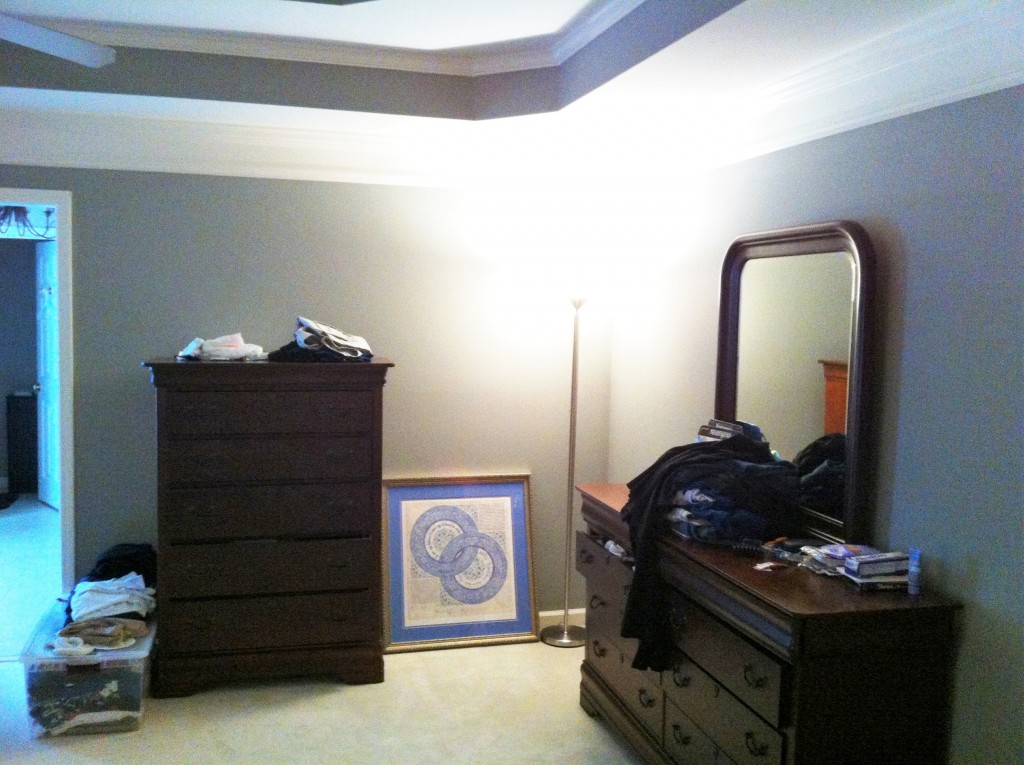 We change out the ceiling fan
 to a pretty one that feels like both a chandelier and a fan.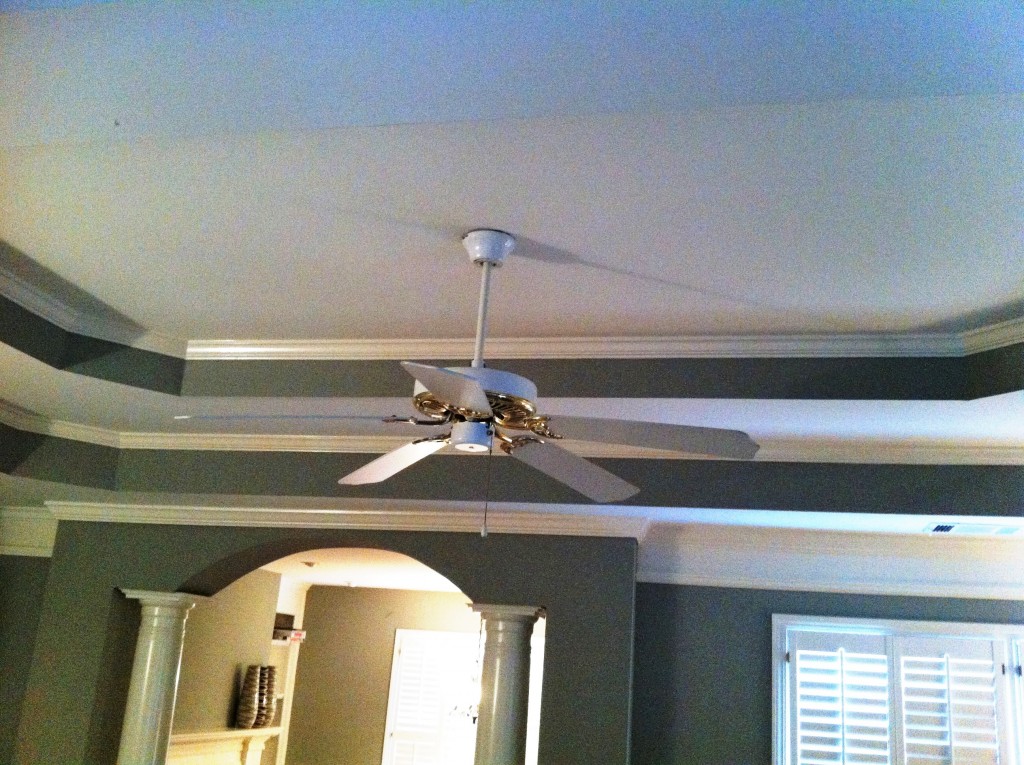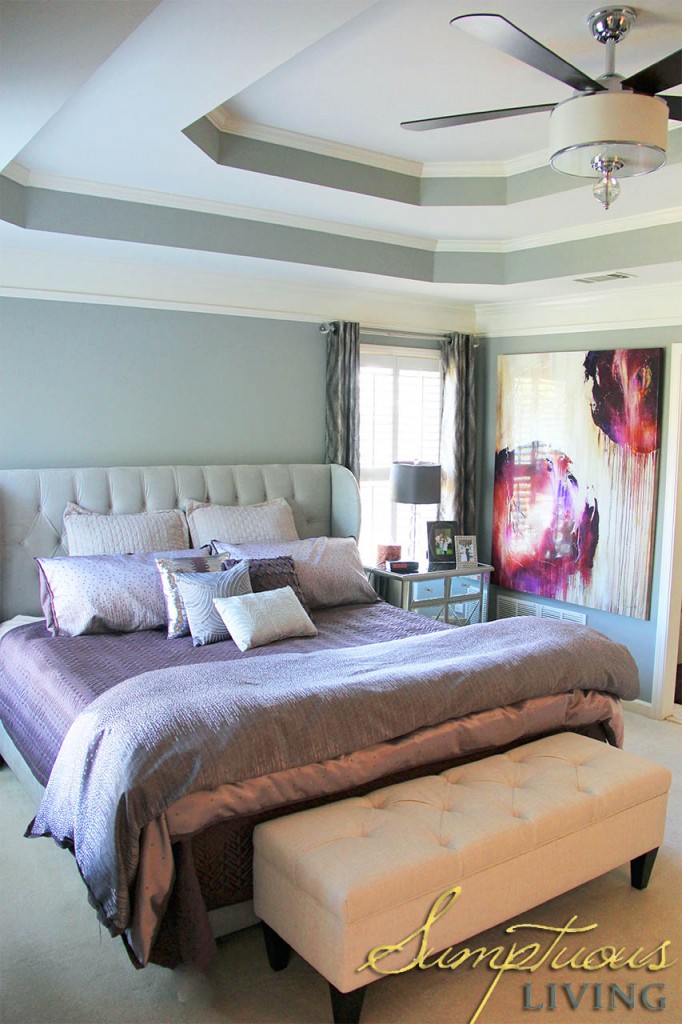 Add beautiful crystal lamps
 on mirrored nightstands for both storage and glam. (TIP: When you order anything mirrored, be prepared to have at least one show up broken. If you're ordering from a store locally, consider ordering one extra just in case. You can always return any extras before you leave the store.)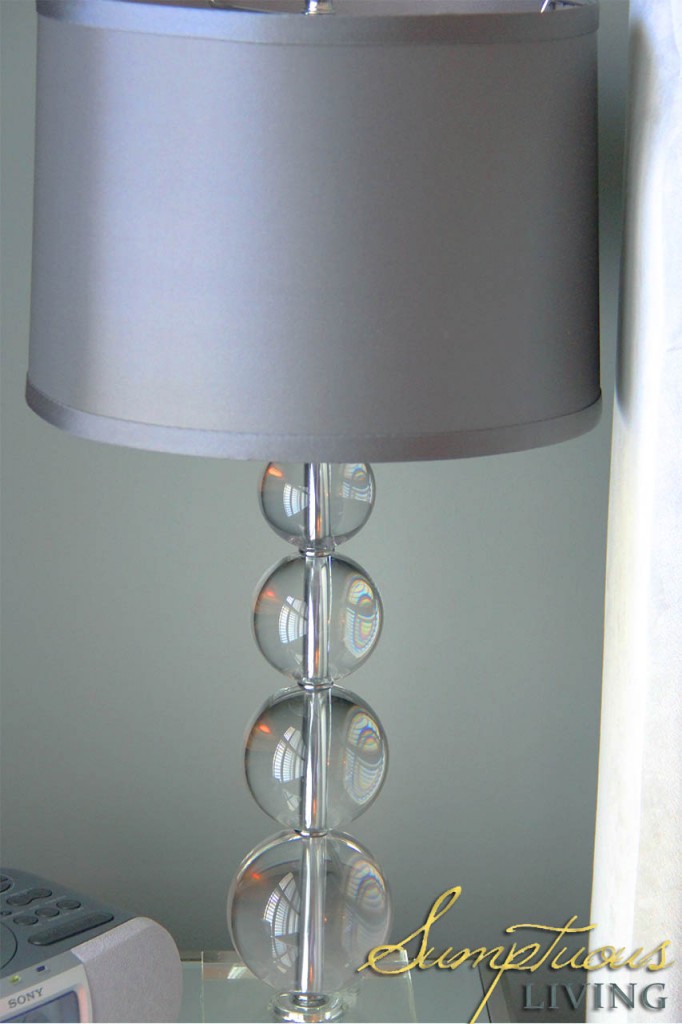 We finish out the bedding
 and add a bench at the foot of the bed to give the couple a place to put pillows when they go to bed.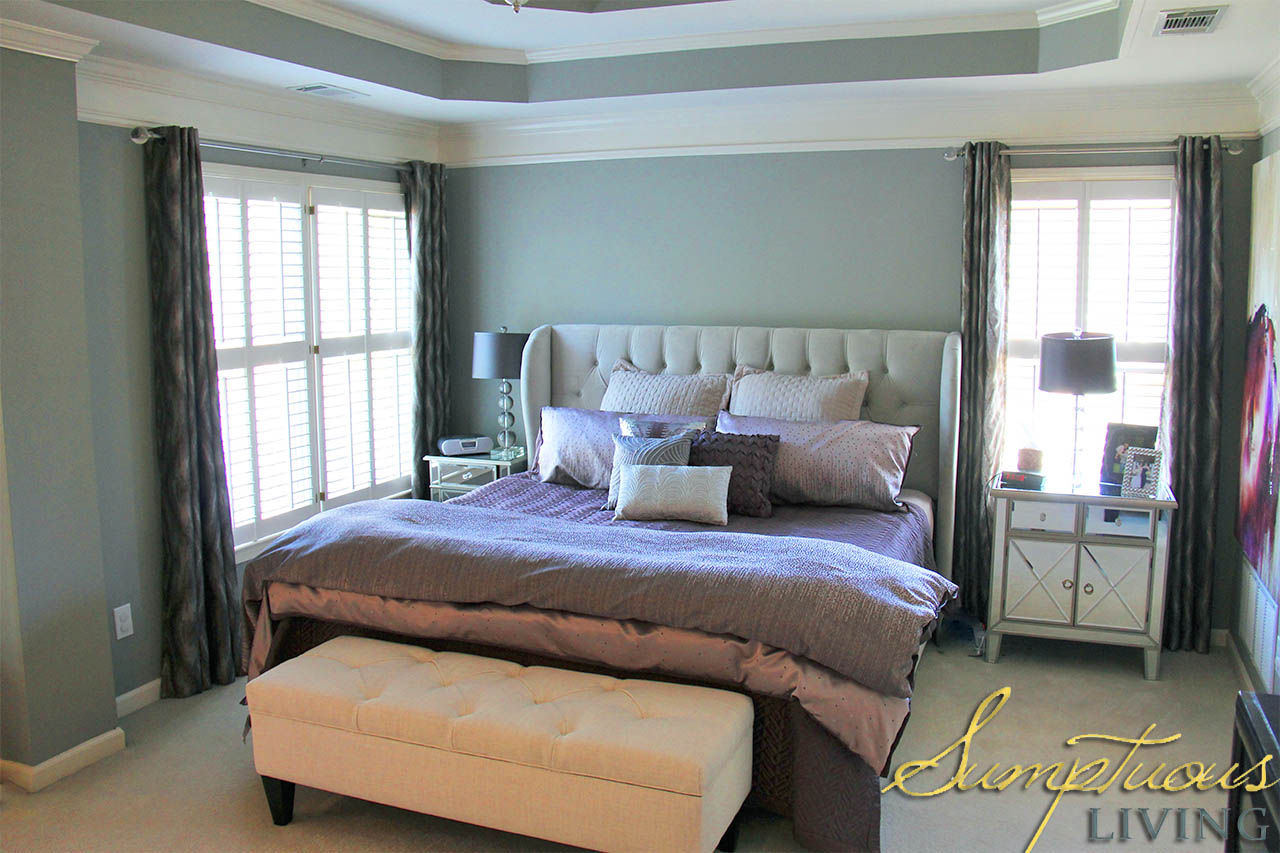 Jaw dropping art work was a must to fill a large wall to the right of the bed. We ordered this incredible piece from one of my favorite vendors. I die over art like this! LOVE!
The master suite has a charming sitting room off of it with a fireplace and custom bookcases. There was a tired old loveseat, a cute chandelier hanging over a pair of chairs and bookcases begging for a story to tell. Now that we had tackled the clothing storage for the clients, we could focus on creating a restful place the parents could enjoy "alone time" (a figment of every new parent's imagination but we are dreamers here at SL). We found a perfect little loveseat, a super unique silver geometric table, and a crazy fab bench to serve as an ottoman.
We hung the same curtains in both rooms to tie them together. Ready-made curtains hung as high as possible made the room feel bigger and finish off the windows.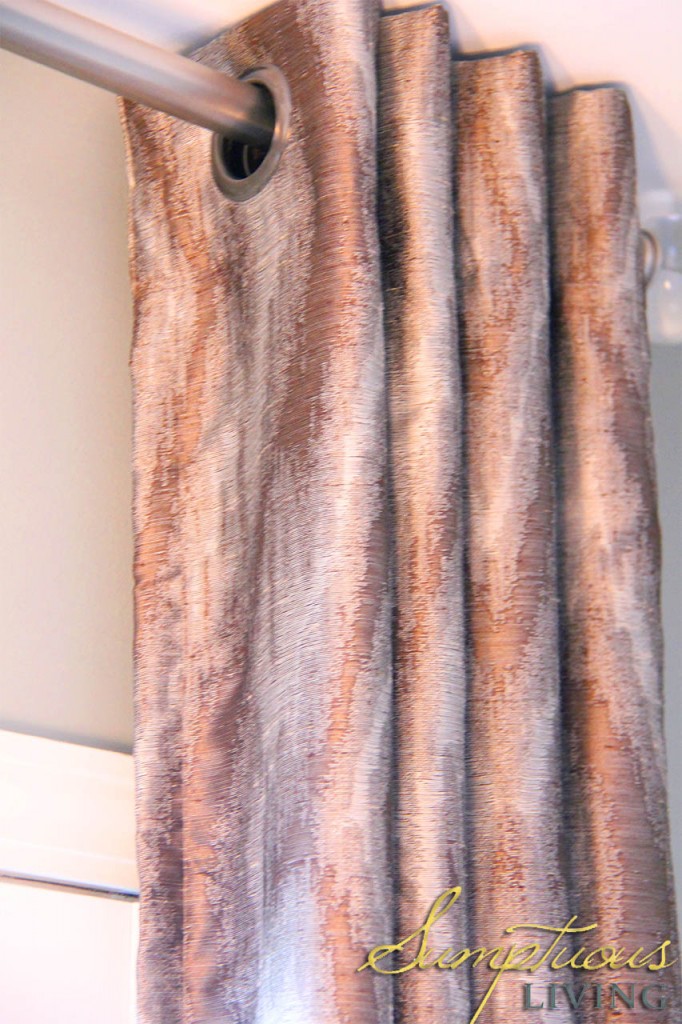 We painted little canvases of artwork in her color palette, added framed photos, pottery and memorabilia into the bookcases to tell a story of the couple from where they started to where they are now.
This is their space and the bookcases reflect that.
 The before and after of this space is wonderful! The room has real purpose now and I love how much the couple uses it.
SHOP THIS POST