Casual Dining Room For The Everyday
Wouldn't a Formal Dining Room be more enjoyable if it was designed for everyday use? Check out how to make the most rarely used room in your house an everyday essential and one you "Want" to spend time in!
 
We don't use our formal dining rooms enough! You know it, I know it, it's a sad fact. We need a way to live, love & eat in a casual dining room. I think the word "Formal" keeps us at arms length and saves that room for special occasions. Like when we were kids and we weren't allowed in there because that's where the breakable things lived.
Well now I'm an adult who paid for that dining room and the house it fits in and I intend to get my money's worth as often as humanly possible. Same goes for my design clients. This newly renovated home was a blank slate, but there's nothing "Blank Slate" about this family! They are the most adventurous, witty, spontaneous people and would never get enjoyment from a stiff traditional dining room. Their lives are about getting the most out of everyday, every inch of their home and every moment with friends and family!
Aren't we all (or at least don't we want to be?)
Well now you can! Today we are going to share how to create a warm, welcoming dining room that's elevated enough to gain respect in the house but styled right so you'll use it EVERYDAY! And I mean EVERYDAY!
Before Pics…
After Pics…
Task List (you know I gotta have a task list):
Replace chairs with 2 head chairs in different fabric as 2 side chairs
Rug with COLOR (there's too much taupe & neutrals)
Something interesting but not fussy as a centerpiece
Sheers to provide privacy but not block the natural light
Curtain Panels hung high to bring the eye up and enhance ceiling height – Colorful to tie in with the rug
Sideboard for storage
Lamp and Floral or Greenery on sideboard
Vibrant artwork that can be seen from the front door
Art that is narrow for the wall by the doorway
Mirror on the sideboard to reflect the light off the window (I do this in possibly every dining room to make it feel bigger- Best Design Hack Ever)
Chairs
The clients had already bought a table but didn't have chairs. My favorite place to get custom fabric dining chairs that are still affordable is Home Decorators Collection. Tip: Wait for a great sale where they offer free shipping and possibly 20% off on Dining Chairs. They offer free samples of fabrics (you can order up to 6 at a time) and have an array of chairs that you can mix and match with. Plus they are actually COMFORTABLE! Like sit in them all the time comfortable!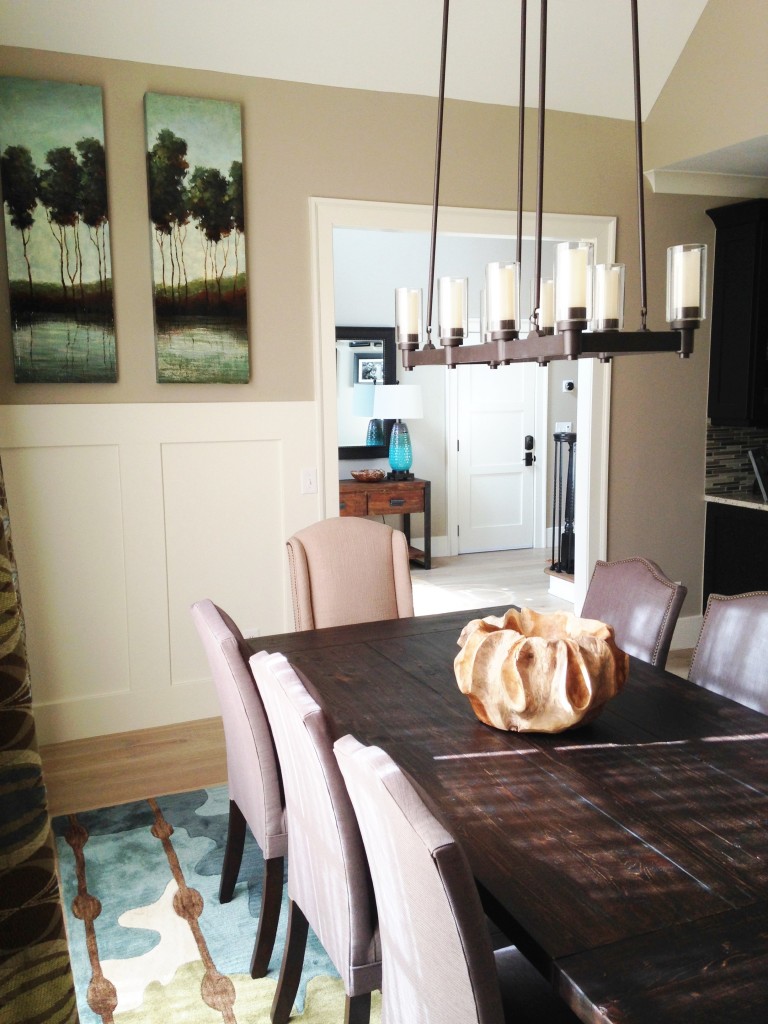 Colorways: Fabric, Art & Rugs
I started with the rug. Color, pattern, vibe. We wanted to get it right. Then came the curtains & the artwork. The curtains and the rug had to speak to each other and the artwork could be its own thing as long as the colors meshed. (You always get a pass with art! It's supposed to be unique) We had sheers made so that people walking through the neighborhood couldn't see in but the light in the room would still be bright. These windows were tall! We had to go custom here. The ceiling height is amazing and I wanted to maximize on that by hanging the curtains as tall as possible.
 

Sideboard, Mirror & Accessories
When the sideboard arrived I knew I needed something above it that would be vertical instead of the horizontal line the artwork next to it was giving. So off to my favorite accessories store HomeGoods to find the perfect mirror. Success! I love this incredible and enormously heavy thick wood framed mirror and how it's just slightly a different wood shade than the sideboard. Plus another score was this unique wooden bowl to serve as our centerpiece. Love!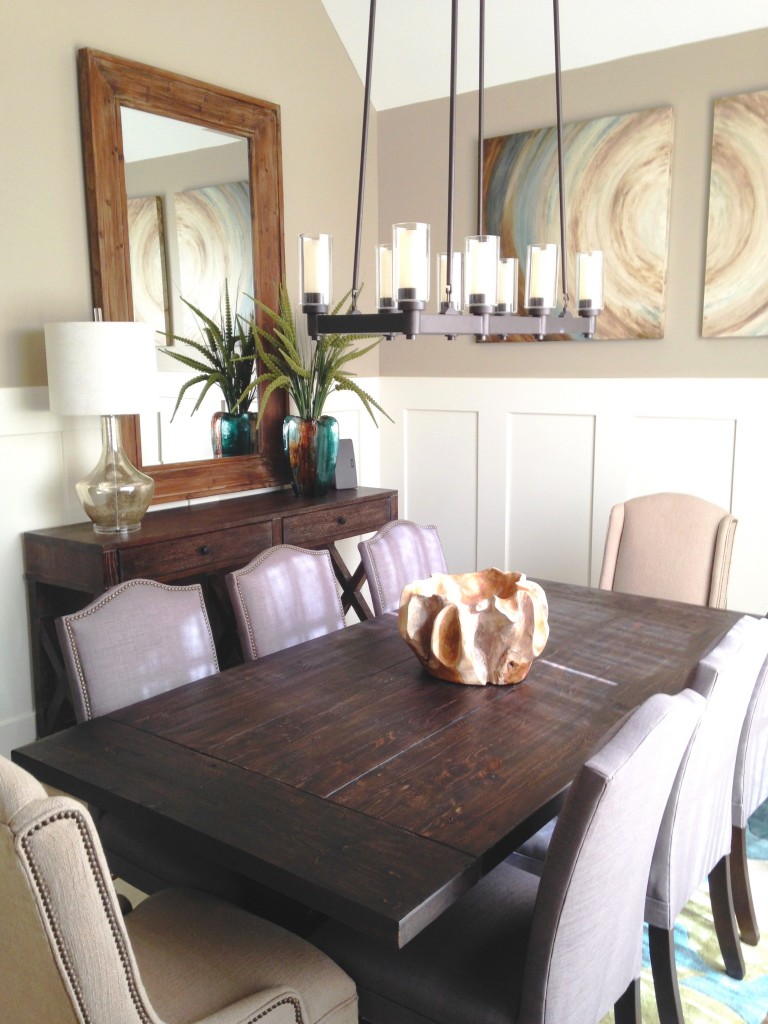 Next we found the mercury glass lamp, vase, and greenery stems at a nearby Pier 1 to round up our shopping list. WooHoo! Done! Now the clients can entertain or just eat in there as a family. Not just a "Casual Dining Room", it's the perfect Dining Room For The Everyday.