Mandy's Favorite Budget Friendly Super Bowl Recipes
Mandy shares her favorite budget friendly Super Bowl recipes that are perfect for hosting a crowd for the big game! Watch our video on how to affordably have the best Super Bowl Party ever!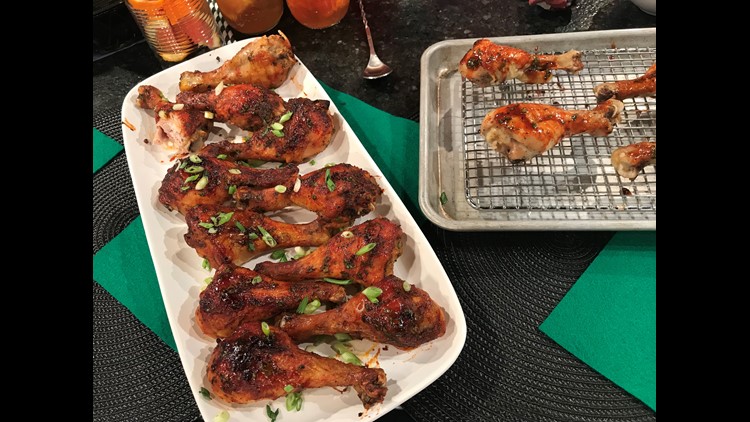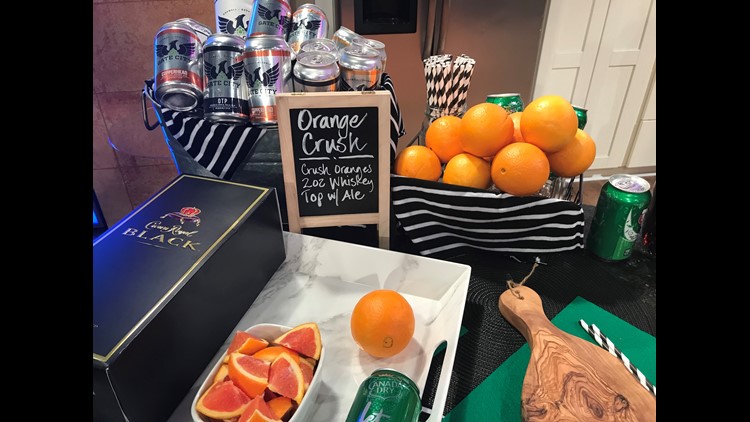 Budget Friendly Super Bowl Recipes
Superbowl parties
can be overwhelming and expensive, especially when you're hosting hoards of hungry sports fans. Watch as
lifestyle expert Mandy Landefeld
share some of her easy budget friendly game day recipes with Christine Pullara of
Atlanta & Co
that are sure to be the talk of your Big Game Party. That way you can still be an incredible Superbowl host without breaking the bank! Easy for crowds, our no bake 
Peachy BBQ Chicken Flatbread Pizza
 is the perfect mix of sweet and savory. Tender rotisserie chicken from the wholesale club, a quick 2 ingredient Peachy BBQ sauce and creamy goat cheese make a flatbread that is ready in minutes!
Looking for something a little heavier? What's better budget friendly super bowl recipes than drumsticks? Try our Chicken Drumsticks with Sweet Chili Glaze (recipe below).  Meaty chicken drumsticks baked until tender and basted with a sweet chili Gochujang & Honey Glaze. They are amazing and are so affordable to serve a huge mound of them!
Ready to wash it all down? Keep your Superbowl Party Budget on track with a game day cocktail that let's them make their own and only uses 3 ingredients! Our
Orange Crush Cocktail
 is made with Canadian Whisky (Mandy likes to use 
Crown Royal Black
, good ginger ale and fresh oranges. It's Mandy's go-to party favorite. Everyone will feel like their team will "Crush" the competition… get it babe? Maybe you need a drink first.
Chicken Drumsticks with Sweet Chili Glaze
Drumsticks:
2-2.5 lbs chicken drumsticks
2 Tbsp. vegetable oil
1 ½ tsp kosher salt
½ tsp fresh ground black pepper
Glaze:
2 ½ Tbsp chili paste (Gochujang)
¼ cup fresh cilantro, chopped plus extra for garnish
1 inch fresh ginger, grated
1 Tbsp. rice wine vinegar
3 Tbsp. honey
2 green onions, sliced thin for garnish
Directions for chicken:
Preheat oven to 400 degrees. Line a baking sheet with heavy duty foil. Place rack on tray and spray with cooking spray. Toss chicken drumsticks in oil, salt and pepper. Place on rack in sheet pan. Bake for 45 minutes.
Meanwhile, mix the glaze. In a small food processor or bowl, mix together chili paste, cilantro, ginger, vinegar and honey. Using a pastry brush, baste chicken with glaze and raise heat to 450 degrees. Bake for 5 minutes. Baste again and cook for another 5 minutes. Let cool slightly and place on serving platter. Garnish with chopped cilantro and thinly sliced green onions.