Boys Robot Bedroom Reboot
Perfect for a boy who loves action figures and robots, this boys robot bedroom is a reboot of fun and function! Tricks and tips to tackle storage & space issues too!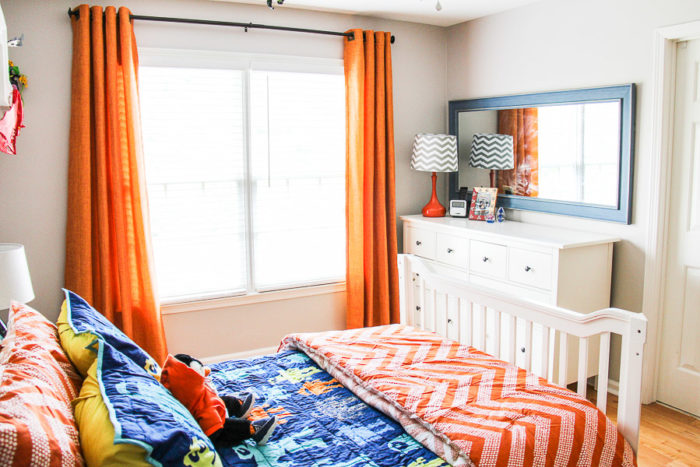 I love doing fun kids rooms! The excitement on a little monkey's face when they see that we have pulled all they're favorite hobbies, interests, treasures, and personality into a new super cool room is more than amazing! Plus…the mom's love us because the little ones miraculously keep it clean afterward. Double WIN!!
Most often the rooms not only need to be redecorated but need to be re-functioned (for lack of a better word). I am a function over form girlie… if it's broke, don't bother making it pretty till its fixed lady! We look at a mountain of function centered details before we start designing and most often the answers to those questions is what leads how the room pulls together. Let me show you what I mean….
BOYS BEDROOM TASK LIST
ROOM IS DIM! Need better lighting by way of a multi-light ceiling fan (has to be flush mount since ceilings are low) and add lamps. Plus we need natural light.
LOW CEILING HEIGHT: Trick the eye by hanging curtains as high as we can.
STORAGE: Puny small drawer dresser will never allow for proper clothes storage (aka: drawers left open with clothes hanging all over the place and hence driving Mom bonkers!). Plus, there were 4 different bookcases in just this bedroom. 4 bookcases + 1 tiny dresser = stuff everywhere & mom needing a cocktail!
BARE MATTRESS ON FLOOR: Bed doesn't feel like a bed. Turn it off the wall, add headboard (we used the old crib headboard his little sister was using), add bedframe & get it off the floor.
MOVE WHAT DOESN'T BELONG: Majority of this family's toys, games & books were stored in the children's rooms and in other rooms throughout the house. Nothing was where it belonged. We moved all that "stuff" (AFTER A MAJOR PURGE) to the new playroom we set up.
PICK AN INSPIRATION OR THEME: This little fella loves LEGOs & Transformers and all kinds of other build-able action figures. I love a theme that isn't brand specific. It lasts longer. So we are going with a Boys Robot Bedroom. Try Fairy or Garden or Royal or Space instead of a specific character from their favorite movie or show, 'cuz we all know every new movie is their favorite and who wants to redo a room that often? Not me babe.
So we roll up our sleeves and get to work! We give the room a fresh coat of light grey paint, hang bright orange 95″ grommet ring curtains (Reina curtains), and add an affordable dresser with great storage (IKEA dresser).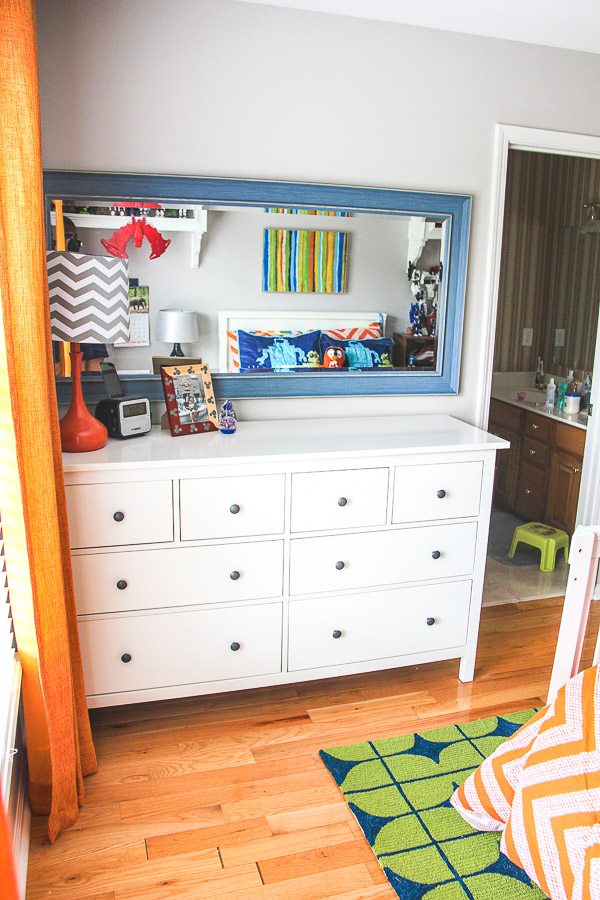 Art and necessary wall storage is key to a fun AND functional room! Places for papers, photos, tote bags, robes, and pajamas keep stuff from piling up on counters and floors.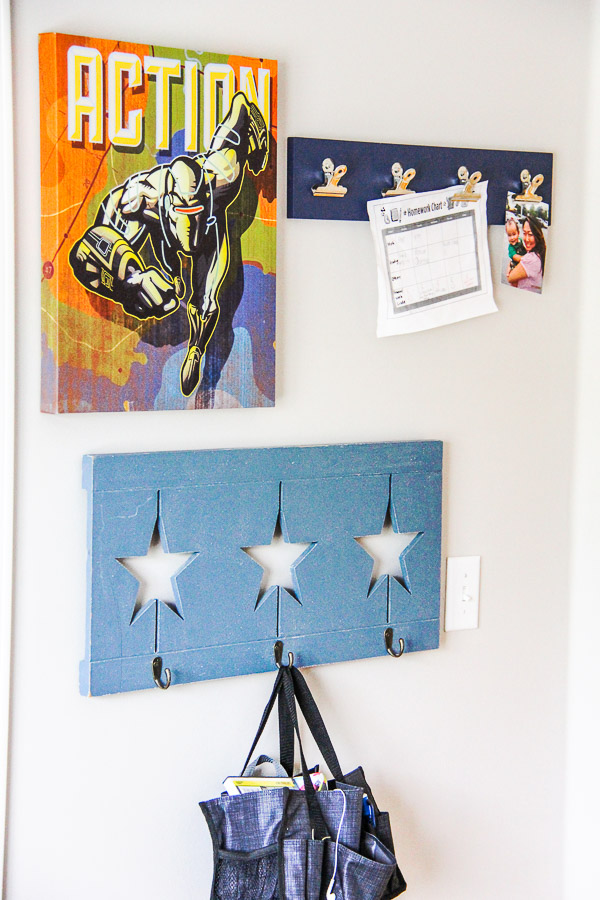 Make sure even the small, sentimental stuff has a place to go. Laundry hampers make great stuffed animal storage! Purge them first! Just because "Uncle So&So" gave your kiddos a stuffed penguin when they were 3 doesn't mean you have to keep it forever! Gifts are meant to be kept for as long as they bring you joy and purpose. After that its OK to pass them on. Same goes for kids and this is a great practice to start early!
In case you haven't figured this out yet… I am not sentimental.
Stone Cold! Ice Queen! Yep, that's me! …moving on…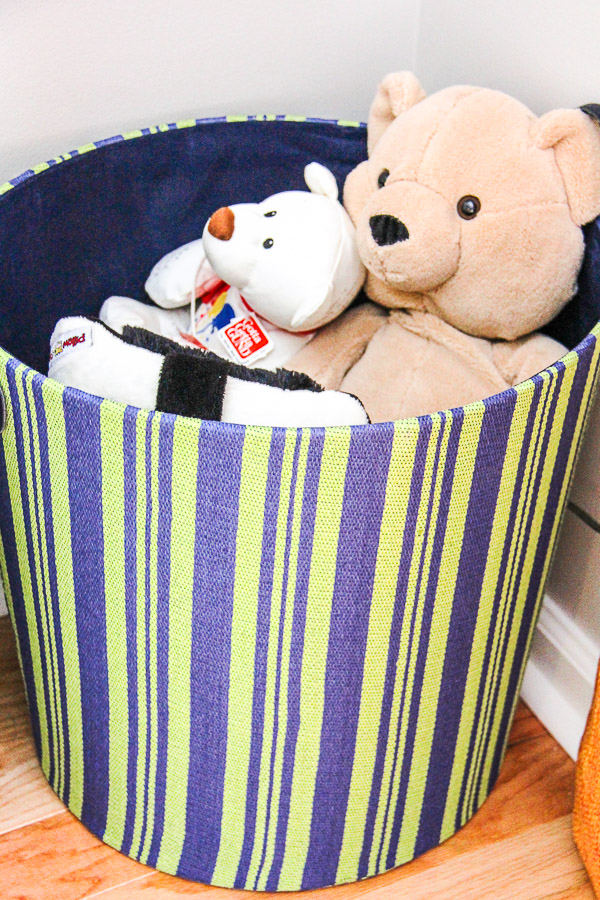 Stick to a color palette found in your bedding first. I always start with bedding in a bedroom redo. Our bedding for this little guy starts with a fun robot quilt and a retro orange comforter, both from Target. Easier to match paint colors, curtains, and accessories with the bedding than to find bedding that pulls from other details.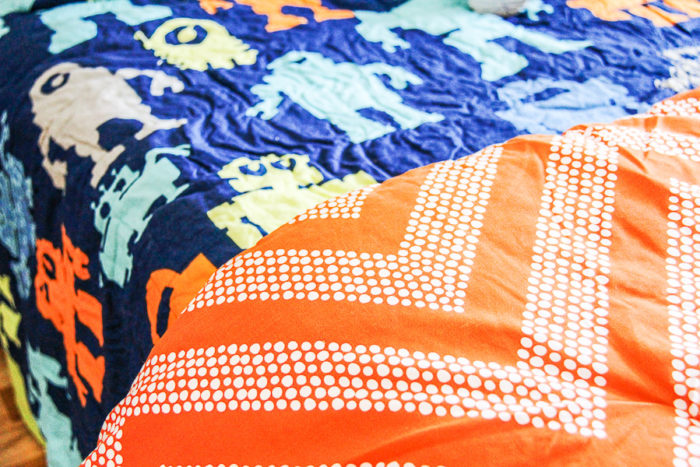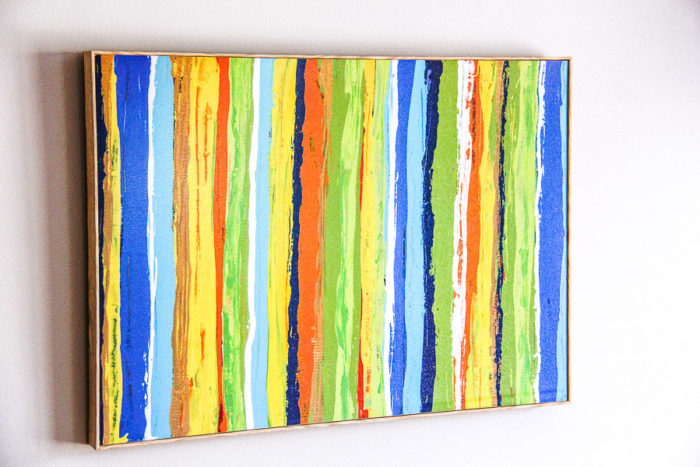 Play with repeats of your color palette in fun ways. Our main colors are white, gray, orange, & blue. Here, we've placed an orange lamp base with a gray & white chevron shade (found at AT HOME). The lamp ties in well with the wall color & curtains and the cute blue framed mirror adds the perfect backdrop.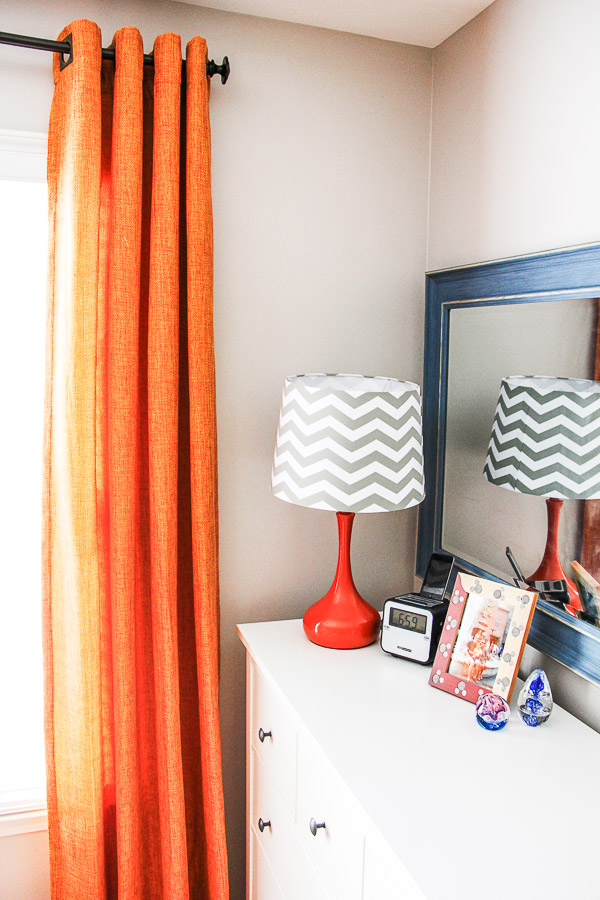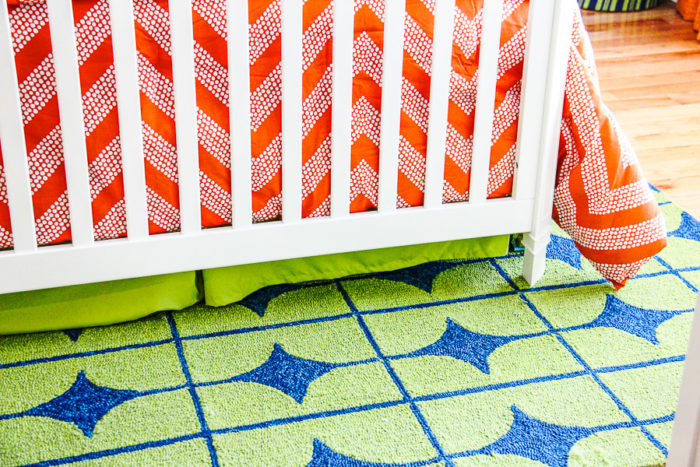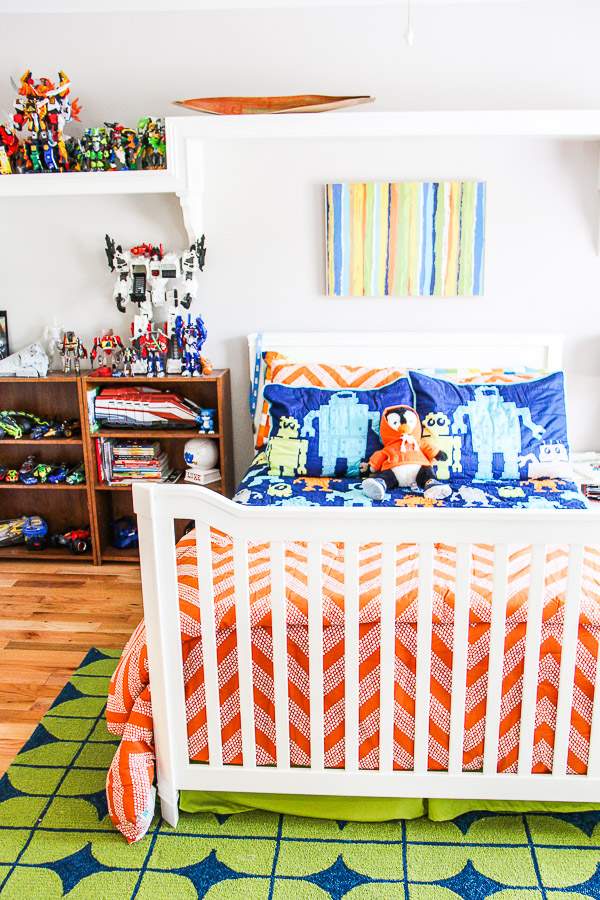 So the room is DONE! A robot-themed "ReBoot" of a space that had no life.
Amazing transformation! It's fun, vibrant, energetic, and perfect for this little guy.