Room to Grow…Up! We Give A Little Girl A Big Girl Bedroom
Why not jump straight from the toddler bedroom to a sophisticated Big Girl Bedroom that can easily double as a guest room? See how we give a 4 year old sweetheart a Room to Grow... Up!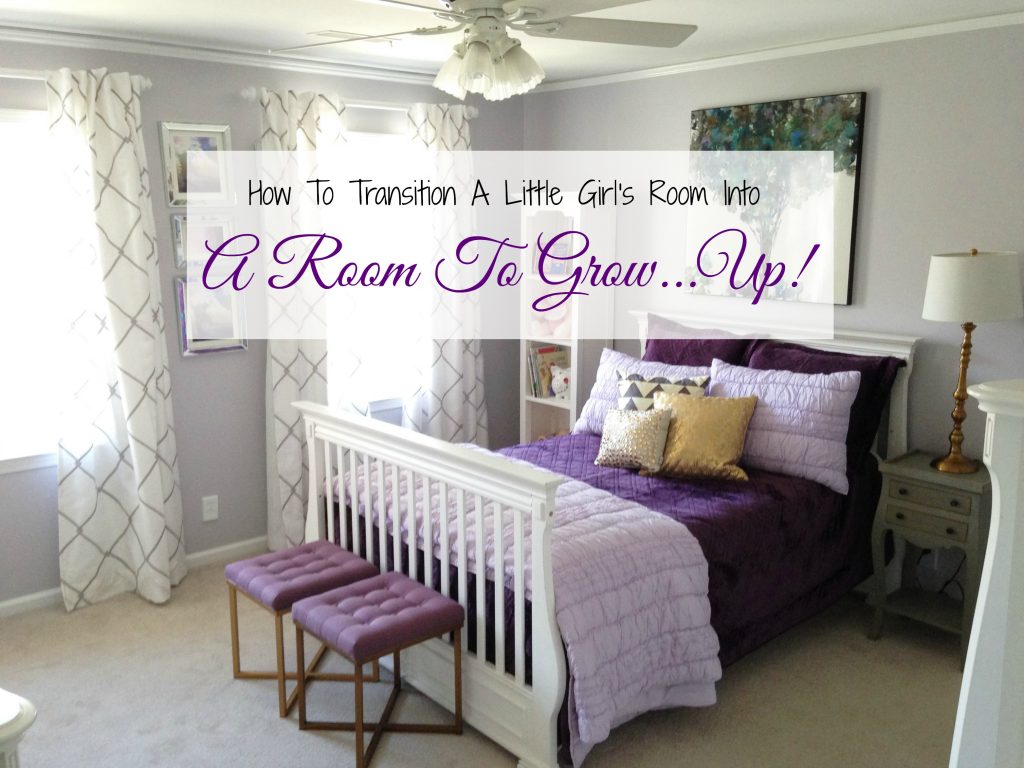 What to do when a sweet little girl grows out of her little girl crib and baby stuff? Most would choose the next stage bedroom for their sweet 3 or 4 year old little princess. The typical fairytale, Disney, or cutesy little bedroom that only lasts another few years would be fine and perfectly expected. Not this time! This mom client came to me asking for something more sophisticated and mature. I was expecting bright garden colors in pinks, turquoise, lavender, you get my drift. Instead, she wants a glam palette of deep plum, antique gold, and grey. OOH! YES! She won't be redoing this room now until High School, and even then it would still look great! Solid 10-15 year return on her efforts. Smart Mama!
Little Girl Bedroom Before Pics…
This room was dark, short ceilings (I have tricks to make it feel taller), not functioning well and had lots of the usual suspects in a preschool girl's bedroom. But we are going for a room that will stand the test of girly growing up.
Eternally Posh…at least until she heads to college!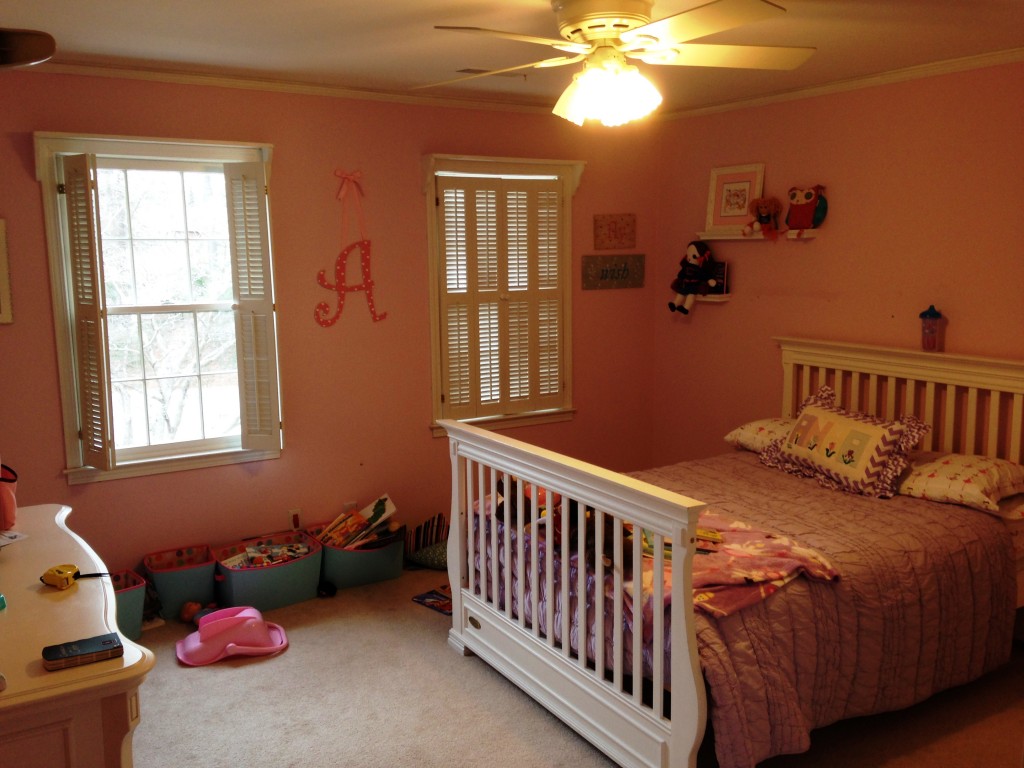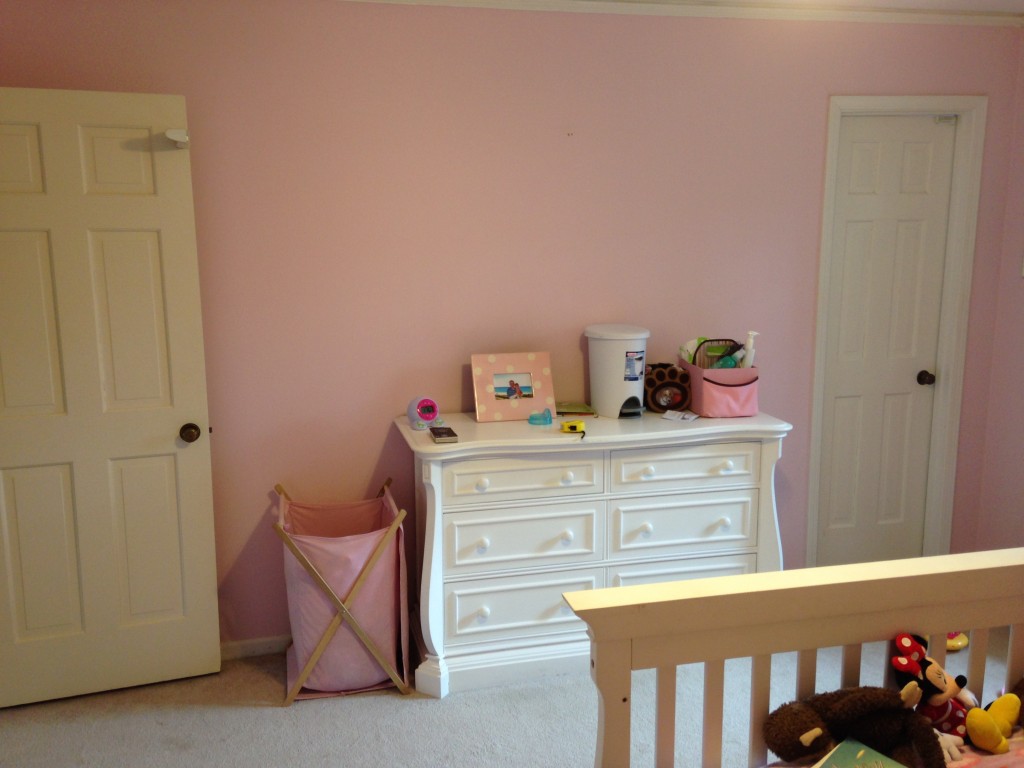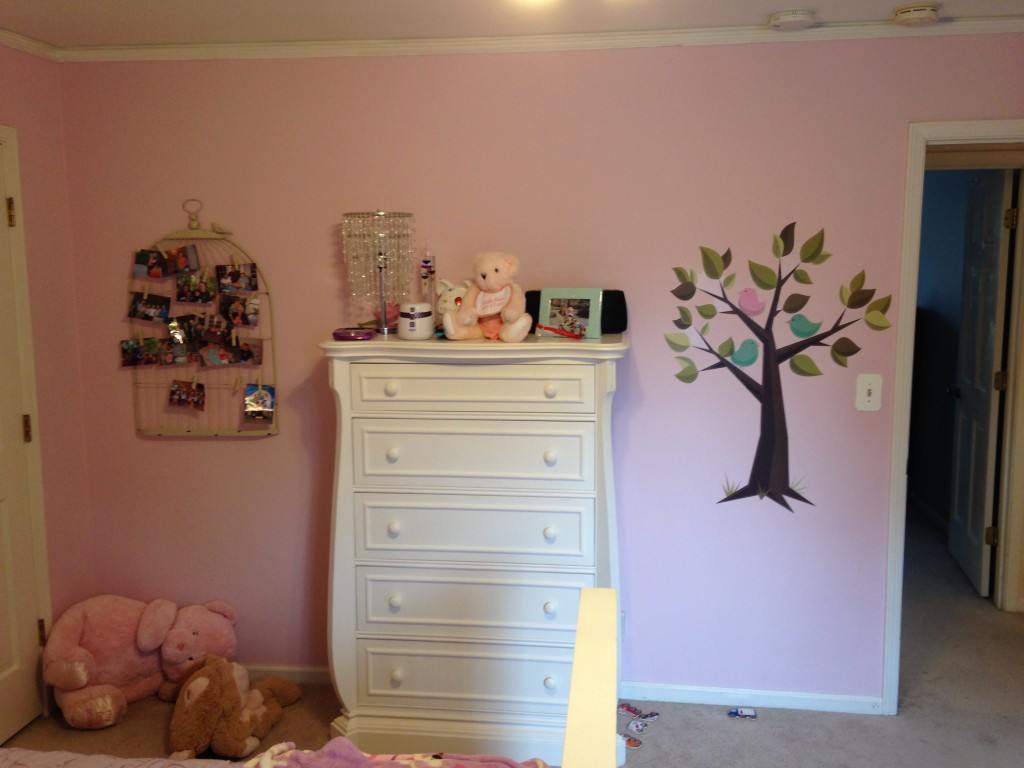 Big 

Girl's Bedroom

Task List:
Paint walls (eggshell is a MUST), ceilings, and moldings
We first cleared the room and painted the room Unique Gray by Sherwin Williams (SW 6260)
Reuse great white furniture but add bench, bookcase and nightstand
Insufficient storage creates clutter issues: Tackle clutter & update baskets
4 curtain panels hung high in white and grey
Add bedding but keep & reuse light purple comforter
Add a big mirror over the dresser
Add lamps, accessories, artwork, etc.
Let's Go Shopping
I found an incredibly HUGE antique gold mirror at AT HOME. It's perfect! Paired with a grey lamp and more accessories (like a deep purple frame and gold and white tray) that pulls in our color palette. Next we looked for furniture pieces to compliment the all white bedroom furniture the little girl already had. I hit up my favorite reproduction furniture store here in Atlanta, Nadeau. A white bookcase and a charming grey nightstand from Nadeau completes or storage & furniture needs. Swanky Purple & Gold Ottomans from Target were the perfect find for seating at the end of the bed.
The client already had a light purple quilt that she wanted to reuse. We paired it with a deep purple velvet coverlet set and a few glam gold pillows. A large colorful tree art piece over the bed that we found on a trip to HomeGoods elevates the eye and acts like a bigger headboard that the convertible crib did. Hanging the white and grey Garrison curtains, found at Bed Bath & Beyond, higher than the window frame also lifts he eye and makes the room feel taller. Read our post on How To Hang Ready Made Curtains Like A Pro here.
Big Girl Bedroom After Pics…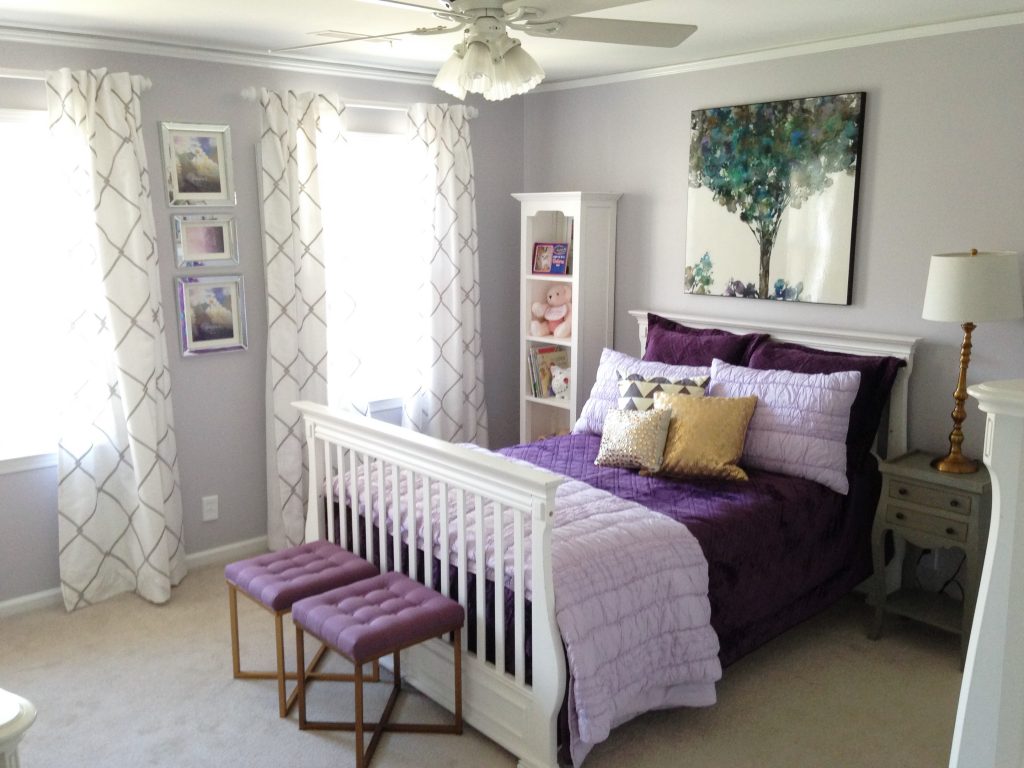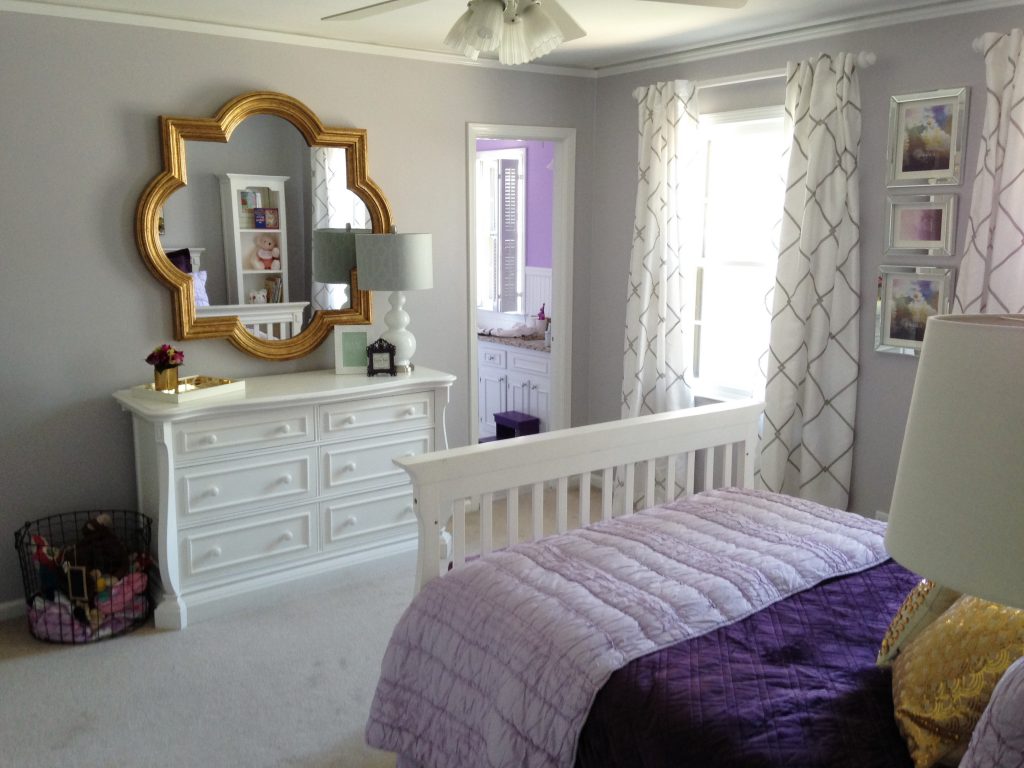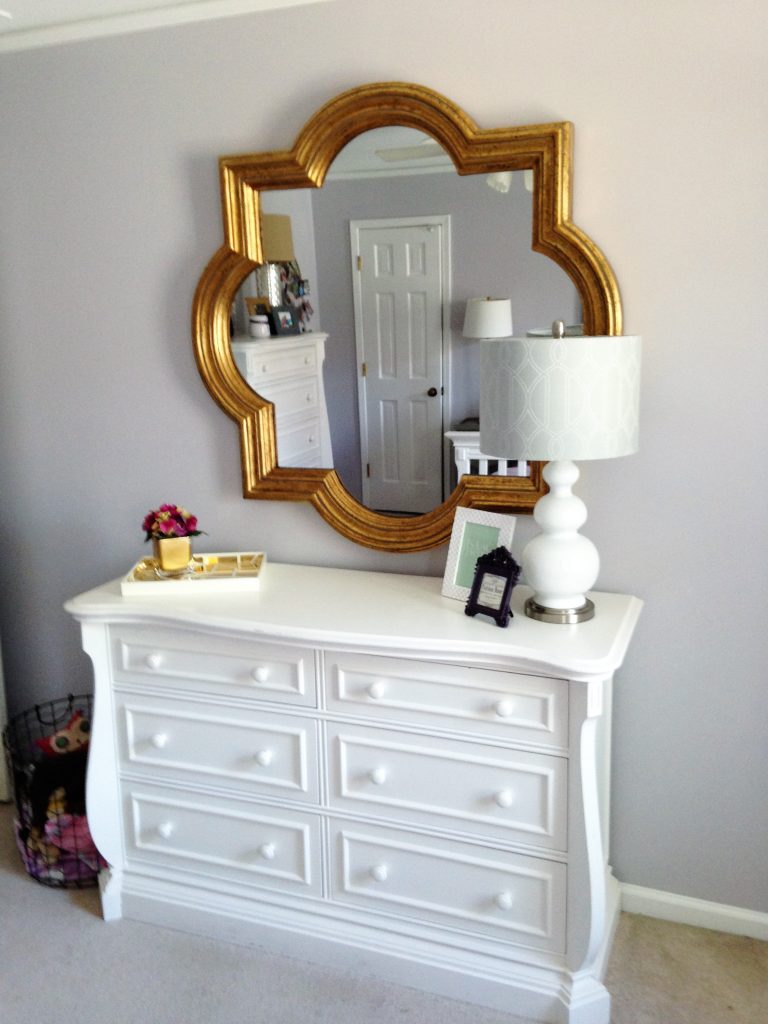 Next comes all the fun, unexpected touches. This gives our big girl room a collected feel. Bring home a bunch of frames, art, accessories that may work and play around with them in the room. SHOP FROM WITHIN THE ROOM! Return what doesn't work. Cute accessories are reused and moved to provide a more functional organized layout. Modern and chic art and accessories turn this room from childish to teen glamour.  Even create a collage of mirrors, 3D art pieces, and DIY artwork flowing off the edge of the dresser for a unique wall that makes this truly a bedroom for a BIG girl… not your typical 4 year old.