How To Throw A Beverly Hills Hotel Pool Party On A Budget!
Make your next pool party feel like you're lounging with friends at a gorgeous resort!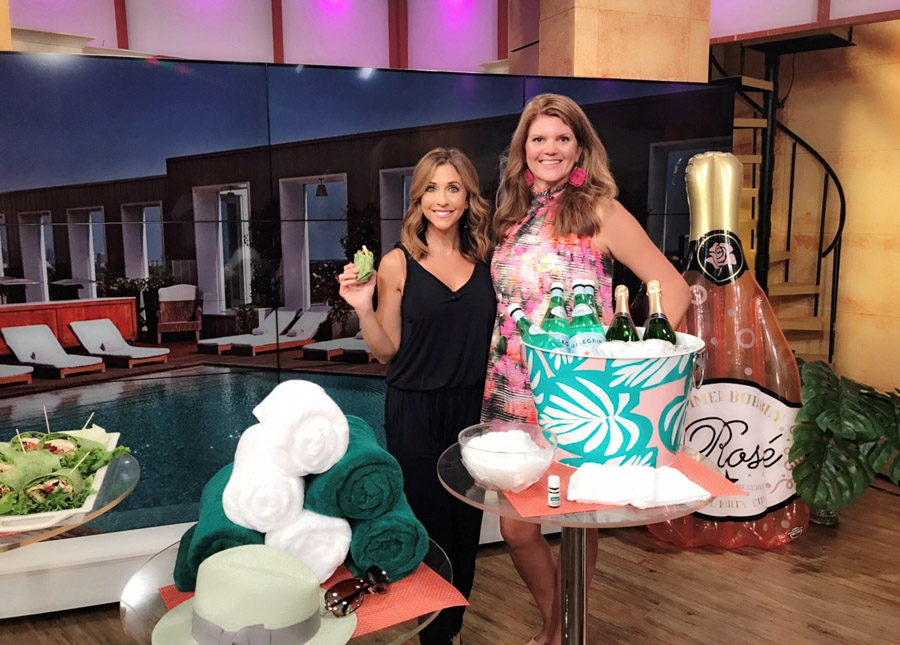 Pool parties are never boring… but aren't they so much more fun with a theme? So I popped over to
NBC's Atlanta & Company
to share my ideas for "How to Throw A Beverly Hills Hotel Pool Party" for your friends.
I love a good pool party! Bright colored suits, lots of fun conversation, cocktails in the sunshine, light summer nibbles and the only way to ever feel completely weightless!
Walking through the stores this summer, I see a very recognizable color palette. The Beverly Hills Hotel. Soft Pinks, Deep Emerald Green, Palm Leaves, Champagne Bottles – you get the gist. And every time I see a pic of that gorgeous pool, I just want to grab a floppy hat and claim my cabana.
The beauty is that, like
The Beverly Hills Hotel
, this is a theme that will never go out of style! It will always be chic, fabulous, swanky, and something everyone will remember! So you can invest in grabbing those essentials.
Let's Dive In…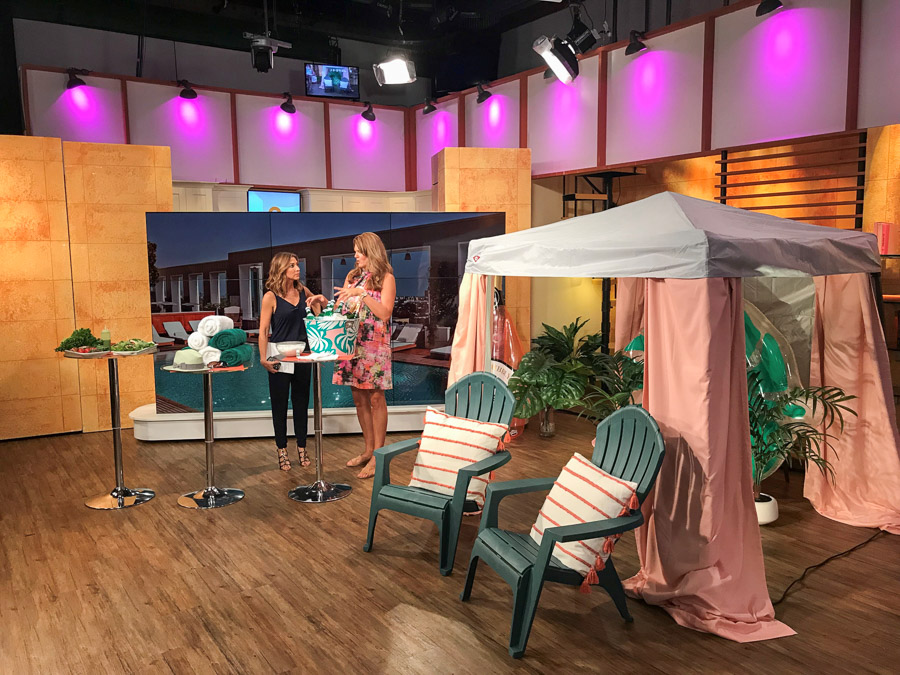 Beverly Hills Hotel Pool Party Color Scheme:
White, Dark Green & Blush Pink
Palm fronds, champagne bottles, sun hats and big sunglasses. Very old Hollywood!

Beverly Hills Hotel Pool Party has to have cabanas to lounge and feel swanky in. Here's you can have your own.
Easy Pool Party Cabana:
Assemble a white sports tent where you want it or several in a row if you really want to be fabulous! (Here's a 2-pack)
Drape blush colored curtains (like these from Target) in the corner using zip ties
Fill the corners with either live or artificial potted palms
Grab a few plastic stacking Adirondack chairs in dark green (I love these from Ace Hardware or Home Depot)
Add fun touches like pink & white pillows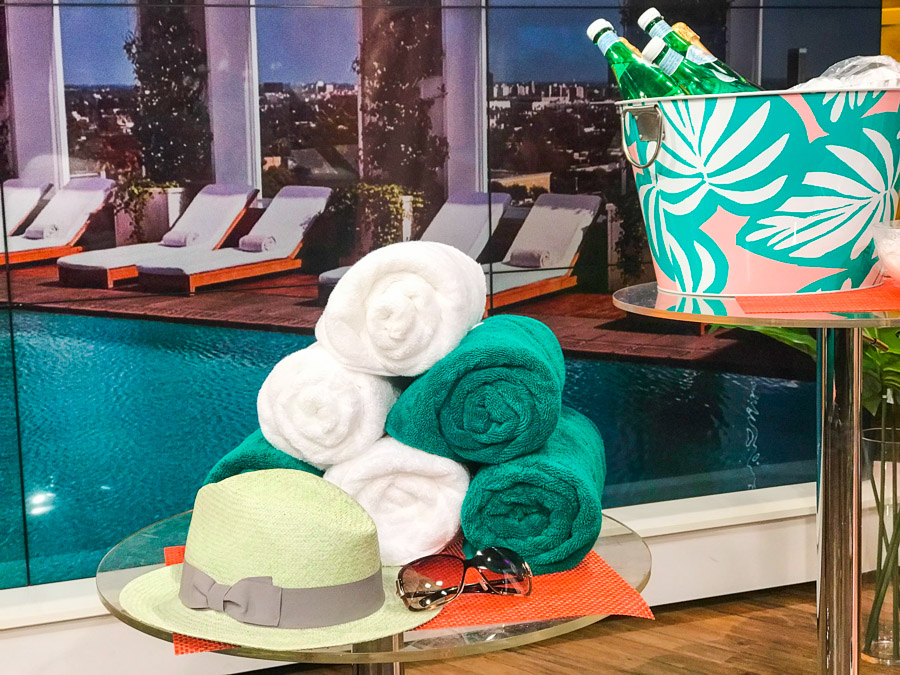 Make It Feel Like A Resort!
Welcome your guests the way the Beverly Hills Hotel does. Make sure you stock your Bevely Hills Hotel Pool Party with all the luxuries that make guests feel like stars! Rolls of towels, bottles of Pellegrino & champagne, and chilled rose or peppermint washcloths make a hot day by the pool luxurious!
How To Make Scented Pool Party Washcloths:
Soak a dozen or so washcloths in in a big bowl of water mixed with 8-10 drops of essential oil for 4 hours
Lightly ring out the water to where they are damp but not sopping wet
Roll up the damp washcloths
Store each rolled cloth in a zipper bag and chill for 1-2 hours
Have them out for guests in an ice bucket or cooler with a sign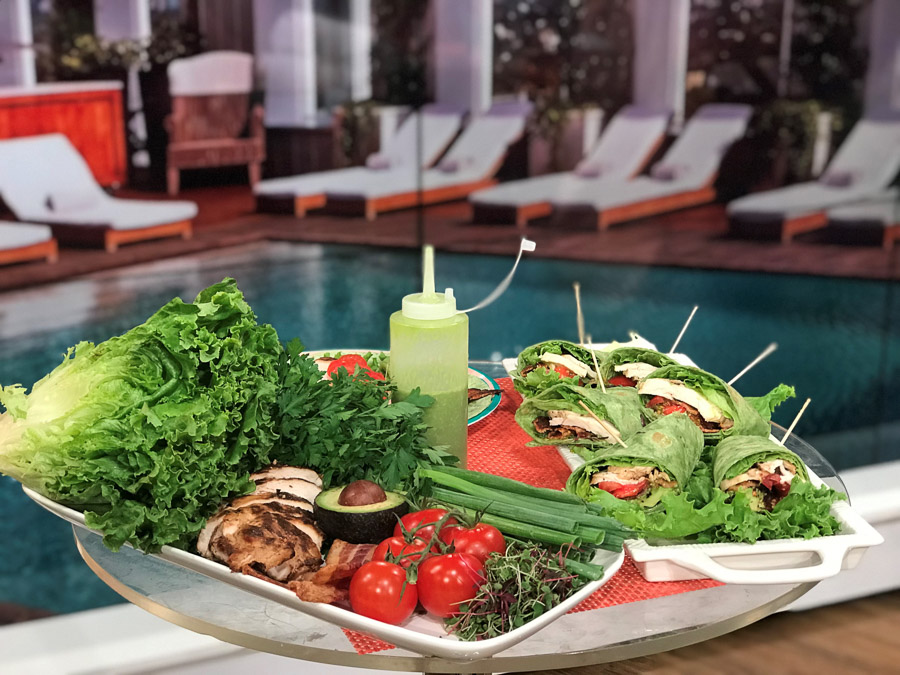 Lastly, we need something delicious (aside from the champagne of course). Even Hollywood eats, so here's what would be perfect to have ready for a Beverly Hills Hotel Pool Party. Just serve food that is light and full of healthy stuff like my…
California Chicken Wrap with Green Goddess Dressing:
Spinach Wrap
Thinly sliced grilled chicken
Crispy Bacon
Sliced Avocado
Alfalfa Sprouts
Fresh Tomato
Green Goddess Dressing (1 cup olive oil, 1/3 cup red wine vinegar, 2 tbs honey, 1 1/2 cup chopped fresh parsley, 3/4 cup chopped basil, 1/2 cup sliced green onions, zest and juice from 1 lemon, and 2 garlic cloves)