"Golden Glamour" Antique Dining Room
Blend family antiques and new treasures the right way! It's easy to create an Antique Dining Room with Golden Glamour that's full of soft warmth, quiet beauty, & approachable elegance.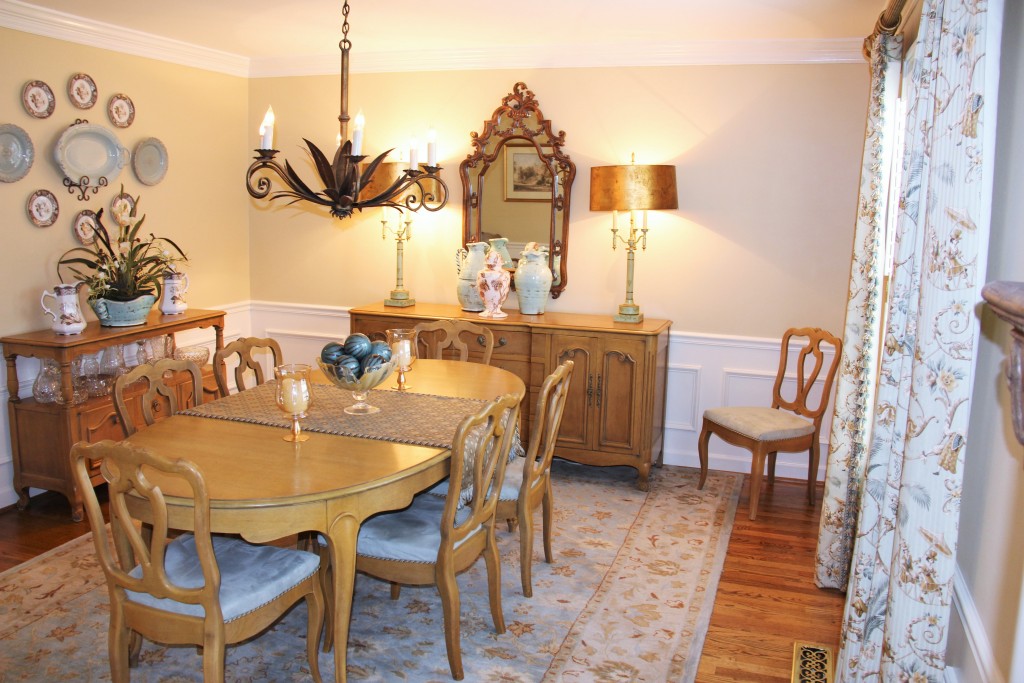 How do you hold on to family treasures and still make a room your own? We're sharing a gorgeous dining room we did for a design client who wanted a beautifully styled and timeless dining room while still cherishing her beloved family antiques.
"Old meets New" in our Golden Glamour Dining Room! The client wanted to use her grandmother's antique dining set, including table and chairs (that would be re-upholstered by the client herself… Impressive right?), a low profile buffet and a smaller sideboard.
We began with a neutral soft vanilla cream wall color to balance the mustard undertones of the furniture. It's a somewhat odd furniture color but we used that ochre hue as an accent later on to bring it all together. Other soft color accents would come in by way of fabrics, accessories, pottery, and artwork.
Aside from the furniture, our main inspiration for the room came from the 2 large antique gold-leaf barrel lamps with an aqua blue-green bases hand painted with gold accents that were also from the client's family. Aren't they striking? I love these lamps &have to pay them a visit every time I'm back at the client's house, they're just that magnificent! Obsessed!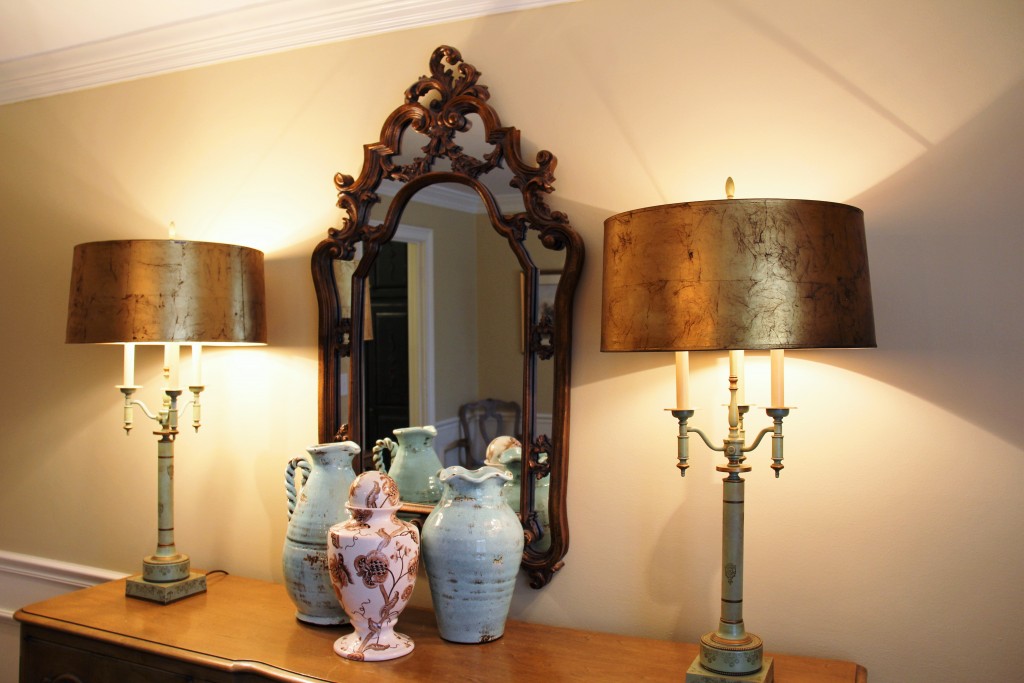 We used a tall antique mirror to serve as the backdrop of a pottery collection that worked well as a centerpiece for the buffet. The brown and cream lidded jar resembles some of her family china pieces but was found at HomeGoods on clearance! Oh ,how I love that store! The chunkier pale blue pottery was found at a local floral wholesaler.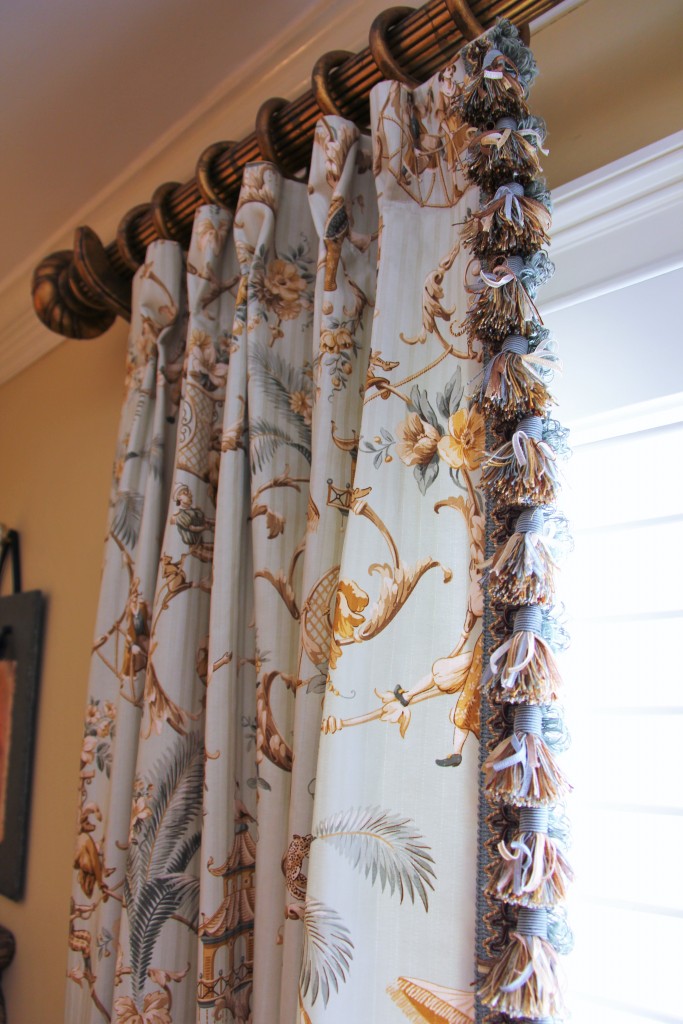 Pulling on the pale blue and gold tones in the rug, we found a whimsical but traditional fabric with monkeys and jaguars in the same color pallet. Added a tassel trim and hung them from antique gold rods. Gorgeous!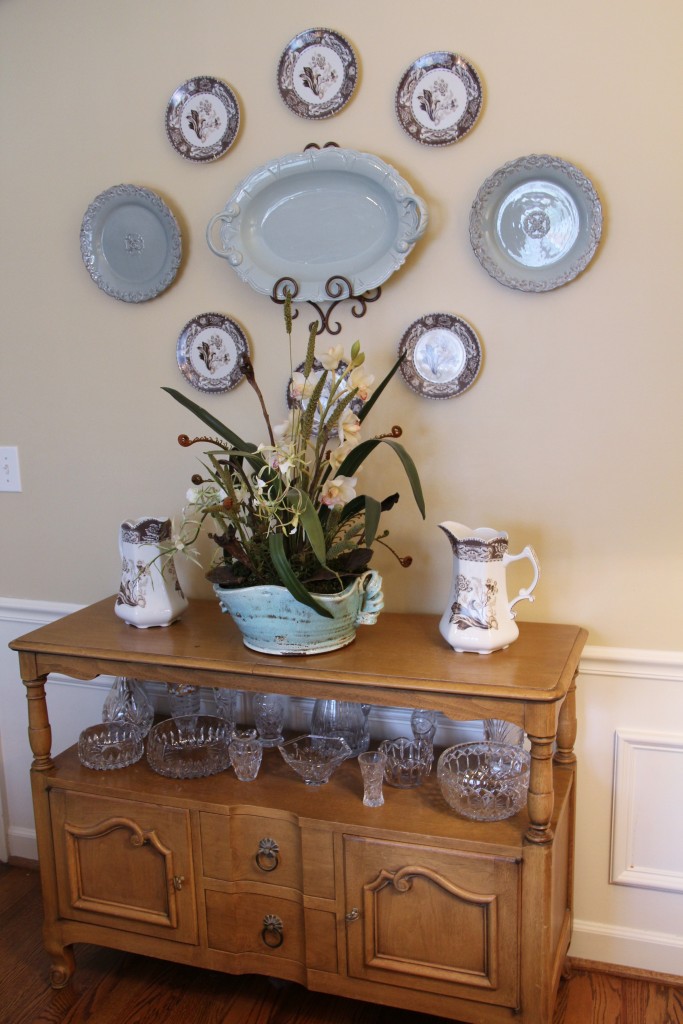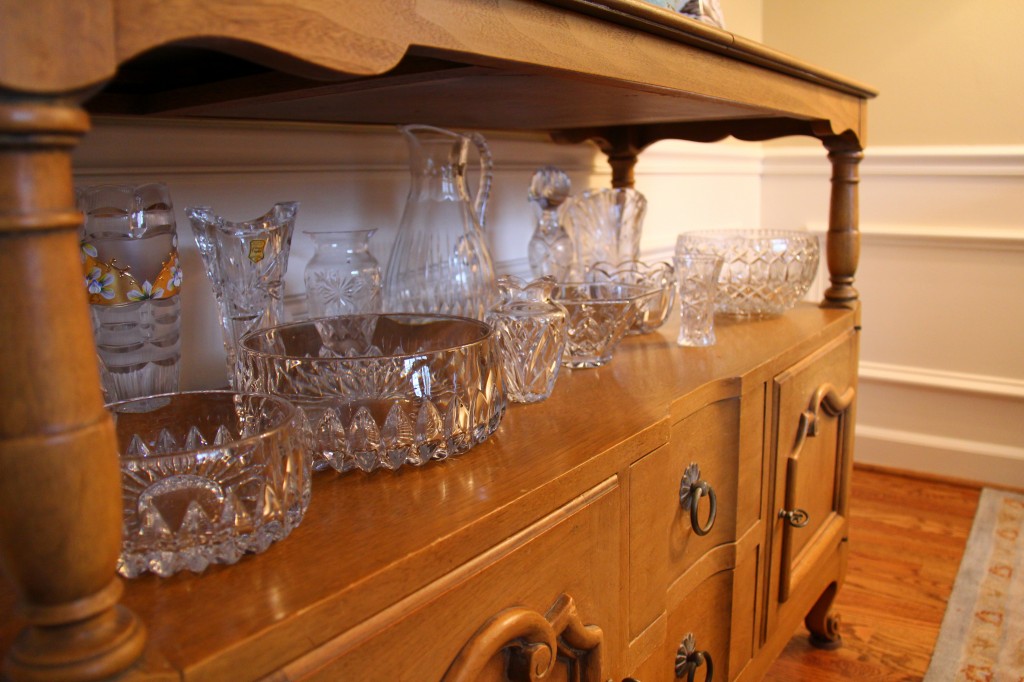 The antique furniture is smaller in scale to most dining furniture today and therefore offers less storage capacity. To serve as double duty in both storage and beauty, we displayed the client's crystal collection on the open shelf of the sideboard. In lieu of art on the wall above, I created a collage of family china and soft blue plates and platters.
Anchored by a tall floral arrangement in a bowl (made from the same pottery style as on the buffet), we brought it all together with beautiful pitchers that match the china on the wall. The color palette all came together through a striking fabric that had rich golds, ochres, and soft blues and greens. This fabric simply made the client so very happy!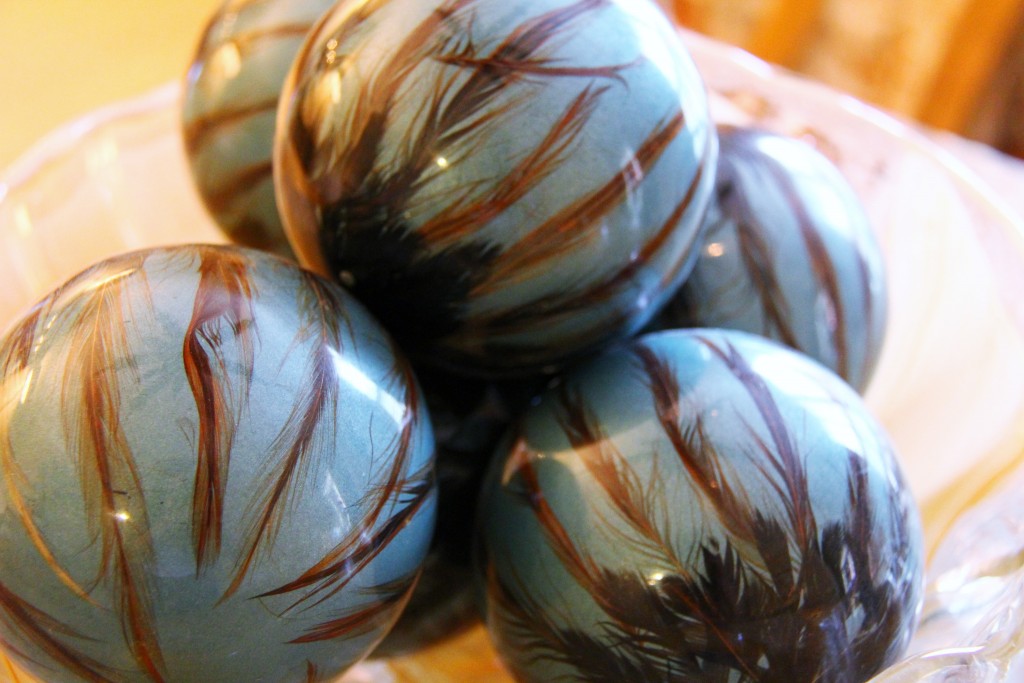 The chairs were recovered with a pale blue ultra-suede (super durable & easy to clean fabric) trimmed with a blue and gold rope twist cording.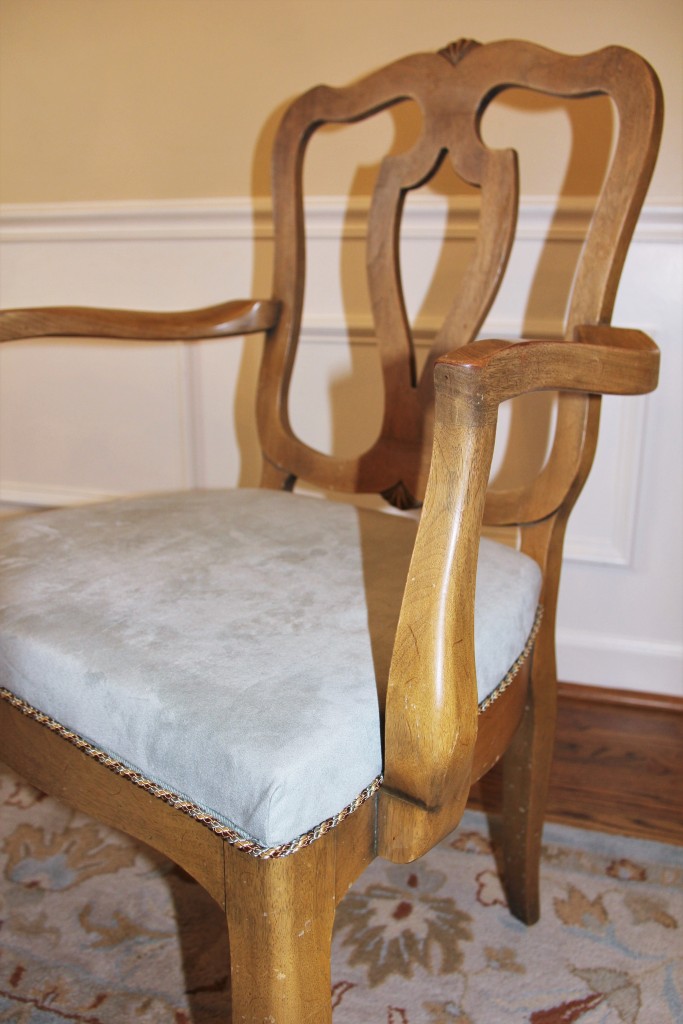 A wool rug in just the right colors found at a designer resale house that specializes in staging model houses was an incredible find and a great deal! The old table was too small not to have the leaf in it but the leaf had some major differences in finish, so we made a custom runner that was just a tad bigger than the leaf and hid the flaw perfectly!
The room is now the client's favorite space in the house! Washed in a glow of Golden Glamour, this Antique Dining Room is full soft hues and classic elegance makes her happy and eager to entertain friends and family!
Shop This Post: