Our Most Incredible Bedroom Transformation! Airy Bedroom Design
Would you believe this is a basement bedroom? We're sharing our easy tricks to make any bedroom feel light and airy!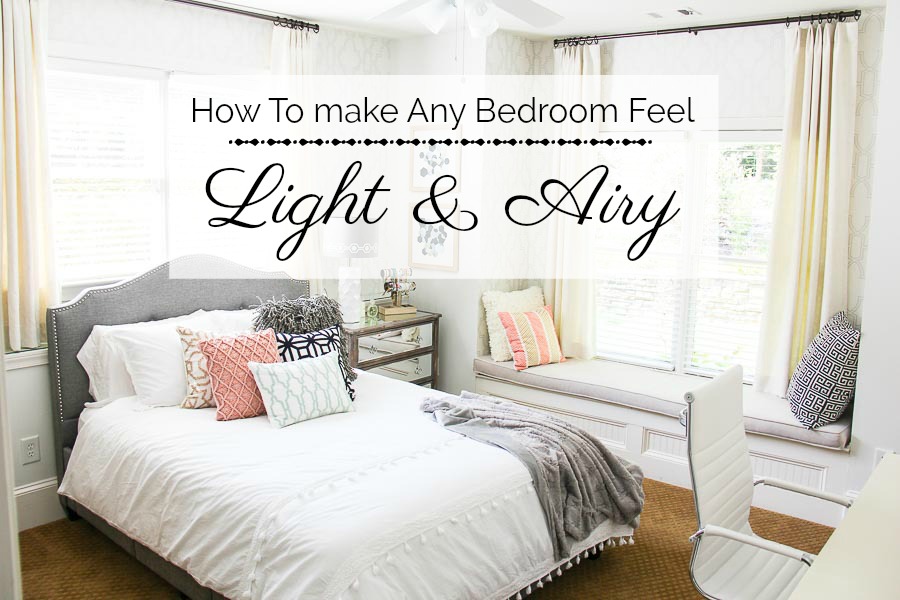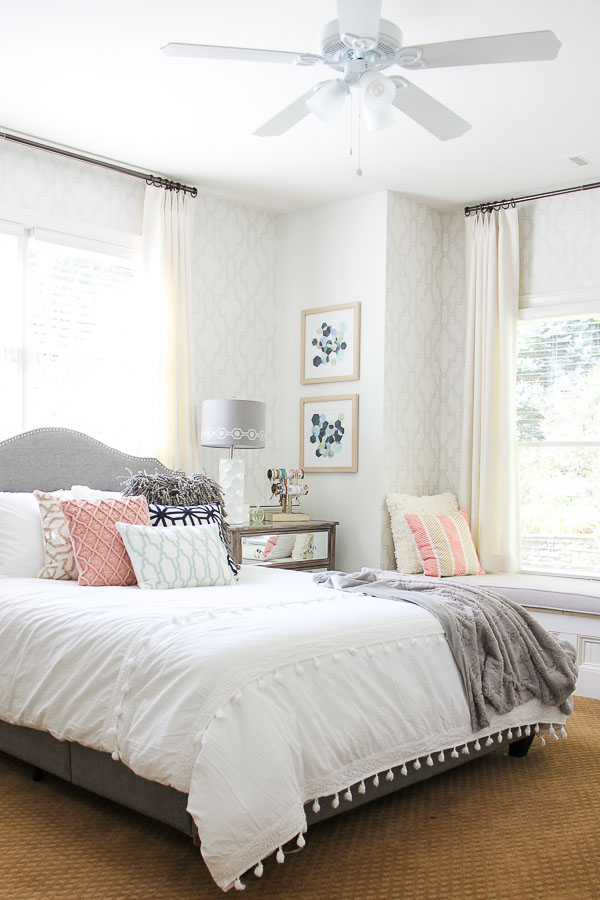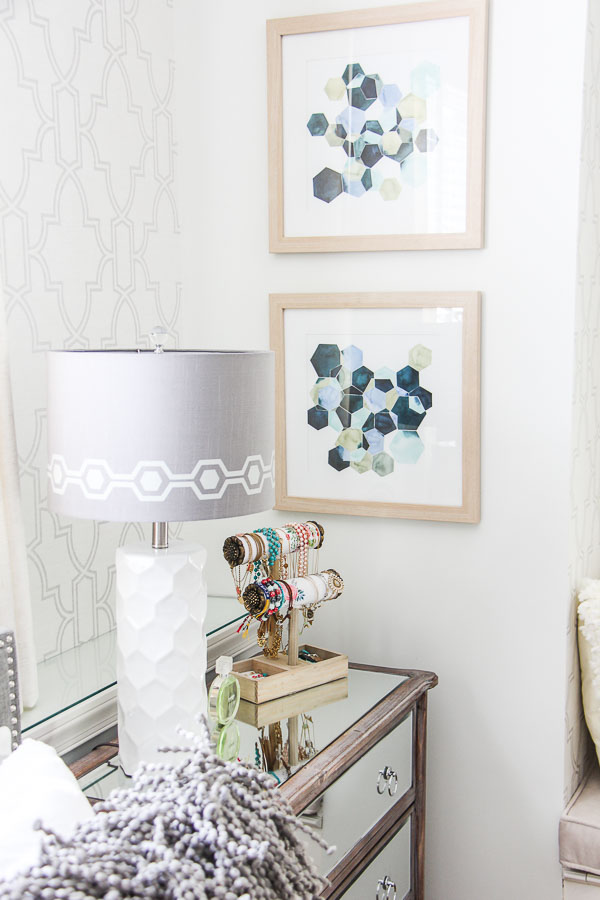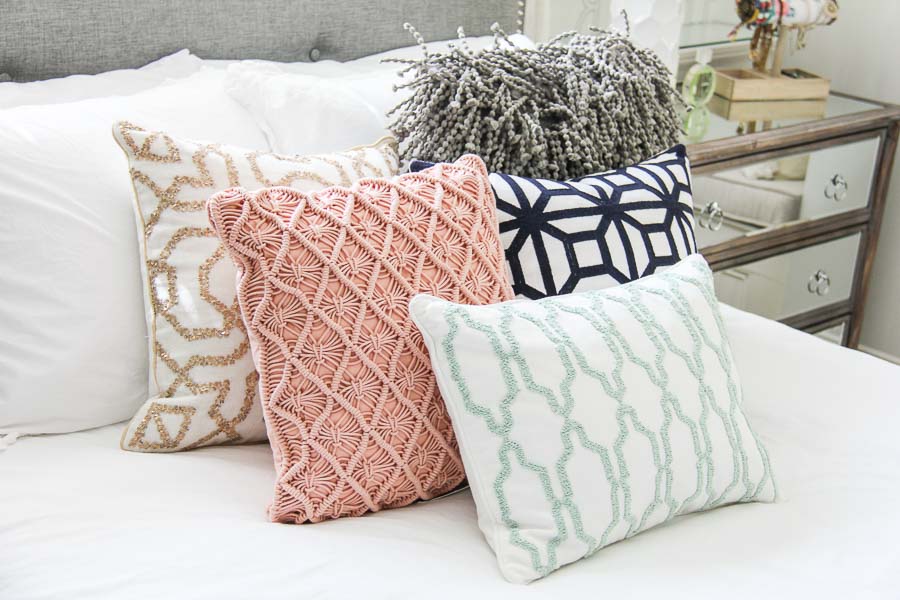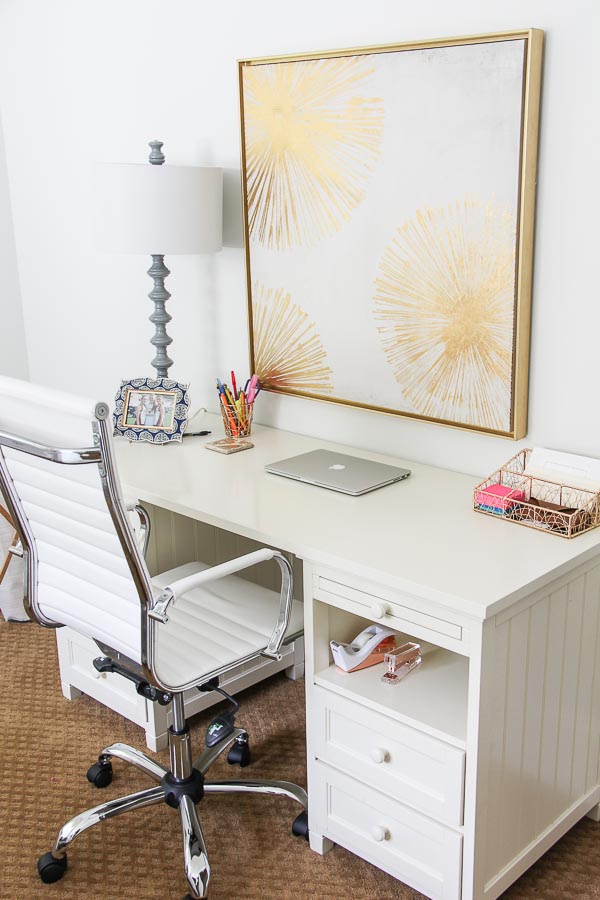 How pretty is this room? Isn't it so bright and airy? Light, fresh, and wonderfully welcoming! It is such a stunning and incredibly airy bedroom design. Mostly white with little pops of soft color and mixed metals. That's what this teen girl, who was more than ready for a major room transformation, wanted for her birthday. (I can't tell you how many daughters of our design clients ask for "Miss Mandy" for Christmas or Birthday gifts! – I feel like Santa!).
Our client normally is the mom. We've done their kitchen, living room and dining room so far. I thought our next design project was going to be their master bedroom, but I knew their high school aged daughter was desperate for more function and style in her bedroom that happens to be located in the basement of their ranch style home. Can you believe this is the basement? Let me show you the before pics…
BASEMENT BEDROOM BEFORE PICTURES
So now our interior design client is their wonderfully independent, respectful, smart gorgeous 16 year old daughter. She knew what she wanted design style wise and I knew I wanted to give her the most functionality we could squeeze into a small space with quirky walls and limited light. Tight on space and storage, my biggest goal was a light and airy bedroom design that had hidden storage in every single piece we brought in. If I could have figured out how to make the ceiling fan have a hidden drawer, I would have!
AIRY BEDROOM DESIGN TASK LIST:
FABULOUS WALLPAPER SWEEPING ACROSS BACK WALL ABOVE LEDGE AND AROUND READING NOOK
REPAINT ROOM PRETTY GRAYISH WHITE TO MATCH BACKGROUND OF WALLPAPER
CUSTOM CURTAINS HUNG TO MAX HEIGHT OF ROOM TO MAKE ROOM FEEL TALLER
RECOVER BENCH SEAT
NEW BED WITH LOW HEADBOARD AND STORAGE DRAWERS BELOW
MIRRORED BEDSIDE TABLE WITH STORAGE TO REFLECT LIGHT
WHITE BEDDING TO REFLECT LIGHT THAT HAS TEXTURE
LIGHT ARTWORK WITH POPS OF COLOR GOLD TO BRIGHTEN SPACE
DE-CLUTTER DESK AND ADD FUNCTIONAL STORAGE BINS IN METALS
ADD GLASS TOPPER TO WALL LEDGE TO PROTECT FROM DAMAGE AND BOUNCE LIGHT
SLEEK LEATHER DESK CHAIR
KEEP PALETTE SIMPLE: WHITE & SOFT GREY
ADD POPS OF SOFT COLOR & METALLICS
We had meetings here in the office to pick wallpaper with our sweet young client (her skin is like an angel). The wallpaper set the whole airy bedroom design plan into motion. From there we could choose the wall paint color, fabrics, and bedding. She was such a joy to work with. Sure of her choices and so adorably excited. We went over look books, furniture and fabric options and design inspirations.  After that, it was in our hands to make it happen. She headed off to a mission trip and we got to work!
The Dad was our painter for this project (such a good Daddy!). We chose this off white which reads somewhere between grey and ivory.  I was completely amazed when I saw the room painted for the first time! It instantly opened up the room. Incredible difference. You felt like you could breathe. Despite being a deep caramel color, we weren't changing the carpet. It was in perfect condition and flowed through the entire basement. When parts of a room are unavoidable, act like they aren't there. The room will feel pulled together and you won't even notice them as much. Like here… If we had kept the design plan to the warm undertones of the carpet, the room would never feel as airy and fresh as it does now.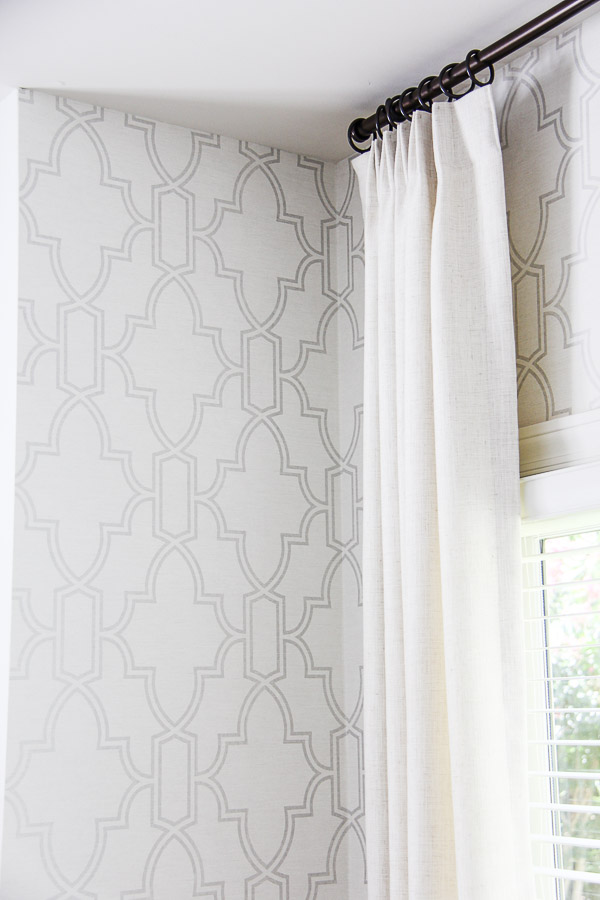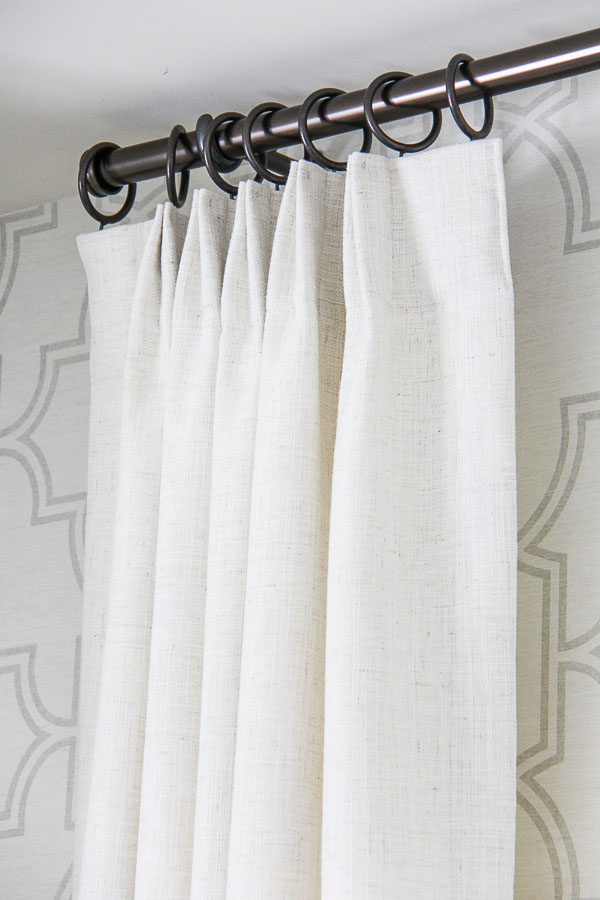 Then came the wallpaper. How I love this paper! Don't you? A fine linen background and a glimmery silver gray geometric print over top. It's made by our favorite manufacturer (call me if you're looking for great wallpaper- we have a wonderful library of books here at the design office and can find the perfect one for you!). I chose to only wrap the wallpaper on the back wall above the ledge to make that ledge look like we designed it to be there instead of us getting stuck with it. The paper continues around to the next wall into the reading nook. Since the wall color was matched to the exact background color of the wallpaper, the bedroom feels bigger and more open.
Once the foundations were done, we could bring in the fun stuff! Well kinda fun. Mostly functional. I can make anything look pretty but if it doesn't do it's job and help you live an easier life then what's the point? Especially if you're a high school girl! There's no way they'll keep their room looking pretty and not driving you crazy if it doesn't feel like they have enough space. We made this a functional airy bedroom design by adding storage everywhere and bouncing light off every surface! From this feminine tufted headboard with drawers below to a this highly reflective mirrored 3 drawer chest, all her stuff has a place to hide now. Leaving more space to make the room feel bigger and brighter.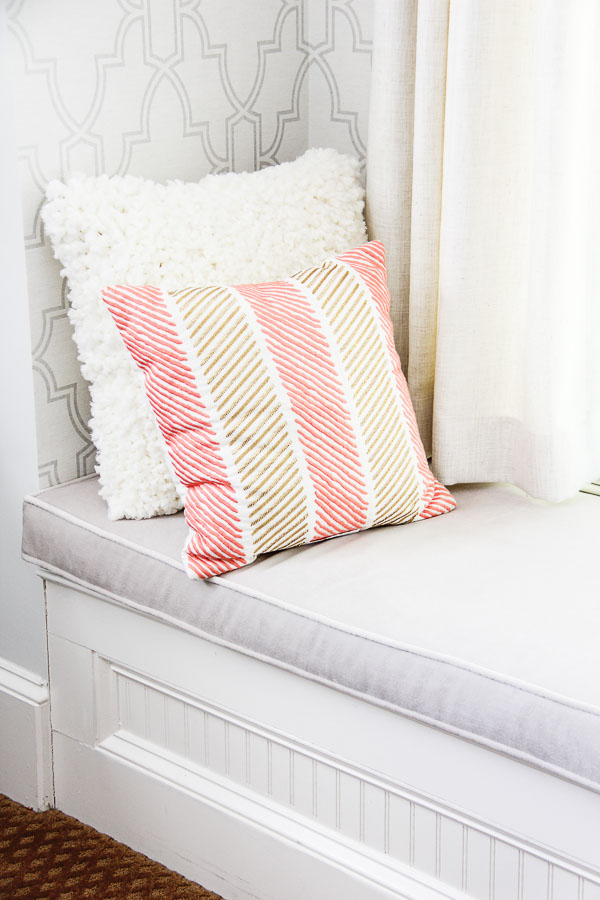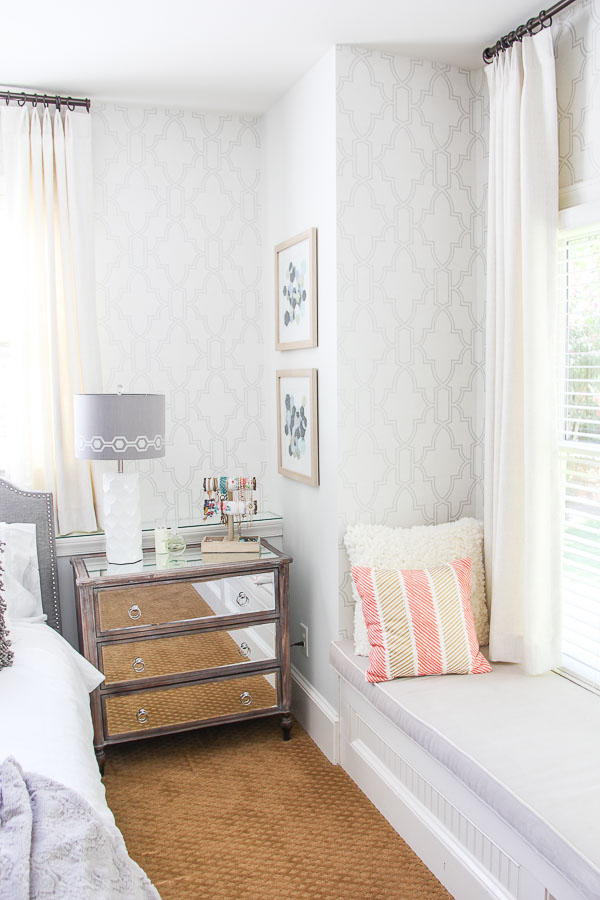 Planning is key but don't be afraid to get enough options to play with in the moment. I always explain to clients that a room will come together in its own way, so we never show up for a design installation with just one lamp. Nope, we bring 3 or 4! Then our design team shops from inside the room and take back what doesn't work after the install. The same goes with the pillows. We bring an array like these fabulous shaggy and metallic pillows to play with (you should have seen the color collection in the warehouse as we were hunting and gathering at our favorite design accessories shop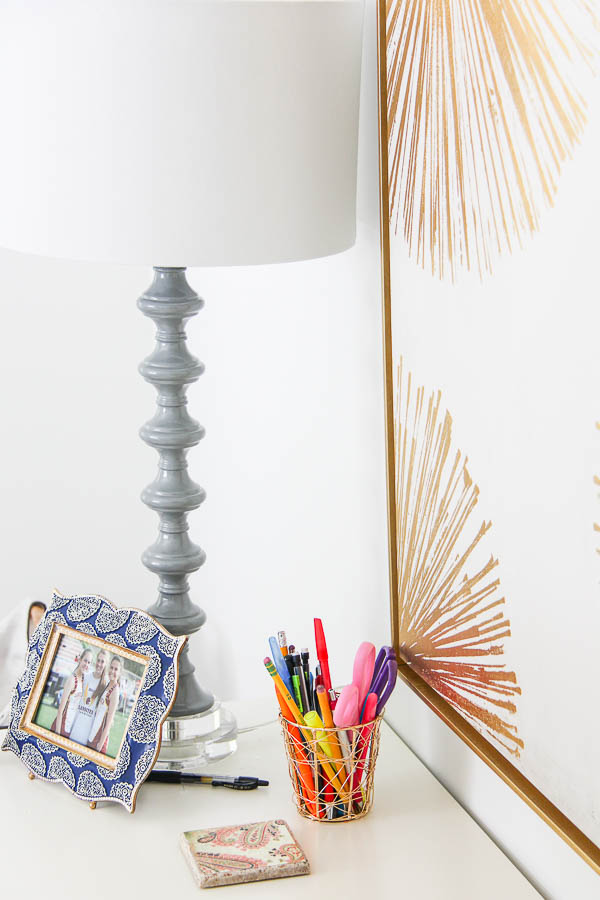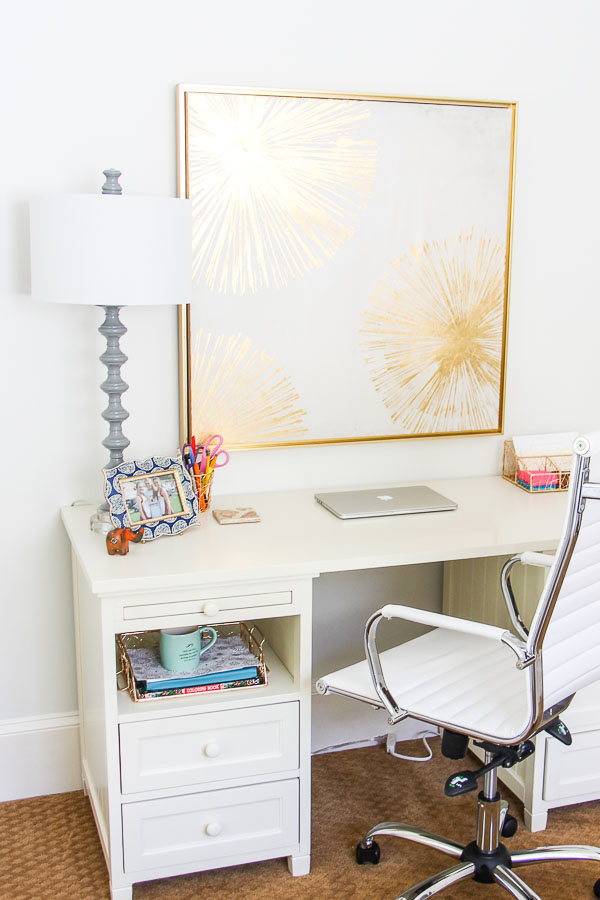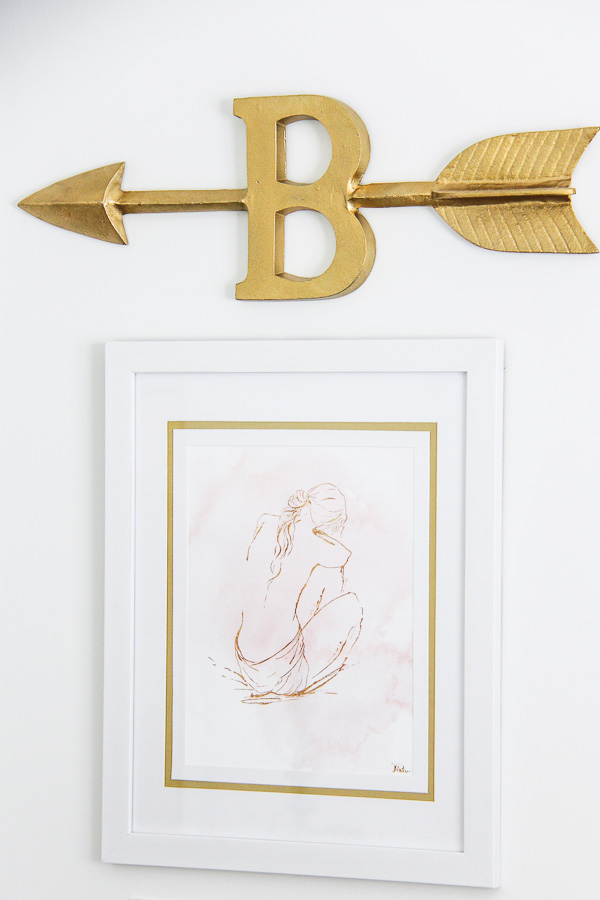 THESE 4 MAIN DESIGN ELEMENTS MAKE A ROOM FEEL AIRY, BRIGHT & BIG
White White White. White bedding always makes a room feel airy and light. That's why hotels love white fluffy duvets. But just because we wanted white doesn't mean it has to be plain. Add in texture to give the room some personality like this duvet does.  We carry the white over to the desk area too with this fab desk chair! Keep the chair leather (white leather always less heavy than cloth) and add in white art above. The desk was here already and in great shape.
Metals Make It Shiny! Just like white reflects light, so do metallics. Shiny surfaces bounce light around the room and light equals happiness in this airy bedroom design. Mix metals. We did. There's no metal police coming over. I'd like to see them get past me anyhow. From bedside tables to artwork or even details in the headboard, metals are a fab and needed element here. Glass falls into this same category! Art under glass or even the mirror fronts on the bedside cabinet all help bounce light around the room.
Height! Curtains need to be hung as high as possible. If this means using a skinnier rod, do it. It will make the room feel taller than it is and that translates to space! Read our guide to how to hang curtains for more specifics. Hang art in a vertical line to draw the eye up too. Don't be afraid to use the space you've got.
Organization! Give all your junk a place to land. Organize the desk, jewelry, and any surface in the room. You'd be amazed how much tidy order makes a room feel bigger. So go for storage first then find the design style you like within those selections.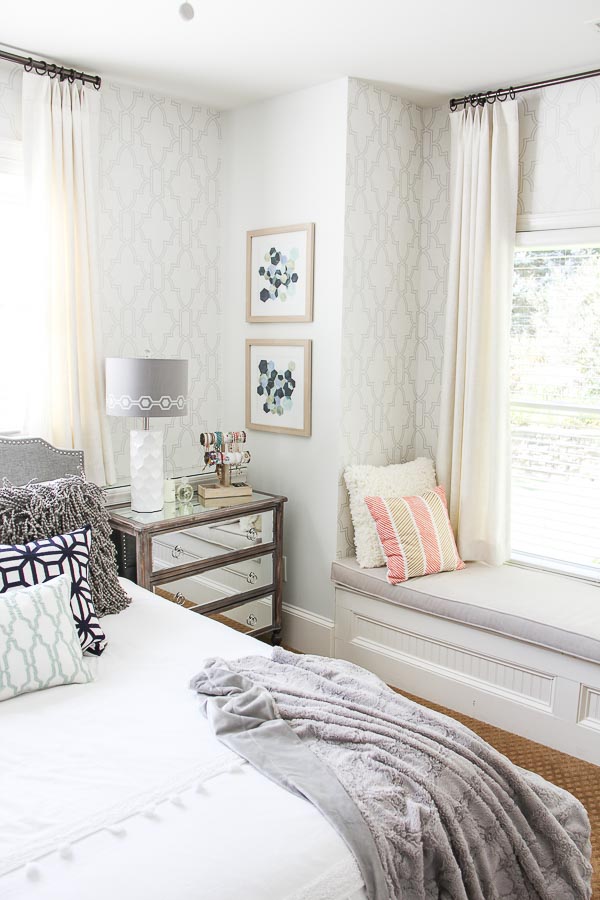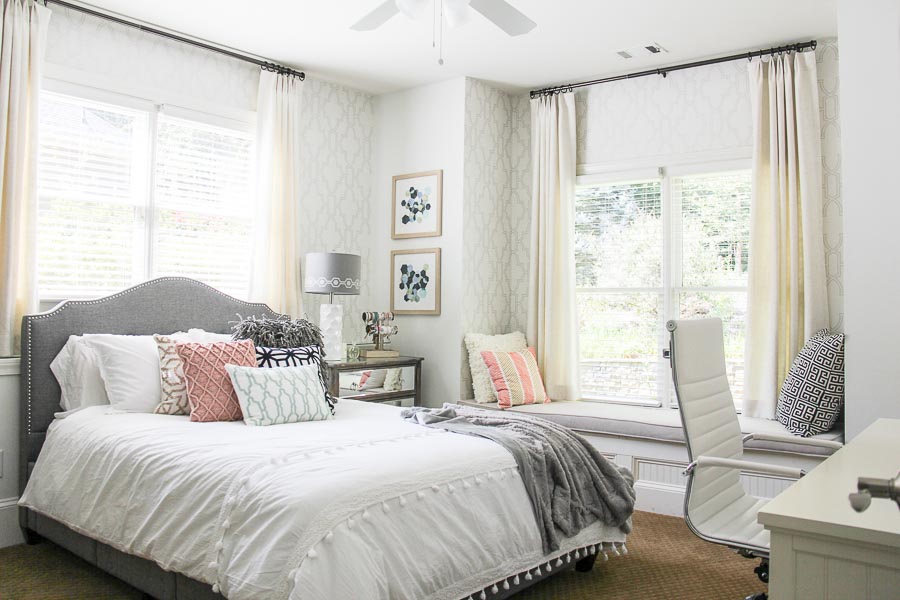 CLICK THE BELOW TO SHOP THIS AIRY BEDROOM DESIGN