Dining Room Finish Line
Started a design project and then hit a wall? The finishing details of a dining room can make all the difference. Learn how here.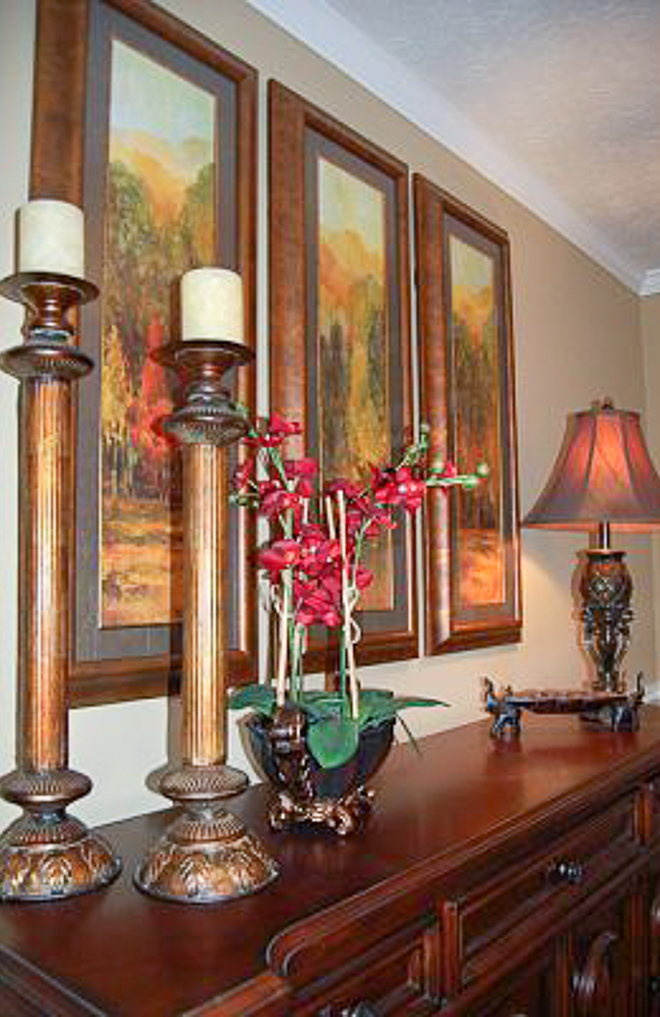 Have you ever stalled out in finishing up a room? It happens to all of us! We move into a home, get started on so many projects and maybe even buy the big essentials like a table and buffet (real "adult" furniture, not the 1974 lacquered cream and brass hand-me-downs from Aunt Bertha).
This is it! Your formal dining room… the one you're going to host all those wonderful family holiday meals in and all the beautiful candlelit "Supper Club" soirees and what happens? You fizzle out. You simply can't find the juice to pull all the details together and get it looking like you've always imagined it. This is where I come in… For Dining Room Finishing Touches.
BEFORE SHOTS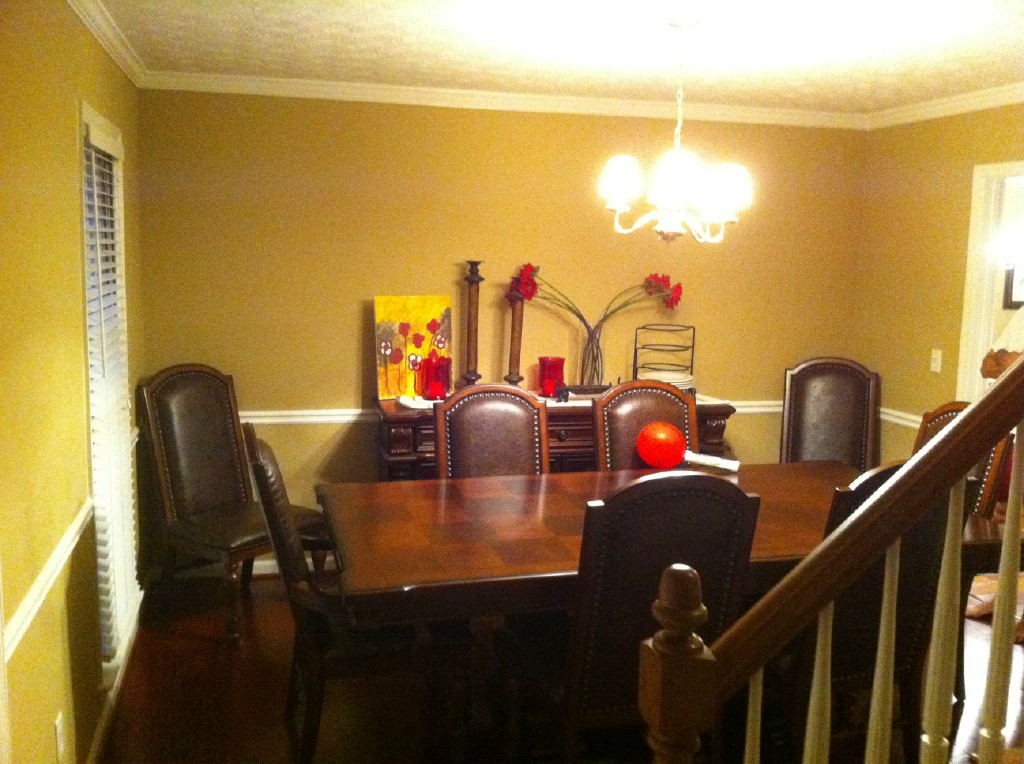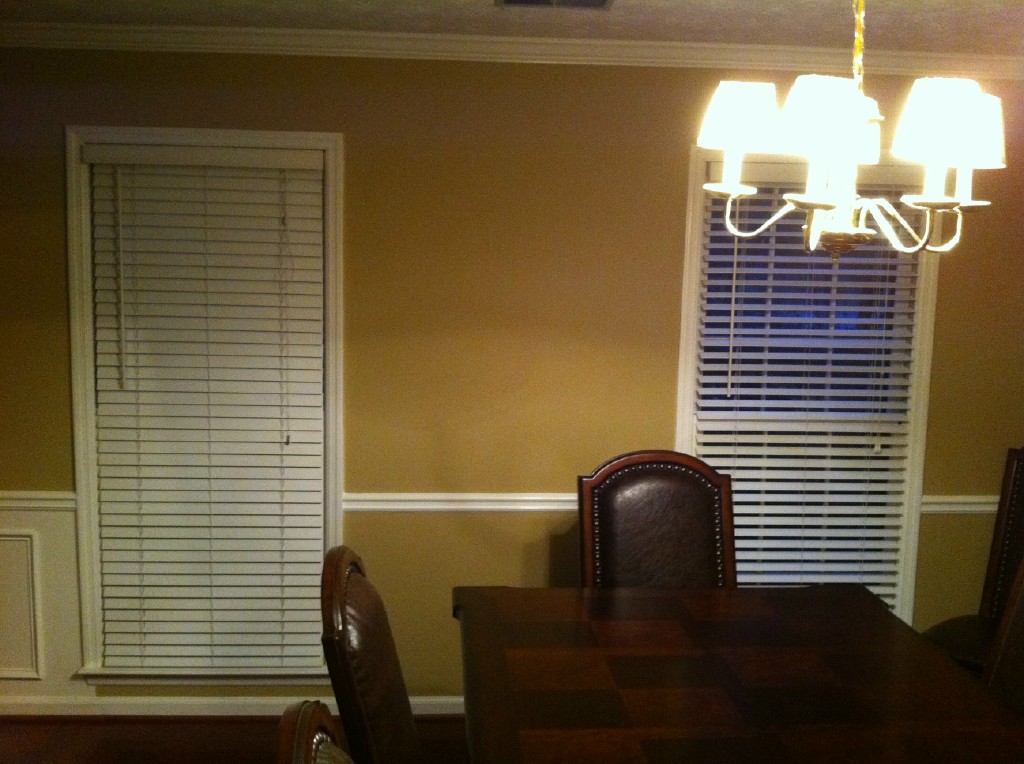 Our dining room today had a beautiful and quite heavy buffet, table and chairs. That's it! Not a huge space, I knew that we had all the furniture that would fit in the room is in place already. The owners are more attracted to a golden palette, but they had one piece brought back from their travels that they really wanted to incorporate into the space, a silk tapestry of a jeweled elephant in deep reds and golds.
TASK LIST: 
area rug
new light fixture to replace the outdated tiny white one that came with the house
curtains (preferably ready made)
curtain hardware
tapestry hanging hardware
artwork for above buffet
few accessories
hand-painted ceiling medallion for chandelier
With list in hand, we set out to pull the room together. I found a gorgeous 8'x11′ major brand, 100% wool area rug on Overstock.com for around $300.
A note about rugs: the better the rug the more it will repel dirt and stains, but that being said if you can get a really good quality rug for a reasonable price-point then you don't feel so tied to it down the line when life's little uh-oh's happen. Shopping on sites like Overstock allow you to look at the size and color you want without having to drive all over creation to find it! Rugs (and art for that matter) don't have to match exactly. They should compliment the room but don't stress if there's a slight color difference. It gives the room character.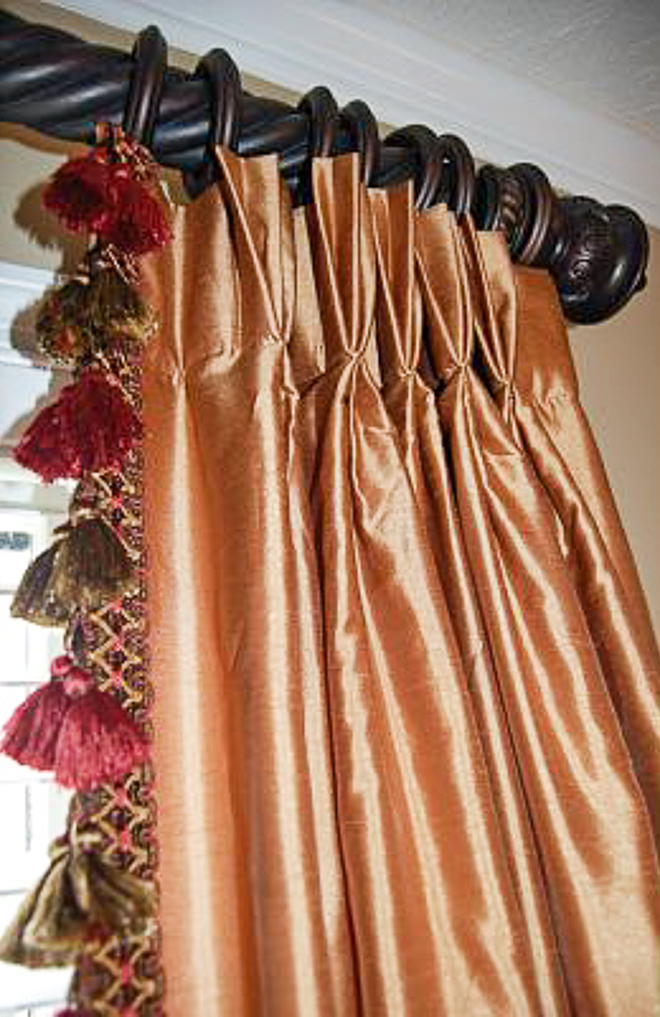 For ready made curtains, I head to JC Penney. I know, you're thinking…"Come On, Mandy! JCP?" But yes, they have a wide selection of great ready made curtains that are lined and weighted and the price-points are more affordable than you could buy the fabric for. The key is to order every color that may work in the space (with free shipping, might as well order as many options as you can and return the ones that don't work).
In certain spaces like this dining room, we bought beautiful ready-mades and helped them look custom with chunky wood hardware (from Lowes, again I shock you!) and trimming the inside edge of each panel with fringe. Gorgeous and still Affordable!
I found the light fixture through Home Depot (keep in mind that sometimes prices online will be cheaper than in stores) and painted an in stock medallion with a few coats of 2 different spray paints and a dusting of craft paint. Artwork came from a design showroom that resells decor after its used in model houses for cheap! We only needed a few accesories (most the home owner already had) and I found those at Homegoods/TJMaxx.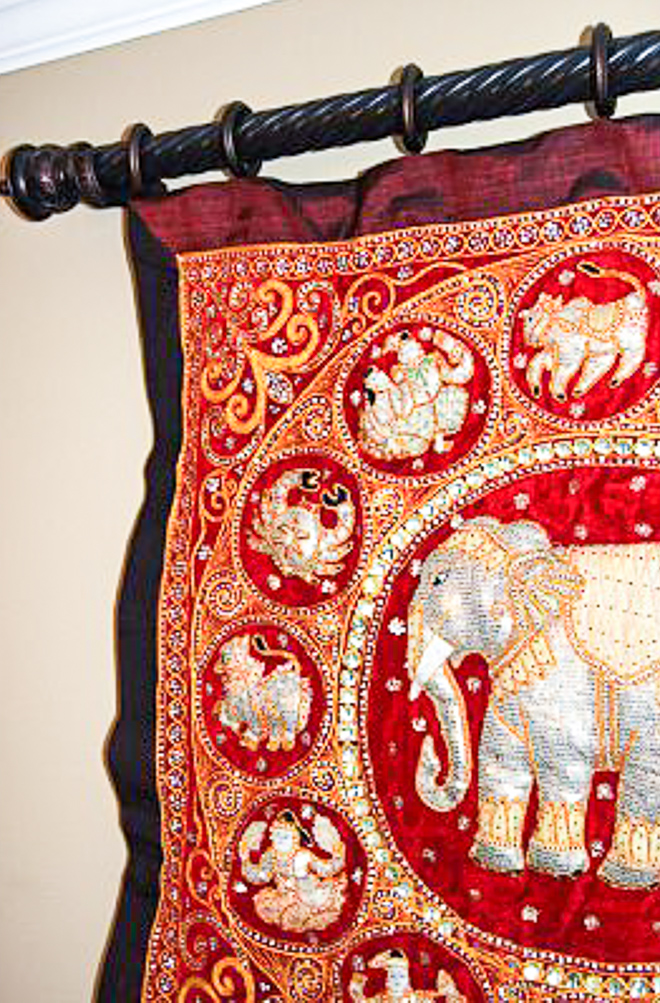 That left the tapestry… to keep things cosistent I used the same hardware as the curtains and had the seamstress who attached the curtain trim attach the tapestry to rings. It then became our last major art piecein the space. Few details but defining ones and the room looks fantastic…AND FINISHED!!!