10 Minute Fried Chicken Chinese Noodle Salad
Wonder what you could get on the table for dinner in a flash? Here's a 10 Min Chinese Chicken Salad made with grocery store fried chicken!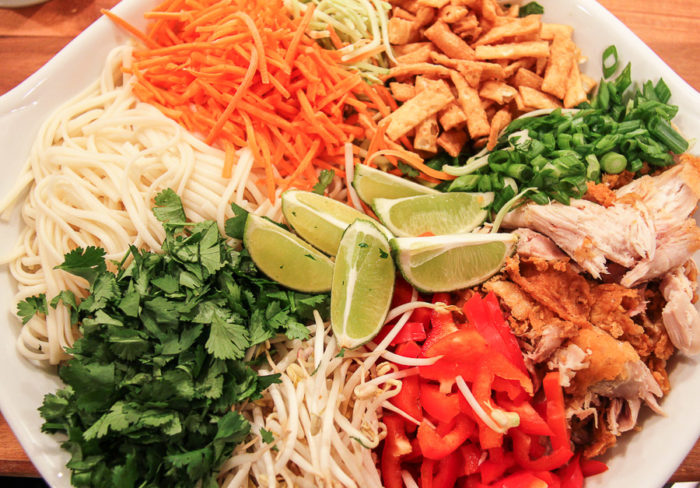 Ever do that thing where you stand in front of the fridge with the doors wide open, aimlessly looking inside for some glimmer of hope as to what you could get on the table for dinner in less time than you really have? Like peering inside will magically make a roast that should have been started 45 minutes ago appear in your oven? Listen babe…it never works! I have tried so many times. That fridge will mock you, smirk and giggle and still no dinner!
UNTIL NOW!
Especially on those days when you've just run through the market on your way home but still have to unload the groceries (which in my world seems to take as long as the shopping itself), do yourself a favor and pick up some chicken in the deli case and make this killer Chinese Chicken Salad with Soba Noodles.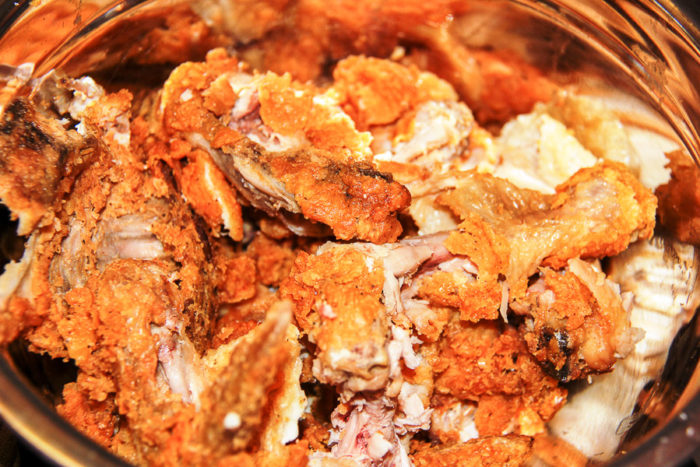 An 8 piece package of fried chicken (or a whole rotisserie, leftover grilled or roasted chicken or even leftover shrimp) works great for any night that you simply have less time than the world will allow. Being married to an engineer who's descended from a very long and widespread line of engineers, I'm secretly hoping they'll put their heads together one day and invent a machine that will somehow enable me to fit more time in my day.
Eagerly waiting…still waiting…losing hope…oh well, moving on!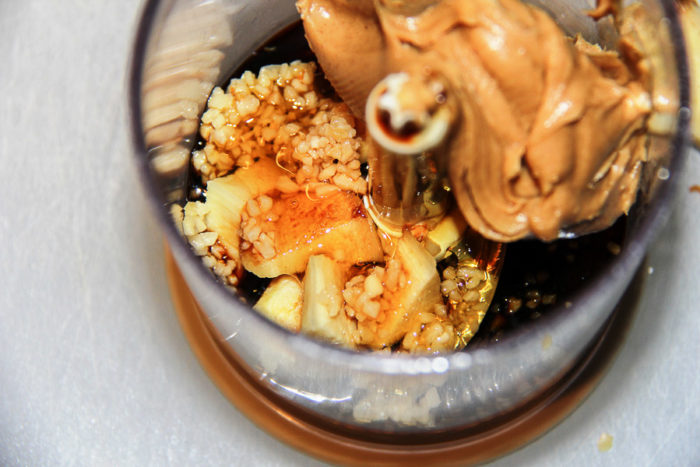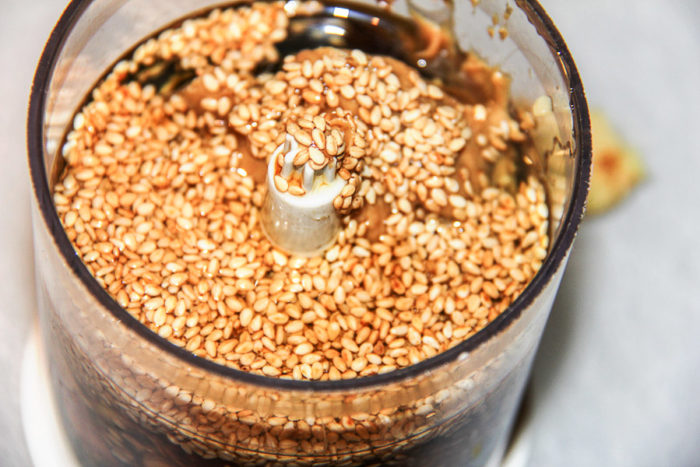 Tossed together with fresh veggies, noodles, and a super quick homemade sesame peanut dressing, soon you're eating and forget all about that secret keeping, uncooperative fridge.
I use Soba Noodles but you can use cellophane (rice), buckwheat, or even spaghetti. For the veggies, I cheat (yes, another admission of succumbing to the black hole of time) and buy matchstick carrots and a bag of broccoli slaw because they take a while to cut that thin unless you want to pull out the food processor. But at home I run a quick chop thru some red peppers and fresh herbs. Any other veggies you like are fair game: cucumber, cabbage, red onion, jicama. Go crazy!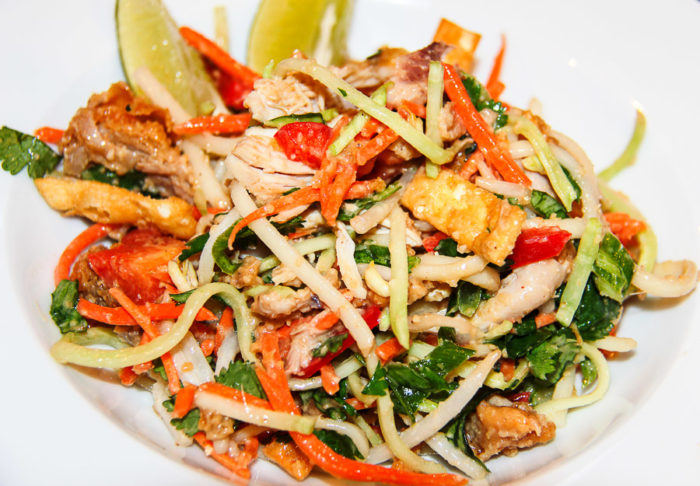 With the holidays coming up and company arriving, this Chinese Chicken Salad is also a low stress and easy prep dish that can be a fresh fix-as-you-like light dinner before feasting for days on end. if one set arrives at noon and another at 4:30, no worries.
Make extra, set it up like a topping bar and they can adorn and toss with any ingredients they want. It welcomes company with something out of the ordinary! Isn't that what the holidays are about? Pleasant surprises?
10 Min Chinese Chicken Salad made with grocery store fried chicken.
Ingredients
Salad

8 pieces fried chicken or 1 rotisserie chicken, pulled and chopped
1lb soba noodles or thick spaghetti, cooked and rinsed in cold water
6 green onions, sliced on the bias
2 cups matchstick carrots
2 cups broccoli slaw
1 cup cilantro, chopped
1 red pepper, sliced into matchsticks
2 cups bean sprouts
2 cups Asian spiced wonton strips
2-3 limes, cut into wedges
Dressing

1/2 cup vegetable oil
1/4 cup rice wine vinegar
2 Small garlic cloves
1 teaspoon sesame oil
1 tablespoon toasted sesame seeds
2 tablespoons honey
1/4 cup creamy peanut butter
2 tablespoons peeled ginger, chopped
2 tablespoons tamari soy sauce
Instructions
Dressng

Place all of the dressing ingredients in a blender and blend until smooth.
Taste for seasoning; set aside.
Salad

In an extra large bowl toss together salad ingredients with dressing.
Garnish with 1-2 lime wedges per serving.
https://sumptuousliving.net/chinese-chicken-salad/
Copyright @ Sumptuous Living