Brown Sugar Bourbon Apples
Satisfy your sweet tooth with our sinfully delicious apples cooked in a brown sugar bourbon sauce. A fall & winter dessert to die for!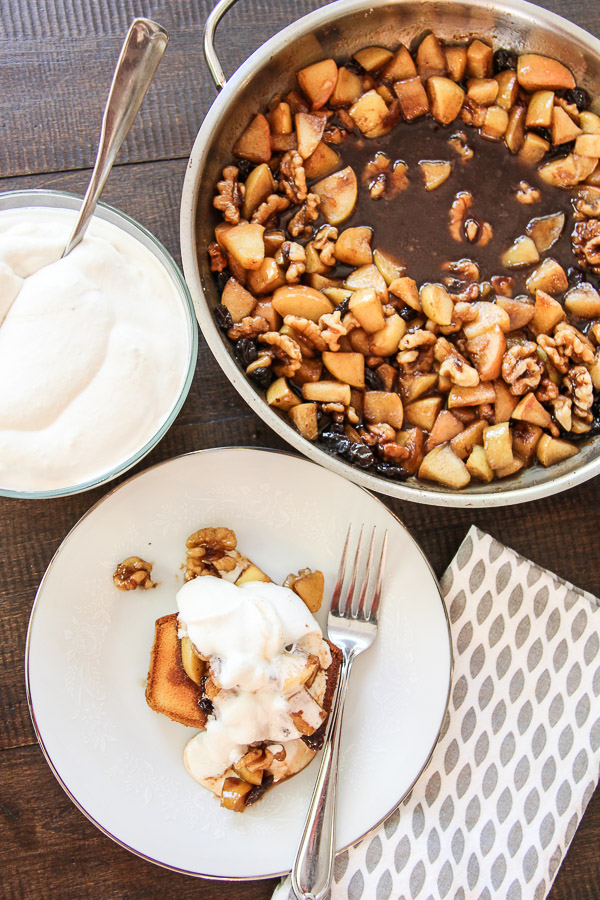 Sometimes you just need something good in your life. Maybe you've had a rough day at work or the kids are just being especially demanding. Whatever your reason, it's time to make a dessert that is especially for you. Our Brown Sugar Bourbon Apples are a rich, sweet treat that will satisfy even the biggest sweet tooth and leave you feeling pretty good in the process.
Luckily for you, the recipe is pretty simple. Oh, and it also includes a healthy amount of bourbon so I won't judge you if you have a drink while this dish cooks away. This is essentially a one pan dessert.
BROWN SUGAR BOURBON APPLES IN 3 EASY STEPS
Start cooking the apples in butter and then add your nuts.
As the goodies in the pan become nicely cooked, add your bourbon, brown sugar and spices for a whole bunch of flavor.
Then, when you've got a nice gooey, sugary mixture add a good bit of heavy cream. Oh yeah. Heavy cream. I never said brown sugar bourbon apples dessert wasn't sinfully decadent.
Once you've got your beautiful brown sugar bourbon apples all cooked down, the rest is up to you. For our recipe, we decided to make a nice whipped cream and put it all over a piece of toasted pound cake.
I would suggest doing the same if you can keep yourself from eating all of the brown sugar bourbon apples right out of the pan. You might be thinking to yourself that whipped cream and pound cake are just making an already decadent dessert even more decadent. But did I mention that we buttered the pound cake? So naughty!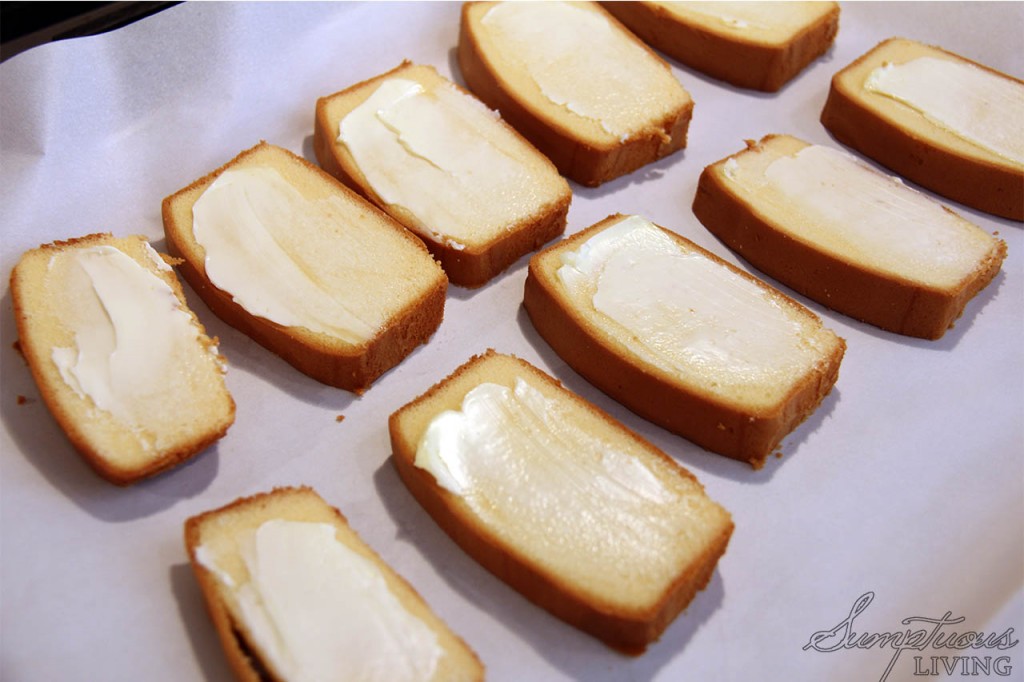 So yes, this dessert is definitely top-tier decadence. We use don't that word often, but just look at this dessert. Besides looking absolutely delicious and beautiful, it tastes amazing too! It even has booze in it!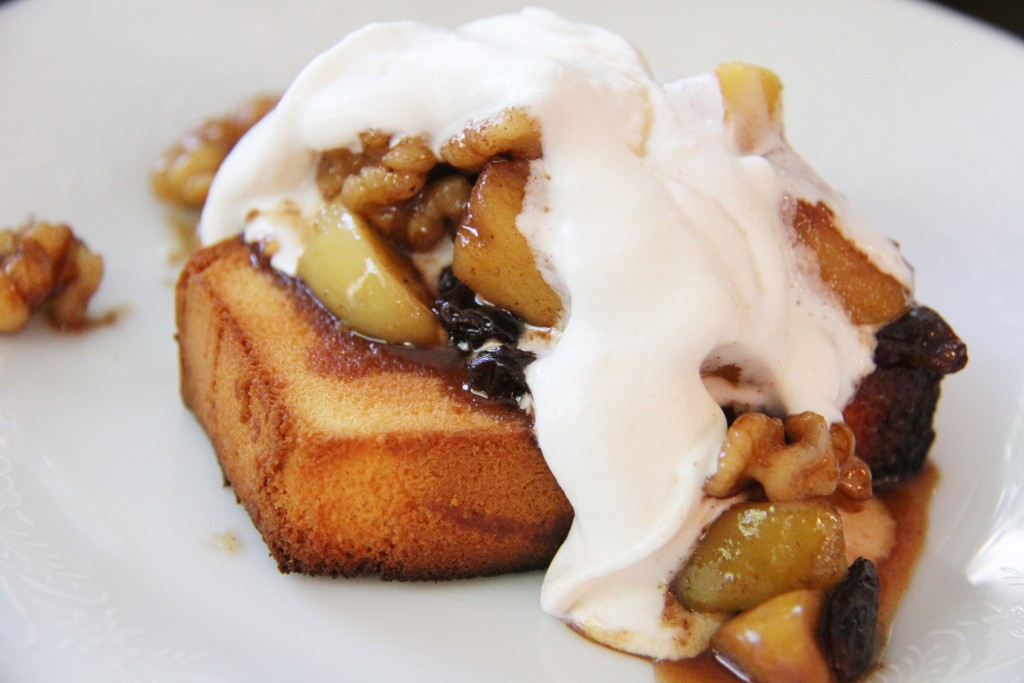 Brown Sugar Bourbon Apples
Satisfy your sweet tooth with our sinfully delicious apples cooked in a brown sugar bourbon sauce.
Ingredients
Cake

1 Pound Cake (sliced)
Sauce

4 Medium Apples (peeled and cubed)
1/2 stick Butter
1/2 cup Raisins
1/2 cup Walnuts
1/4 cup Bourbon
1/2 cup Brown Sugar
1 teaspoon Apple Pie Spice
1/4 cup Heavy Cream
Whipped Cream

2 cups Heavy Cream
1 teaspoon Vanilla
1 teaspoon Bourbon
Instructions
Preheat oven to 400 degrees.
Place sliced pound cake on sheet pan lined with parchment paper.
Cook in oven 5 minutes or until toasted.
Sauce

Melt the butter into a large saucepan (metal).
Saute apples in the butter over medium heat.
When apples start to get soft, increase the heat to medium-high and produce fond on the bottom of pan. Add raisins and nuts. Toss together.
Deglaze with 1/4 cup bourbon.
Loosen up all the fond off bottom of pan (fond= brown bits).
Add sugar and spice.
Stir until melted and gooey.
Add 1/4 cup heavy cream.
Whipped Cream

Place whipping cream, vanilla and 1 tbsp. bourbon in mixing bowl.
Mix until soft peaks form.
Assemble dessert

Top toasted pound cake with sauce.
Add a dollop of whipped cream on top.
https://sumptuousliving.net/brown-sugar-bourbon-apples/
Copyright @ Sumptuous Living