Bacon Wrapped Asparagus with Lemon Garlic Dip
Our bacon wrapped asparagus is the perfect complement to every meal!
Everyone needs that go-to side dish recipe. You know, the recipe you always have in your back pocket that you can whip up for any meal, snacktime, or gathering. It needs to be easy, tasty and capable of accompanying just about any main dish. If you don't have one of those already, then take a look at our bacon wrapped asparagus. If you do already have one… Well it's time to change that!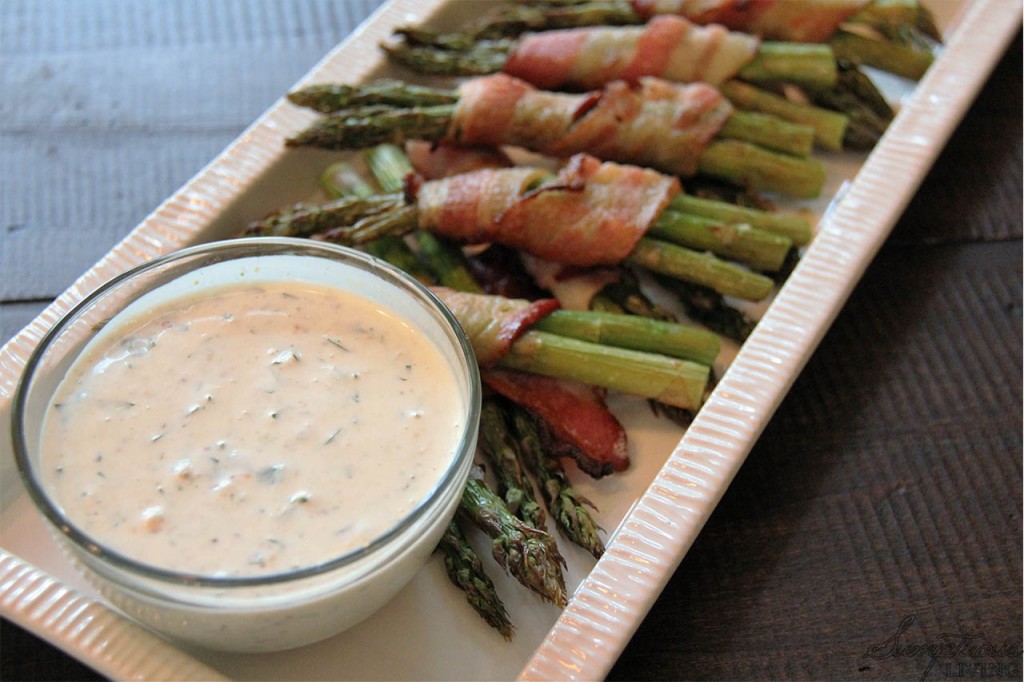 This savory bite definitely meets all of the necessary criteria. It's super simple and is, of course, delicious. Bacon is good! Damn GOOD! Asparagus is good. What's not to love?  Oh, and did I mention how simple this dish is? Because you'll spend no time at all preparing and cooking this dish, and it comes out looking and tasting quite high class if I may say so myself.
The lemon garlic dip we whipped up to accompany the asparagus is also a can't-miss. It's light, fresh, and tangy and really elevates all of the ingredients here. To make it better, it's even easier than the asparagus. Just pop your ingredients into a food processor or blender and you are all set.
(TIP: Use this dip on sandwiches, wraps, turkey burgers, or fresh veggies)
So I know I keep referring to this as a side dish, but it really is good enough to stand on its own. Perfect for pairing with cocktails at the beginning of a dinner party or while you wait for the Holiday Feast to cook. Put out a plate of bacon wrapped asparagus and I can guarantee that your party guests won't leave a trace by the end of the night. It goes with just about anything. Give it a try!
Bacon Wrapped Asparagus with Lemon Garlic Dip
Crispy bacon and asparagus come to together for the perfect side dish to complement every meal.
Ingredients
Bacon

10 thin slices Bacon (cut in half)
2 bunches Asparagus, thick (tough ends snapped off (about 20))
Lemon Garlic Dip

1 teaspoon Kosher Salt
1/2 teaspoon Black Pepper
1/2 cup Sour Cream
1/2 cup Mayonnaise
1 Medium Lemon (juice and zest)
1 teaspoon Garlic (crushed)
1 tablespoon Course Grain Mustard
1/4 cup Green Onions (finely chopped)
1/2 cup Fresh Flat Leaf Parsley (chopped)
Instructions
Preheat oven to 450 degrees.
Line a large baking sheet with heavy gauge tin foil.
Place a cooling/baking rack in the baking sheet to allow drippings to fall.
Spray rack with non-stick spray.
Wrap bacon around asparagus pulling the bacon thin as you wrap.
Place each asparagus on the rack as you roll.
Bake for 10-15 minutes or until bacon is crisp.
Lemon Garlic Dip

While bacon is cooking, make the dip.
Mix the remaining ingredients together in a bowl and serve chilled with asparagus.
https://sumptuousliving.net/bacon-wrapped-asparagus/
Copyright @ Sumptuous Living