Mandy's Triple Chocolate Kahlua Cake
Nearly 60K Pins! Our Triple Chocolate Kahlua Cake is an easy doctored cake mix loaded with chocolate and soaked with a buttery Kahlua glaze.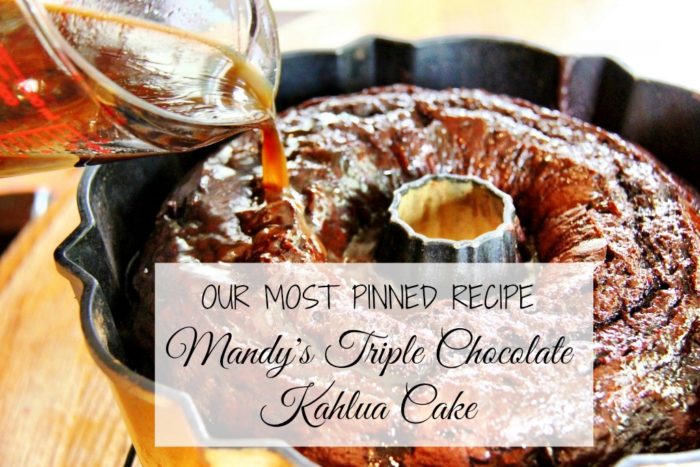 When we host friends for dinner, the first thing I hand over is dessert. It's simply not my first love. I know… I'm a whacko! What woman doesn't salivate over dessert much less chocolate kahlua cake? I'm kooky. I'm aware.
Give me savory apps (especially seafood) and a lovely cocktail and I'm good for the night. But on the occasion that I do make dessert when we entertain, guess what I pull out of my hat? A doctored up boxed cake recipe. Yup! Cheater, HUGE Cheater. Arrest me! But this one is like a cocktail and a dessert at the same time, requires no frosting, is a one bowl recipe and baked in one large bundt pan, making clean-up easier too! I'm full of fun tricks!
I've served this cake at a dessert bar birthday bash and at cooking classes taught on both "Boozy Desserts" and "Doctored Cake Mixes".
Cake mixes are a blank slate that you can add your own twist to.
"Pina Colada Cake"
Pineapple cake mix
Replace the water with coconut rum
Using half coconut oil, half vegetable oil
Add in crushed pineapple
Whipped topping or Whipped Cream spiked with rum and toasted coconut flakes
See what I did there? My mind jumped onto a flavor and looked at the box to see what items I could substitute. It's merely swapping out one standard ingredient for another one that has the flavor profile you're going for. And it's only cake people! It can't get too messed up… who's gonna complain? Just write down the changes you make so that you remember for the next time and as you think up other combinations like…
Pumpkin Butterscotch Chip Spice Cake…just came up with that one right now!
Spice cake mix
Add can o' pumpkin and butterscotch chips
An extra egg to bind the added wet ingredients
Add walnuts
It's so easy, moist, full of flavor and as my husband always says…"A wet cake is a GOOD cake!"
Mandy's Triple Chocolate Kahlua Cake
Our Most Pinned Recipe! Our Triple Chocolate Kahlua Cake is an easy doctored cake mix loaded with chocolate and soaked with a buttery Kahlua glaze.
Ingredients
1 box chocolate cake mix
1 box chocolate pudding
1/4 cup chocolate syrup
1 cup chocolate chips
4 eggs
½ cup oil
½ cup water
½ cup kahlua
Topping:

¾ cups strong coffee
1/3 cup sugar
1/3 cup Kahlua
2 tbs. butter
Ganache:

½ cup heavy cream
1 cup chopped good dark chocolate
Instructions
Mix together all ingredients in a large bowl. Bake in a Bundt pan that has been greased and floured for 40 to 50 minutes at 325. Make topping. Remove from oven and while warm, pour topping over cake.
For The Glaze & Ganache:

In a small saucepan, melt butter, sugar and Kahlua. Stir well. Add coffee. Poke cake with fork while still in pan. Pour over cake. Let cool and turn out. In a double boiler (a metal bowl over a pot of simmering water), melt together the heavy cream and the chocolate. Stir until fully melted and glossy. Top cake with ganache. Freezes great.
https://sumptuousliving.net/mandys-triple-chocolate-kahlua-cake/
Copyright @ Sumptuous Living